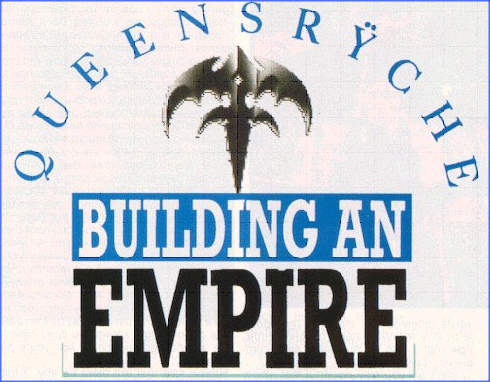 As Seattle's finest, Queensryche, return to the UK for almost hysterically received shows, we talk to the band and report on the show - and the album - that has swept away their British fans.
Queensryche have finally cracked it big time, after nine years of existence and only four albums. Their latest epic, the critically acclaimed 'Empire' smashed into the American charts at number seven, three weeks after release, thereby making it the biggest breaking metal album of the year. It's the most significant thing to happen in my sordid little world since Faith No More ripped their filth across an international audience.
Before that you'd have to look way back to Metallica's first becoming platinum friendly. A rare enough event, when a band who truly challenges rock's rules and regulations is allowed to rip open the handbook and insert it's own footnote. It fills the chest with wonder, rings the eye with hope, and proves yet again that metal music which challenges the norm can be successful. Given, of course, time, powerful management, (Q Prime) and a record company that believes enough to pump the money into massive promotion and marketing, (EMI).
And it's 'Empire' that's done it: a record which took more than a few by surprise, parading, for the most part, six minute bursts of rocking introspection, a far cry from the pounding, up tempo metal, which patrolled the psychological sensa-round of 'Mindcrime'. Albeit more accessible, allbeit more 'radio friendly', 'Empire' has rapidly paid the sort of dividends that Queensryche could only once have dreamt about.
Currently touring the U K. guitarist Chris De Garmo told me just how it felt.
"It's wonderful. None of us were anticipating the record to make such a commotion right off the bat. With the other albums we'd released, and certainly with the success of 'Operation Mindcrime', we knew that this one had a nice springboard to jump from. I mean we obviously had put a lot of time and effort into 'Empire', but we were still prepared to go through the same sort of scenario as last time. Picking up where 'Mindcrime' left off and working really hard for a lengthy period to get the sales going. But, luckily for us, it hasn't happened quite that way!'.
Considering 'Operation Mindcrime' took eight months to really assert itself, I asked Chris what he could attribute 'Empire's' rapid success to. Was it the difference in material or just that the Americans had finally woken up to Queensryche?
'A little of both. 'Mindcrime' made a lot of inroads for this band as far as radio and MTV was concerned. They were areas that had remained pretty elusive to us up until that album, but perhaps the most significant breakthrough came around purely by chance. While we were working on 'Empire' the band was asked to get involved in writing a number for the sound-track of a film called 'The Adventures Of Ford Fairlane'. It seemed a good deal and we eventually sent them the track 'Empire' which they thought a little too serious for the movie, so we substituted it with a song called 'Last Time In Paris'. This was released as a single just prior to 'Empire' and nearly broke the top twenty singles in the States! It was quite unexpected, totally taking the band by surprise, but it's success made sure that the radio stations were securely behind the album when it came out. And the fact that 'Empire' has sold so many copies in so short a time, indicates that our fans went out and bought it immediately, and that's very pleasing because the fans are the bottom line. Radio can make them aware of the fact that an album is available but it's up to them whether they go out and buy it. I guess we have the sort of incredibly loyal fans who must be every bands dream!"
So what is it really like for Queensryche on the road? Previously I had been informed by EMI that hitching up with the band wouldn't be advisable because "They weren't that sort of an act." Were they calling you boring gits or what?
Laughs "Boring is certainly not the right word for it, but when we are on the road we have to adopt a little bit of 'caution' because we have such a strict schedule. Three nights in a row and then a day off, two hour long shows, there just is no room for anybody to get sick, by whatever means! Obviously we are always surrounded by people who are more than willing to party all night, but the band could never survive those sorts of demands and play the sort of show that a Queensryche fan deserves. And that's the bottom line, giving a great show to our audience. Boring isn't the right word, I think smart is a little better! I mean I'd be the first to admit that in our past we have done tours that were completely out of control, but we learned that missing shows because you're still wiped out from the night before does nobody any favours. We've been working to get to this point in our career, a headlining tour where we can actually carry our own show, for the past eight years, and we wouldn't jeopardise its success now!"
It's interesting to note that on a tour ostensibly promoting 'Empire', Queensryche are taking the bulk of their live material from its predecessor, 'Mindcrime', which is played for the first time in its entirety.
"Yeah, well we took long enough getting to the situation where it was feasible for us to do that, and it's just great! The response to the full thing has been incredible. I mean not too many bands come out and play an entire album, so that's a kick in the pants right there! But like you said, I guess it is kind of strange, here we are, we have a new album, 'Empire', and most of the material we are playing on the tour is from 'Mindcrime'! Generally though I believe the show offers a very diverse look at the band, we cover a lot of ground, not only from a musical standpoint, but from a dynamic standpoint as well. The performance actually takes people in a lot of different directions."
Talking of dynamics it must surely lend a whole different feel, mood, to the admittedly atmospheric material off 'Mindcrime', now that it can be presented as a completed, rounded, whole.
"I can't tell you how powerful that album has become live! It has totally transformed itself from the record, the vibe is incredibly strong! I don't want to give anything away about how we have actually structured the show, but we've worked very hard to make the transition between 'Mindcrime' and 'Empire' as smooth as possible. At first Geoff simply had to get used to the mere physical strain of singing all of 'Mindcrime because it is very moody, and demands an intense performance. In fact both Geoff and Scott (Scott Rockenfield, drummer) are completely drained every night!"
Obviously Queensryche are concentrating on Europe at the moment but it must knead new incentive touring the States now that the band has actually cracked that market.
"Oh yeah, but we are actually making new inroads everywhere with this record, constantly reaching new plateaus as far as audiences go. North America especially is getting pretty huge for us. Obviously the major change we will see back home, hopefully, is a marked increase in attendance, thereby marking a move up to playing bigger venues. And there will probably be a different audience response to certain songs because radio is now behind the band and playing selective singles on a high rotation. And the fact that it's an act such as Queensryche who have broken big by playing challenging music, will hopefully restore faith in the bands out there who have also chosen their own individual musical path and are following it, no matter what. And that's really important for music in general, because bands get handed guide lines and a set of rules that basically say if you want to play in this business then this or that is what you have to do. Art really suffers in that scenario and Oueensryche have always considered our records to be art, as separate aural documents of where we are at a particular time. Consequently the rock business has always regarded us as a band who refused to play by the rules, but our making it shows you don't have to be a rehashed version of last years big thing! "
Having said that will there be any "I told you so's?" to certain people who might have doubted the bands past policy of going their own way?
Pauses "No, even though the idea sounds really fun, in theory! As far as the band was concerned it was inevitable that what Queensryche were doing and what the public's tastes were, would collide or come in parallel, at some point. We never doubted that but we aren't interested in revenge tactics. Anyway I think that feeling gets over to certain people, without the band having to say it. People who might have treated us in a certain way in the past, we only have to look at 'em and they know. Even as they are saying "Gee pal, nice to see you again!"
QUEENSRYCHE LIVE IN ACTION!
THE SHOW: BIRMINGHAM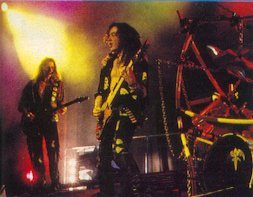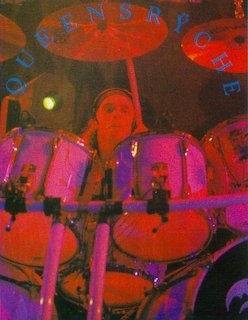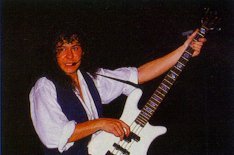 Queenryche's set is broken into two distinct segments. There is a seven track excerpt taken from 'Empire' and 'Rage For Order', followed by the entire 'Operation Mindcrime' opus, both segues being split by the monumental 'Roads To Madness'. At first sound difficulties make things a little awkward, Eddie in particular is having thoughts about flinging his bass stage left, and it all appears strangely light weight. Tate's there though, pulling out the stops, enticing the audience, demanding, cajoling, contorting his features as if some hidden devil were perpetually tugging his throat skywards. With Eddie Jackson confined momentarily to the back, Michael Wilton sedulously marks the larger shadow of Chris DeGarmo, as each patrol separate sides of the auditorium. The light show, though by no means expensive, is superb. Matching the rolls and cadences of the music perfectly, strong primary colours blaze across the auditorium, splitting a band at times reduced to mere strobe ridden silhouettes. This time out Queensryche are utilising keyboards, either Tate or De Garmo taking turns, but there is never a break in the music, it's always a complete professional whole. Everyone knows their place and their part. At present Geoff is reasonably relaxed, preceding every track with short, easy going patter, but it's evident that the band are slowly winding themselves into the performance, into what lies ahead. 'The Thin Line' gives notice of such, a track which runs the entire gamut of emotion, cool reflection trading punches with burning desire. With the big, big harmonies of 'Jet City Woman' reverberating around the hall it suddenly struck me how streamlined Queensryche had become, how slick and highly polished their movements, how controlled their stage actions and performance.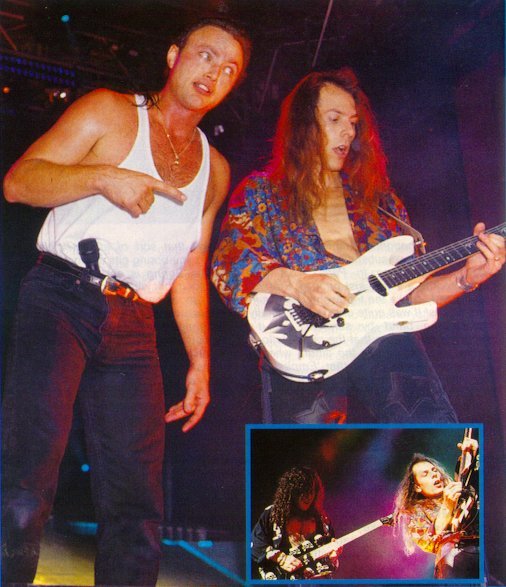 And then it changed. The band switched gears and everything took on a heavier, more menacing aspect, the aura blackening as Queensryche nose dived into the heavy, Gothic, almost Wagnerian, 'Roads To Madness', Hammering the audience into their seats the pace was lowered and the intensity heightened, building and building until the INEVITABLE climax exploded us and them into 'Operation Mindcrime'. With the emotional catchement area of 'Anarchy X' having primed the entire auditorium, there was an echo to Tate's high pitched vocals because this time EVERYONE knew the words. In metal circles.'Operation Mindcrime' has become almost a document to be learnt and it has to be said the crowd chanted their way religiously through 'Revolution', 'Speak', the title cut and the truly immense 'Spreading The Disease', replete with ominous bass interlude.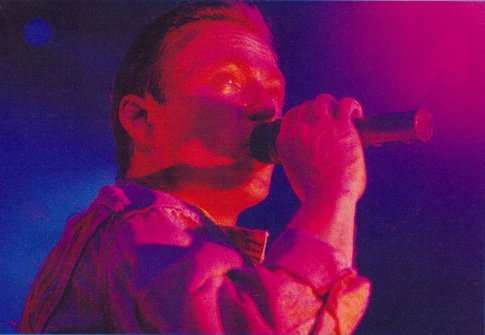 Bewitching, awesome, though it all was, the band stitching an industrial thoroughness to a bestial attitude, nothing could prepare this lowly hack for 'Suite Sister Mary'. The character herself, personified on this tour by the woman who actually performed the vocals on the album, stands high stage right, draped in white as Tate prostrates himself below her. The ensuing musical dialogue is riveting, and taken in conjunction with the music, a superb light show, and atmospheric choral backing tapes, it transformed the show beyond rock and roll into drama. High tensile drama evoking the sort of heightened atmosphere that had to be broken before it snapped of its own accord. Forced to wait until the thunderous applause had died down, a drained Tate wisely decided to crack a few jokes, to lessen a load accumulated, one feels, on both band and audience. And then they started to build it all over again, 'Breaking The Silence' the quite magnificent 'I Don't Believe In Love' the mood stricken 'My Empty Room'..and finally 'Eyes Of A Stranger', Queensryche pushing themselves and the music hard, working flat out to the bitter sweet end, Tate having proved that he could indeed become much more than just an accomplished vocalist in his astute characterisation. The inevitable encores were supremely well judged affairs. The fragile beauty of 'Silent Lucidity' was just what was needed to bring everyone to their senses, iced water on bruised and bloodied foreheads, while 'Take Hold Of The Flame' soothed anthemic balm into a drained but exhilarated audience. Tonight really was a night to remember.
JOHN DUKE