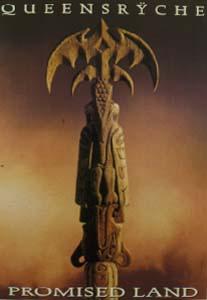 Kerrang #524
Queensryche frontman Geoff Tate has slammed his own record label over the controversy surrounding the Seatle superstars' recent show at the London Astoria. As the band announced eight UK dates for February and March, Tate told Mayhem that the 'Ryche wanted the October one-off to be free admission.
"The whole concept was to do a gig and record it for future use. That's why we wanted no admission charges as it was more for us than anyone else. But then EMI decided tickets should be sold. WE didn't find out about it until we turned up at the venue. To be honest we were very upset, but it was too late to anything about it. So our whole plan ended up being distorted.
"I know that some fans were disappointed with the length of the show, but I can tell you we played everything we'd scheduled. Why didn't we play an encore? Because we had nothing else prepared. We've subsequently listened back to the tapes of the show, and they sound really good. We'll probably use some of that stuff for the B-sides of future singles."
Queensyche are currently holed up in Seattle working on six different projects.
"We are working on the stage show for our world tour (which begins in Europe). It will look very simple to fans at first glance, but will get increasingly more sophisticated as the show progresses. We intend to play for about 2 hours and do alot of the 'Promised Land' album. We are also gonna do unusual versions of some of our older material, just to make life more interesting.
"Apart from that, and sifting through the aforementioned live tapes, we're also writing new material. In addition we also recorded about an album's worth of material during the sessions for 'Promised Land' that didn't make it onto the record. Most of the tracks need a little work to bring them up to standard.
"We're also working on a CD-Rom for release in March. As yet it's got no title, but it will include a special game that allows the players access to five different worlds, each one of which has been created by a member of the band.
"Finally, to go with the CD-Rom, we have recorded a couple of brand new songs - neither of which are yet titled. And each of our worlds has incidental music composed by the member of the band who created it. I guess it's kinda like a 90's version of Pink Floyd's 'Ummagumma' album.
Queensryche play
Glasgow Barrowlands February 9
Manchester Apollo 10
Sheffield City Hall 11
Nottingham Royal Concert Hall 13
Wolverhampton Civic Hall 14
Leeds Town and Country 16
Newport Centre 17
London Royal Albert Hall March 10