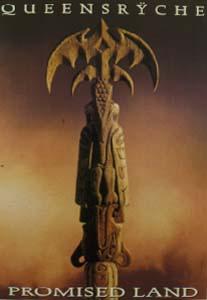 Yeah, it's true! In the middle of nowhere, in front of an audience of whales and bald eagles, the suave Seattle stars' whittled out their new LP! Don Kaye gets the full scam!
Queensryche, as exclusively reported in last week's Mayhem, are set to make a spectacular return on October 10. Their new album 'The Promised land', is the follow-up to 1990's 'Empire' - which sold more than four million copies in the States alone - and initial reports on the 'Ryche's long-overdue comeback indicate a stunning return to form.
Produced by the band and James 'Jimbo' Barton - who engineered and mixed both 'Empire' and its predecssor 1988's 'Operation:Mindcrime' - 'The Promised Land' features 11 haunting new tracks. Incredibly, this high-tech and sophisticated album - easily as impressive as any previous 'Ryche platter - was recorded at home studios and in a log cabin!
Explains frontman Geoff Tate: "This time we recorded almost everything at home studios, first off, and we kept all those tracks. Then we got this log cabin on this island in the middle of nowhere, moved all our stuff and assembled the record there in a completely un-studio like atmosphere. There were beautiful landscapes, ocean views, bald eagles, whales, a very natural setting. It was in the San Juan Islands, up in northwest Washington State. We all just lived in the cabin. It was a very communal vibe and a real good time... for me, it was probably the most enjoyable project that I've ever done."
"We found ourselves in this position of 'making it'. We just had to stop and think 'What do we do from here'?" - CHRIS DeGARMO
Initial writing and recording for 'The Promised Land' began in the Summer of '93, and despite Geoff and guitarist Chris DeGarmo's assertions that the process of making the record was a pleasure, the album itself is far from easy listening.
While musically, the band continue to broaden the textured, melodic direction they began exploring on 'Empire', the lyrical themes indicate that this may be Queensryche's darkest, most introspective and most personal recording yet. Much of 'The Promised Land' deals with searching for one's identity in the wake of good and bad experiences, failure or success. Songs like 'Damaged', 'One More Time' and 'Disconnected' all probe what happens when people lose their meaning in life, while 'Bridge' - written by DeGarmo - delves with brutal honesty into Chris' own past and his relationship with his late father.
The title track itself is an indictment of the increasingly attainable American dream, and gets to the heart of the question: what is sucess? "Suddenly, we found ourselves in this position of what we would have called, years ago, 'making it", says Chris, on the genesis of the album's themes. "We just had to stop and think to ourselves, "Well, what is making it? What do we do from here? How are we different?". And all those questions came tumbling out in this whole new set of material called 'The Promised Land'. It really analyses the advertisment that we've been sold in Western culture, which is, What is success? What is happiness? If you get this part of the equation, does it equal happiness? And the answer is, 'No, it doesn't'. There's something beyond that, and that gets explored within the context of the album."
As reflective as they've ever been, Queensryche have made a powerful emotional and psychological statement on 'The Promised Land', while constructing some of their most moody, complex songs yet. And fans will get a chance to experience the album in conventional format, on CD-ROM (a full-length 'Making Of...' programme which will be available later in the year) and, of course, live.
A world tour is tentatively scheduled to begin in Europe in October, and Geoff Tate promises another explosive, multi-media stage show that will span material from the band's entire career. "It's gonna be very theatrical," he enthuses. "If, on a scale of one to 10, the 'Empire' show was a five, then this is gonna be a 10! The album is about looking at your life and where you've been in order to see where you're going, and the show will reflect that. It will show, 'This is where I was, this is where I am now, and this is what's next'."
While you were gone...
Crikey, it's been 4 years since The 'Ryche released their last LP 'Empire'. Mike Peake takes a look at what's gone down since Geoff Tate and co last got it together.
1460 days have passed. That's 126,144,000 seconds, or 70,800 episodes of Coronation Street played back to back.
The Wildhearts formed, recorded and released their 'Mondo Akimbo A-Go-Go' EP with drummer Bam, toured Britain supporting Love/Hate. Still in the shadow of both the Dogs D'Amour and The Quireboys, they then followed up their feebly received arrival with the 'Don't be happy, Just worry' double EP and recruited drummer Stidi. They recorded 'Earth versus the Wildhearts', sacked Stidi, recruited Rich, toured Britain with The Almighty, semi-recruited Willie, sacked CJ, lost Willie and hooked up with Devin Townsend. Album number two is in the can.
Pearl Jam released their debut album, their second album, and a third is now due in November.
The notoriously slow Def Leppard hit us with 'Adrenalise' in 1992, an odds-and-sods package 'Retroactive' the following year. Another LP is currently being recorded.
Guns 'n' Roses replaced drummer Steven Adler with Matt Sorum, swapped guitarist Izzy Stradlin for Gilby Clarke, sacked Gilby Clarke, and, possibly, reinstated him again. They've also released two double albums and a covers LP. In addition to this, bassist Duff McKagan has released a solo album, as has Clarke, and axeman Slash is finishing off his 'SVO Snakepit' record.