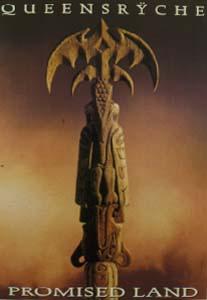 Serious in Seattle
Promised land is their first album in four years!It's also their most depressing! Has the Seattle suicide vibe rubbed off on Queensryche? Dave Reynolds gets personal with Tate's troopers!
Every four years, the Pacific Northwest region of the United States enjoys something of an Indian summer. The locals expect the familiar Autumn rains any day, but for the time being, Seattle basks in glorious sunshine, with temperatures in the 80's.
For a place despised by many as nurturing the Grunge explosion, the so-called Jet City is actually a pretty breathtaking place. Remarkably clean, smog free and noticeably lacking the intimidating atmosphere other major US cities possess, Seattle is one of the most beautiful and comfortable metropolis' on God's earth. It's easy to see why Queensryche refuse to relocate.
Ah yes, Queensryche. The forgotten Seattle success story.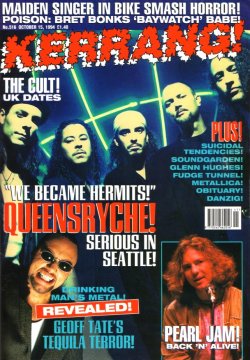 Before the onslaught of Grunge, Queensryche spearheaded the Seattle music revolution. Releasing their self-titled EP on their manager's 206 label in 1983, they netted a major deal with EMI America following a blaze of Kerrang!-led press support. Four albums later, their 1990 LP, 'Empire', saw them eclipse their 'Thinking Man's Metal' tag with an album which matched accessibility with their brand of classy, precise post-Maiden Metal. 'Jet City Woman' and 'Silent Lucidity' were just two of the massive uideo-led singles that transformed the Ryche into unlikely MTV fave raves and broke the five-piece big time.
Having seen 'Empire' sell in excess of four million copies worldwide. Queeensryche decided to take some time off before making their next move. It's almost as if - their contribution to the 'Last Action Hero' soundtrack (the pompous 'Real World') aside - the band went into hibernation for a couple of years. In their absence, the careers of fellow Seattle-ites like Nirvana, Pearl Jam, Soundgarden and Alice in Chains all took off.
Ironically, whereas Nirvana have tragically come and gone, Alice in Chains appear to be on the ropes and the future of Soundgarden is rumoured to be a little shaky, the Ryche have struck back with a brand new album - the dark, brooding and intensely personal 'Promised Land'.
Scott Rockenfield's gleaming drum-kit takes pride of place in the centre of a large warehouse in Seattle's Fremont district surrounded by heaps of equipment. A backdrop from the 'Empire' tour lies crumpled to one side watched over by a garish Elvis Presley statue. The building itself is big enough to incorporate Queensryche's entire North American production.
The close-cropped, bearded figure of vocalist Geoff Tate sits on a chair in the middle of an otherwise bare office situated behind the main reception area. Tate, a deep thinking, slightly shy indvidual, is intent on explaining why Queensryche took their time in making the follow-up to 'Empire'.
"It wasn't planned, it just kinda happened. After the 'Empire' tour we all went our seperate ways for a while. Before we knew it eight months had gone by. 'Empire' bought us a lot of time, really. Before that album it had been just a hectic schedule of recording and touring. 'Empire''s success allowed us to have a nice break, something we hadn't known until then.
Geoff Tate on
Soundgarden
"I think their last record ('Superunknown') was very good. They're a good band and I'm happy for their success. Ben Shepherd ('Garden bass oik) is a neighbour, so we hang out when we're not busy working."
Komment kollated by Pete Makowski
"It was strange taking time off," Geoff continues. "I think it was at that point it dawned on us that we'd achieved all the goals we'd set. It was actually kinda difficult to know which move to make next."
So, was motivation difficult? "No, quite the opposite really," he laughs. "Once the tour had ended we worked on stuff at home. We'd all invested in this home studio gear and it was a very creative time so we were able to tape every idea that came into our heads. We were on a roll. Previously we'd made very inaccurate sketches of what we'd wanted to do before recording. This gave us a real opportunity to experiment."
"We just kept saving all the noodling that we did on tape at home," guitarist Chris DeGarmo reveals from the driving seat of his BMW en route to a Halfin photoshoot downtown later in the afternoon. "I'd put together this network of portable digital recorders that allowed us to send our ideas back and forth and add to them. As things began to develop we'd get together and record over at Scott's parents place to get the rhythm section worked in."
"It probably took between eight to 12 months before we finally had what we wanted to go with," recalls Tate. "Finally, we pooled all our studio equipment together and had it built into this huge log cabin that we'd found up in the San Juan islands, north of here."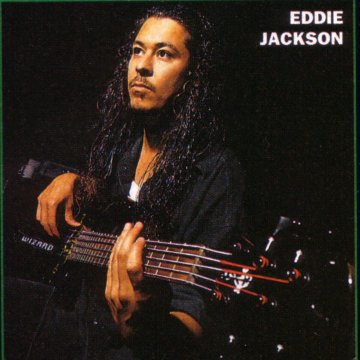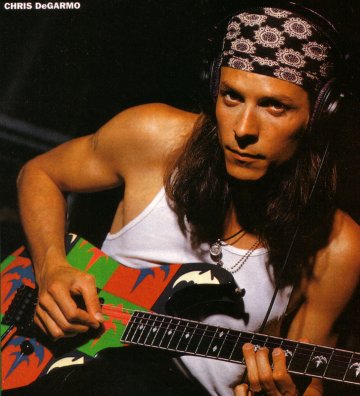 During the songwriting process both Tate and DeGarmo recognised a theme running through the material. "We'd all begun to look at our lives, ourselves, and began wondering who we were and where we were at," states Tate. "Because 'Empire' was such an economic success it changed our lifestyles dramatically. It was a difficult thing to get used to. We'd all come from backgrounds where money was tight. Suddenly you're in the high tax bracket and people are treating you differently. It was a very strange thing.
"I feel very sorry for bands who have this almost instant success. In retrospect I'm glad it happened to us later in our career than when we were younger, because I feel it would've been harder to deal with." But isn't the dream of international success one of the reasons you form a band? "Well, yes, but it's a selfish goal. Initially you want to work with like-minded individuals who share the same musical appreciation. You then discover there's a chemistry and you realise that you can do something with it.
"The thing is," Tate reflects, "after years of struggling you suddenly have this success, money and everything that you'd think would make someone happy, but it really doesn't." Digging deeper, the root of the problem is that while Tate's career is ridiculously successful his personal life can be - by his own admission -pretty bad. "When I get stuck into a project I become so obsessed with it that everything else in my life falls apart. I got to the stage where I really wasn't very happy. I realised that everything I'd been working for musically I'd accomplished.
Geoff Tate on
Alice in Chains
"Out of all the bands from this area the one I have the most affinity with is undoubtedly Alice In Chains. I don't know what they're up to at the moment other than they cancelled their tour. I hear they've started working on another record. I like the music they do the best, because it's heavier and darker and I kinda like that."
Komment! kollated by Pete Makowski
"I guess..." he pauses. "This is something everybody goes through no matter what you do. There comes a time when you have to ask yourself, 'Do I keep doing this for the rest of my life or do something else?'. All of this self-analysis is basically where the theme of the album came from."
"There were a couple of tracks that I had written and Geoff had begun writing lyrics for where we hadn't really talked about what we were going to do, but we noticed there was this sense of introspection becoming evident," reveals DeGarmo. Interestingly, where Rockenfield and bassist Eddie Jackson can certainly relate to the general theme, DeGarmo's guitar partner, Michael Wilton, wasn't so sure. "The way we set it all up was real innovative and allowed us to be more inspired, but a lot of the songs I came up with didn't get finished because the album kinda went in a different direction. It was actually a bit more left-field to the way I think, but once I saw how things were going and heard the finished record, I realised that it was a really sensitive, special recording," confirms Wilton. "Geoff really opened himself up. It was a cleansing for him in a sense."
PETE MAKOWSKI unravels the shocking truth behind Tate's Tequila terror!
"ASK 'IM about his drinking ability!" That's the directive from friends-of-the-stars and globally gross K! snapper, Ross Haltin. Seems our man Ross has been in compromising situations with 'Ryche party animal Geoff Tate, and that there is indeed a hidden, lighter, lager-lashed side to the man's 'boring boffin' rep.
In fact, check out the lyrics to the title track of 'Promised Land' and you'll find a line that reads 'Bartender... bring another drink lor their favourite son'. A sinister slant to the sombre (as opposed to sober!) undertones of the album. So, er, Geoff, my son... tell me about your drinking ability.
WHERE DO YOU DRINK?
"I drink down a placed called Le Bistro. It's kinda cool because it's underground, under the street. It looks like a cross between Italian Renaissance architecture and Moorish architecture. It's a very dark, candlelit place. The bartender's called Murray and he's a classic guy. He wears a tuxedo and is totally in control. They also happen to have a great selection of Tequila."
TEQUILA!
Tequila?! Isn't that kind of like rich Mexicans' moths? You mean to tell me there's different kinds?
"Oh yeah. There's Patroen, Herriadura, and my current favourite, Tres. That stuff is so smooth. It mellows you up to catch a beam (Note: 'Catch a beam' is Seattlespeak tor 'Brahmz'n' List'!-Ed.)."
VINO!
"I love Italian wine. When we were in California we visited a vineyard, and the guys there were fans of the band. They let us take as many cases of wine as we could carry. That was fun!"
BEER.
"There's some micro breweries in the States that are doing their own brand and it's far superior to the bigger brands which taste watery. Of course, I love the beer in Britain. Talking about drinking, we recorded the new album on an island 200 miles from Seattle and they had a pub that made it's own beer. It was incredible. I guess if we could have brought out recording equipment into the pub we would have stayed there and recorded and drank all the time. I don't remember drinking as much as we did when making this album! The music lent itself to that I guess."
So there you have it, K!-sters! 100 per cent proof that our man Tate knows his tipple!
The closing, almost ghostly, piano-led piece 'Someone Else?' is a particular example of Tale's introspection, with Geofl admitting that he finds himself at a proverbial crossroads in his life. 'Bridge' is also loaded with significance for Tate. Written by Chris DeGarmo, it deals with an unresolved relationship with his late Father. Apparently DeGarmo was able to sort the situation out in time before his Father passed away. Geoff, who had come up against a similar situation, wasn't.
CLEARLY TATE has invested a lot of himself in the 'Promised Land'. While Geoff exorcised some of his own personal demons on the album, how have the rest of the band dealt with the concept of multi-Platinum success? "I've probably become a hermit!" chuckles the amiable DeGarmo. "I don't really socialise that much. I don't think I ever really did anyway. I somehow thought that it might change me as a person. I don't think of myself as an unhappy person, but you think that money might limit the struggle. The thing is, I was so passionate about what we were doing that I never noticed we were struggling anyway! If anything. I think I'm more appreciative of the personal time I get to spend with my wife and daughter."
"I don't think that success has affected us as people." reckons Eddie Jackson. "We're still normal guys. You just don't let it go to our head!" "There are more important things in life!" chimes in Scott.
Wilton, like Tate. did feel some change. "I think I got a little burnt touring." he admits. "I felt consumed by the entity that is Queensryche. I love playing on stage, but everything else that goes with touring wreaks havoc after the first six weeks! I felt I had to re-discover myself a little." "It's almost like you've got to find reality again." states Scott. "The music business is such a fantasy lifestyle, that's why so many people want to be part of it. But it can be a lot of hard work and with plenty of frustration to boot."
On a more light-hearted note, the hard work and frustration does have its rewards. Like Scott's very nice Porsche 911 Carerra! "It was a goal!" he laughs. "I always wanted to have one. The insurance costs a fortune, but I wouldn't part with it!"
All the joking aside. Rockenfield probably has the most empathy with the way Geoff Tate has been feeling these last few years - Tate's personal life often suffering as a result of his career. Scott has been punished in the same manner, having split from his wife who he has since divorced. Scott has now moved into an apartment in downtown Seattle and seems to be relishing a return to single life.
Tate, however, seems the most consumed by music in general of them all. He's even been learning to play the saxophone! (Could it be the singer wailing away on said instrument on the album's title track?) "Music is my focus in life." notes the singer, as we bring things to a close. "Before we had the time off I never realised how little time my wife and I spent together. We had this long-distance relationship which worked fine, so being around each other so much it was almost like we had to re-discover one another again. But it I wasn't doing this I'd have no idea what I'd be doing to earn a living. This is what I love to do and I can't see it changing."
'Promised Land' is out now on EMI Records. Queensryche play the London Astoria on October 20. The gig sold out a matter of hours after Kerrang! announced the show last Wednesday.