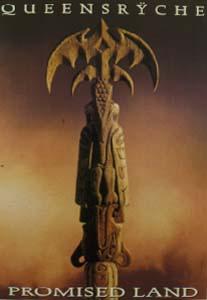 'RYCHE REACH PROMISED LAND
RAW #158 - September 1994
Original Seattle rockers Queensryche are set to return with a new album, 'Promised land', that deals with the theme of childhood and guitarist Chris DeGarmo's scarred relationship with his dad! Gail Flug sits in the analysts chair.
Before grunge became a household word, the biggest band in Seattle were Queensryche, a band known for the progressive grandeur of their arrangements, majestic melodies and highly dramatic vocals - the absolute antithesis of what their hometown is now famous for. It seems that the whole scene has come (and gone?!) since Queensryche released their last album in 1990, 'Empire'.
As the band gear up for the release of their sixth opus, 'Promised land', on October 10, the million dollar question is, was it worth the wait?
Being lucky enough to hear the glorious 48 minutes and 7 seconds of it before hooking up with guitar duo Chris DeGarmo and Michael Wilton in New York City, the answer would appear to be in the affirmative. A stunning array of different styles and textures, 'Promised land' is the deepest and darkest Queensryche album to date, a step beyond the slightly upbeat 'Empire'.
"A lot of it is personal reflection," says Chris DeGarmo. "We'd come back from the 'Empire' tour, and I thought that once we'd 'made it', life was a coast from there, as if certain problems wouldn't be there any more! But even when we were on the road, and all these great things were happening to us, people were still having bad days and would still have these problems at home. People's childhood baggage was still there and the scars from childhood were still following them around. None of that goes away. Lyrically this album deals with emotional baggage, " accentuates DeGarmo, " and alot of it hurts. We took a good look at all that, and it was a really good source to draw from, because all of us come from somewhat dysfunctional families. We just decided to look inside. There were really powerful emotions that we felt could inspire creative activity. The album actually has a positive message to it, although it may appear to be a very heavy and depressing album.
"I think it may be the most positive of all our releases, at least for us; talking about finding out what really matters. We had a lot of fun making this record, as heavy and down as it sounds. It certainly brought the band closer together so that we recognised our potential and our chemistry and everything. It was a great time. This is definitely a darker record than 'Empire', which was almost blindingly happy-go-lucky, like, 'Oh, we're so in love', but it was a picture of life. This one is finding out where happiness really lies."
The members of Queensryche - DeGarmo, Wilton, vocalist Geoff Tate, bassist Eddie Jackson, and drummer Scott Rockenfield - had plenty of time to reflect and relax having taken over a year and a half before starting the new album.
"We needed a break," explains Chris. "We just needed to unplug from the industry, disconnect and not do the Queensryche thing for a while, simply because we'd been doing the 'album-tour-album' sort of thing for a long time. We needed a perspective break.
"Everyone needed to rediscover what it was all about," adds Michael. "What made it fun, what drove us, because I think we got so involved in the whole media thing that we kind of lost perspective of who we really were as people."
OK, so once you'd dusted off all those tired old cobwebs, how did the 'fresh start' come about? >br /> "We probably started tinkering on things around the summer of 93," begins Chris. "Just recording stuff at home, which was not a part of any schedule. When we thought we were ready to take stock of what we had and assemble it all, we moved to San Juan Island and we had this communal vibe going together. We moved into a log cabin right there on the water, which was a really beautiful and inspiring place to be."
Part of the reason why the album took so long is because the band decided to build a studio in a log cabin, and make it their home for five months. With no deadline in mind and complete freedom, Queensryche continued to record and experiment with no distractions from the outside world.
"You don't really think of things in the normal sense that way," admits Chris. "In the past we've gone into the studio and it's absolute focus and the clock is ticking and you knew you were in there to make a record. We did 'Empire' in eleven weeks, everything in one compressed time and moment. This was a much more relaxed situation. We were just waiting until it felt right."
Michael agrees that this seclusion inspired the album's mood: "It was a vibe. Can you imagine being in this place with candles everywhere, incense burning, wine flowing and being away from everything? We were on 20 acres of land out in the middle of nowhere, just re-focusing and looking inward. The album is more of an introspective look at the psyche of what Geoff views as his past and simple mental pictures , just really searching and putting that down as thoughts on tape. In a sense we were like a tribe out there, just doing our thing. It was like 'Ryche Island..."
'Promised land' is rich with the traditional, powerful, hard songs the band is renowned for, like 'My global mind' and 'One more time'. But it's hardly one-dimensional. It swings into the haunting 'Lady Jane', before departing with the twisted 'Disconnected'. At times it's reminiscent of the band's third LP 'Rage for order' (sic - 'RFO' was their second album), especially during lead track 'I am I'. Chris smiles in agreement.
"I thought it had a little 'Rage..' edge to it as well. 'I am I' talks about identification time which happens hen someone is very very young, even less than one. Are they able to determine that they aren't a part of their Mum and Dad, that they're their own person at last? Iam me...I am I , the psychological process of identity. And it's a f**king trip musically... The next song, 'Damaged', is more of a look at psychoanalysing childhood baggage. The scars of childhood, the pleasures and pain of childhood, and the imprint it leaves on our minds as we grow older. Musically, it's an aggressive, twisted sort of thing."
DeGarmo has done plenty of soul-searching about his childhood, adding a mid-tempo acoustically dominated song called 'Bridge' about his relationship (or lack of it) with his father.
"It felt good to get this one out, a sort of exorcism", Chris explains. "I've been dealing with this issue for 31 years. The song tells the story of what actually happened. My Dad called me out of the blue a couple of years ago and we hadn't talked for decades. Suddenly he wants to strike up this relationship and forget about the past and I couldn't have it. I couldn't deal with it! It didn't make sense to me and I had to write a song about it! Strangely enough, he passed away when we were recording the album, but I had pretty much made my peace with him."
The closing track, 'Someone else?', featuring simple vocals and piano, is perhaps the most effective and emotional number of all.
"That's Geoff looking at a part of him which he's re-evealuated," smiles Chris. "He's got to grips with a certain part of his life that's now focused in a new direction. I think he's recognised that when he was younger his career, himself, and what he was going to do was of sole importance, and that he didn't spend as much time thinking about his family and the relationships around him. I think he's had another look at that and has realised it was another person and that he can't relate to that way of thinking any more. The song itself exists in a couple of different musical forms. It started as a full band arrangement and we've got it on tape; it's very mixed and very cool. But it's very intimate lyrically. We started toying around with some keyboards and discovered that there was this new take on the tune with piano and voice alone. Instead of the classic angle of starting with something sparse and slowly allowing textures in and getting things to build, we thought it would be really true to what Geoff was talking about to keep it intimate all the way down the line.
"The other thing that it allowed was for Geoff to really shine. Not that he doesn't on tracks where we have a whole lot of music, but in this case you catch everything he emotes, every bit of resin in his voice, and by having less it actually sounds enormous.
While touring plans have yet to be finalised, the band admit that it will be difficult to piece together a live set these days, having so much material to draw on. Queensryche definitely won't be playing 'Operation:Mindcrime' in it's entirety (as they did on the 'Empire' tour), but they do have a special treat in store in the shape of a CD-ROM, which will be available (at least in the States) in February.
"All the record companies are starting to get in on these things at the moment and they thought we were the perfect CD-ROM band," explains Wilton.
"We had meetings with a company called Media-atrics, collaborated with them and came up with a storyboard which comprised a mini-documentary which will show some of the recording and some special moments. Then we put together a chart of those ideas we'd like to have represented so as to make the user interactive, to go into the log cabin and be able to change certain things and experience whatever they want. On top of that there will be a surreal landscape that we individually put together and that's going to be a real trip. It's something you'll really have to see for yourself!"
With over 12 years behind them, what is the secret of Queensryche's longevity?
"We've taken a stair-case up in our career," says Michael. "It's been a slow, gradual, ever-ascending progression. We constantly had a vision, a goal, and we're musicians rather than rock stars. If you're equipped with that mentality you can breathe the air and realise what's happening, not just be catapulted to the top and lose your mind. We just take things at a slower pace."
"And we have a good time," adds Chris. "That's a big part of it, too!"