QUEENSRYCHE City Hall, Sheffield 11 February 1995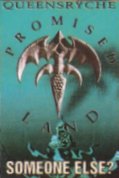 The faded, empty seats scattered around the edge of Sheffield City Hall indicate that the venue itself and the band onstage have seen better days. A few years back, Queensryche would probably have been playing the arena down the road. Now, in the wake of the musical revolution that has emanated from their hometown of Seattle, Queensryche are finding their relevance put to the test. The fans who are clinging to the front of the stage prove that Queensryche's tortured musical complexities can still invoke as much passion as ever, but it remains to be seen whether such devotion will be enough to place the likeable quintet back on their Progressive pedestal.

Clearly, the band have decided that attack is the best form of defence, opting to present a show that appears to be their most extravagant and theatrical to date. There's no support band, and opening number 'I am I' looks like something out of an Andrew Lloyd Webber musical, with vocalist Geoff Tate's arrival preceded by surreal video footage which shows him rather grandiosely walking through a hole in the cosmos! Having leapt through said spacey area he appears on stage at Sheffield City Hall (something of a disappointment, I imagine) dressed in a City gent's suit and being pursued by a couple of fake reporters and one very real, very sweaty photographer (our own Pete Cronin, who has been sneakily roped in by the band to take part in the whole charade). The rest of the band play on, seemingly in their own space, trying to avoid Tate's flamboyant gestures as he acts out the lyrics of alienation. It's an extremely impressive opening, culminating in a suitable climax where Tate rips off the suit and strips down to a pair of skimpy black shorts, obviously designed to help him hit those high notes!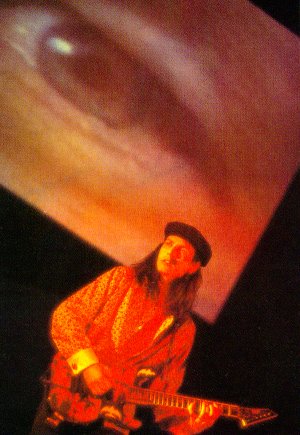 The rest of the set attempts to live up to such drama, and for the most part succeeds. The video and light show are spectacular, making a refreshing change in these minimalist days. The musicianship is every bit as polished as you might expect, with guitarists Chris DeGarmo and Michael Wilton locking into some heavenly duel lead work on the likes of 'Eyes of a stranger'. Meanwhile, Geoff Tate is in posturing overdrive, eyes bulging, fists clenched, and chat kept to a minimum.
A show like this makes it easy to remember why Queensryche were once considered to the most challenging and innovative band around. However, it's also clear that the majority of songs from new album 'Promised land' go down like a lead balloon, although 'Lady Jane' and 'Someone else' draw passable cheers. As ever, it's the chilling 'Operation:Mindcrime' section of the show which produces the most fervent crowd reaction, indicating that '...Mindcrime' is seen by many as Queensryche's finest hour.
By the end of the evening, Tate has returned to wearing some less revealing trousers, and Queensryche have successfully re-established their credibilty with fans after last years Astoria debacle, when many followers were left stunned by a half-baked acoustic show. Hopefully, it won't take the band four years to make the next album, 'cos the truth of the matter is this show succeeds despite the 'Promised land' songs, not becuase of them. If they leave it another four years there might not even be an audience for the Ryche to win back!
MAURA SUTTON
Nobody liked the last QUEENSRYCHE one-off show in London, which was full of acoustic mumblings. So what did the band do about it this time?
QUEENSRYCHE TURNED up at London's Astoria last October for what they thought was going to be a tree admission, semi-acoustic show in front of a hall full of devoted fans to record a few B-sides. They were mortified when they were told that people had paid £10 and were expecting the usual full electric performance. Alas, it was way too late to change their plans, and almost half their set (including 'Della Brown', 'Silent Lucidity' and golden oldie 'The Lady Wore Black') was strummed away on acoustic six strings and the band ended without playing an encore! The press weren't kind at all, so Queensryche themselves knew this latest, regular UK tour had to be pretty special to compensate. Thankfully, it was!
Sadly, the vintage 'Queen Of The Reich' was not revived from the vaults, but the 'Ryche did see fit to include a huge chunk of their quintessential 'Operation: Mindcrime' conceptual masterpiece, the mainstay of so many classic shows by the band, including 'Revolution Calling', 'Spreading The Disease', 'I Don't Believe In Love' and 'Eyes Of A Stranger', leaving the bulk of the material from the new 'Promised Land' opus until towards the set's conclusion. With 'Screaming In Digital' and 'Neue Regel' representing cult favourite album 'Rage For Order' - the band's Glam phase - and even 'NM156' from the long-lost 'The Warning' debut making an early appearance, the Seattle quintet's two-hour set proved to be all that the hardcore fan following had been anticipating ... and more! Although there are doubts about the long-term prospects for the 'Promised Land' album, is no denying the fact that can still cater for their dedicated long-term followers.
Dave Ling