Kerrang 05-02-2000

The Grungefathers?!
In the '80s, QUEENSRYCHE were one of the biggest and most acclaimed bands on the planet. According to them, however, all of this pales besides their most lasting legacy: inventing grunge...
"THE QUESTION to ask yourself is if Queensryche hadn't happened, would grunge have ever happened? I think we started it." Queensryche guitarist Michael Wilton fixes me with a steely, unblinking glare that seems almost as bold as the statement he's just made. Considering that his band have spent almost 20 years building a reputation as the most precise, polished, decidedly non-grungey metal bands on the planet, such sentiments hold about as much water as a very large tea-strainer.
"Back when we were coming up in the 1980s," he continues, unabashed, "There really weren't very many places to play, so we used to have to play in roller-rinks parties and so on. And all the bands we used to play with at that time were the same guys that went on to be in Soundgarden, Alice In Chains and all the rest of them. We had our success a lot earlier than they did and paved the way for them. Thats all."
TEN YEARS ago, Queensryche's star was ascending. Two multi-platinum albums -1988's groundbreaking 'Operation:Mindcrime' and 1990's equally acclaimed 'Empire' -had propelled them to the top of metal's premier league, while their reputation as Planet rock's most erudite outfit was assured.
But then they hit the brick wall that was grunge. While the rest of the world took to the plaid shirts and blue-collar angst of fellow Seattlites Nirvana and Pearl Jam like ducks to water, Queensryche were left floundering. The monster they claimed to have helped create ultimately came close to killing them. The irony is not lost on the cheery Wilton and vocalist Geoff Tate, as they sit sipping cappuccino in a bustling Seattle coffee-house.
"All these bands that went on to become grunge stars were at all those shows" Tate confirms, "and we really were their influence because we were a step ahead of them at the time. It's not bragging. It's just how the whole here developed. Before that, it was us and Heart."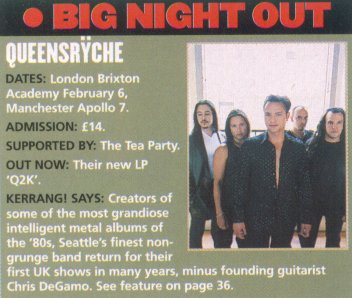 The smile vanishes as he describes the years that followed the early 90's grunge explosion. Tate humbly admits his band - completed by guitarist Kelly Gray, bassist Eddie Jackson and drummer Scott Rockenfield - was left "dead In the water" by its after-effects and came close to quitting. Diminishing sales led to dramatic upheaval and heralded the darkest days of the group's career.
"All of a sudden we were 'old school'" he says, his normally strident tones struggling to be heard above the grinding espresso machines and lunchtime chatter. "Everyone was championing this new music and we were seen as music everyone's big brother listened to.
"It's really funny because to me all those bands just sounded Iike metal bands and they still do. Just ask our guitarist Kelly Gray - he's worked with them all and he'll tell you the only true grunge band was Skin Yard. And yet we were seen as the establishment they were all railing against."
He shakes his head in disbelief and pauses to lick the foam from his coffe off his top lip before adding resolutely:"It was a real bottoming out time for the band and it put me in the pit of depression for quite some time. 1997 and '98 were among the worst f**king years of my life."
WHILE GRUNGE wiped out the LA glam metal scene in an instant, the effect on Queensryche's career was considerably slower, though no less debilitating. When the Grammy-nominated 'Operation: Mindcrime' put them on the map in 1988, Nirvana and Soundgarden were in their infancy and Pearl Jam were still Mother Love Bone. 'Mindcrime' would go on to sell more than three million copies, and follow-up 'Empire' performed even better. Even '94's 'Promised Land' - released when grunge was at Its commercial peak and punk was breaking through into the mainstream - entered the US charts at a respectable Number Three.
So far, so good. But things began to go a Iittle bit pear-shaped when, after a period of inactivity, the 'Ryche returned in '97 with 'Hear In The Now Frontier'. Shortly after its release, the band's US record label EMI went out of business and the threads of Queensryche's career began to unravel."We literally lost our shirts." laughs Tate, leaning back in his chair. "We couldn't tour for as long as usual and we had sunk hundreds of thousands of dollars into our show, so it all went out of the window. To put it bluntly, it was a huge setback."
"Chris thought we should just split up", says Wilton, his face hidden behind his shoulder length black hair as he toys with one of several silver rings on his fingers. "And l think everybody thought about that, especially Geoff. But then he phoned me up and said 'Look its not as bad as it seems'." "It was obviously a big blow" continues Tate."Not only were we in huge financial debt, but now we had no Chris de Garmo either. We had to figure out if we still wanted to do it, and after much soul-searching among the rest of us the answer to that was yes."
The anouncement of new guitarist Kelly Gray, says Tate, has given the band a new lease of life. "The whole experience brought the band closer together again," reasons the singer. "We were really dysfunctional before and I think we're a lot healthier now. We saw that we could have a shot at it again."
THAT SHOT came in the shape of last year's 'Q2K' opus. Its an album that Geoff Tate insists is a return to former glories. "I see no diffference in it and 'Empire'," he shrugs. "They're basically modelled after each other - 'Q2K' is basically an 'Empire' for the year 2000." That may be so, but there's no ducking the question of Queensryche's relevance in these days of tattoos, piercings, and down-tuned guitars. "I'm sure they look at us as old farts," laughs Tate, "but, man, am I so sick of tattoos and piercings. The only way it might affect us would be if the guys in Limp Bizkit or any of these other bands were to be generous and honest and say, "Man, Queensryche were one of the biggest influences on me when I was growing up'.
"lf a band does that for an older band, whlch l think is very admirable, then the younger audience might well give it a listen because if's being endorsed by somebody that they respect. But a lot of times bands don't like to do that - they won't admit to having liked, say, Abba because they think people are going to laugh at them." Of course, the grandest irony of all is that Queensryche have weathered their own storms while the majority of bands who nearly killed them off have fallen by the wayside. "I really do think hard rock is making a comeback," says Wilton. "You have all these younger bands that are keeping rock music alive and my only hope Is that as the fans get older and and more experimental, sophisticated and individualistic in their outlook they will want to hear a band like us. I mean, it's not like we're going anywhere - we may have had a minor hiccup in our career, but we're going to be around for a good while longer yet. We're survivors."
QUEENSRYCHE play London Brixton Academy on February 6 and Manchester Apollo on February 7. Their 'Q2K' album is out now.