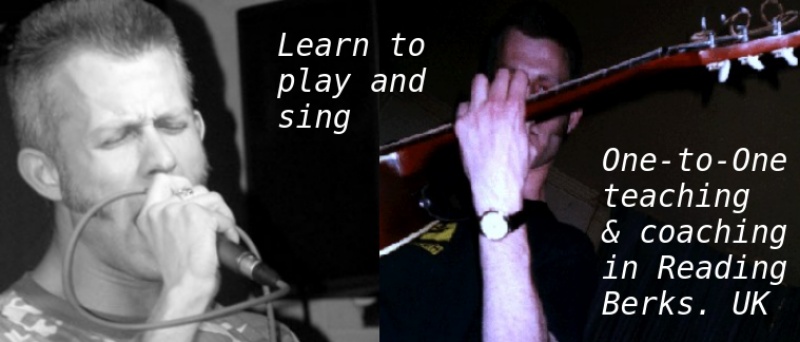 Guitar, Keyboards, Singing & Songwriting
Guitar Lessons
-beginners & intermediate!

Learn the basics:- chords, scales, hammer-ons, hammer-offs, riffs, power chords & soloing!
Get your chops together! Play pop, punk, rock, reggae and blues!
Everything you need to get playing, whether you play for fun, in a band or write songs!

£35 per lesson
- (Adults:1hour. Under 16s: 45mins)
Guitar lessons may be available over Skype!





Vocal Coach
-all levels!

Singing -
Learn correct breathing to protect your voice from damage- improve power, sustain, control and accuracy!
Build your confidence - techniques to help calm nerves.
Learn to follow vocal melody lines and take melodic cues from instruments to sing in key!
Public speaking - For anyone who has to speak in front of an audience - business people, poets, comperes, comedians...
Build your confidence! Learn to project your voice, techniques and methods to hold your audience's attention, including:
depth, tone, rythmn of speech, body language and the power of "fake" eye contact!

£35 per 45mins
Lessons full-time and evenings Mon-Fri
Call or email Jon to book a lesson on:
Tel: 0774 3897688
Email: drjonoverton@googlemail.com
Songwriting Coach
- intermediate & advanced!

Once you are confident with your playing and singing you'll probably start writing your own stuff - bring your ideas and get help developing them into full songs.
Experienced songwriter will help you nail the melodies and rythmns you can hear in your head & want to bring to life!
Help with hook lines, lyrical meter/scan, song dynamics, chorus/refrains, bridges, middle eights, keys and key changes, transposition.
Bring your tune to life without losing your original intention!

£35 per 45mins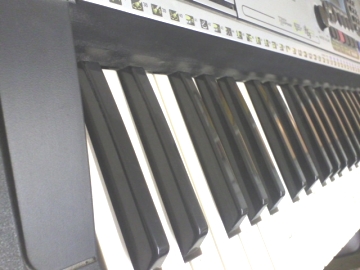 Keyboard Lessons - NOT CURRENTLY AVAILABLE SORRY
-beginners!

Learn basic keyboard technique, scales, chords and riffs!
Timing and rythmn!
12Bar blues, rock and pop songs!
Also classical and folk tunes.
Learn to read music!

£35 per 45mins




Questions often asked by customers and my Answers

1 - How much do you charge for lessons? Scroll back up the page to read the current prices for lessons, the price for each type of lesson being at the bottom of that column. Or - click on guitar, vocal, songwriting or keyboard to go straight to that section

2 - Where do you teach? I teach in a room that I hire at the Rising Sun Arts Centre in Reading town centre (Reading, Berkshire, UK). The Rising Sun Arts Centre is on Silver Street which is about 10mins walk from Reading Station or about 5mins walk from the Oracle shopping centre. Click here for map! Not to be confused with the old Rising Sun PUB which was right next to the train station! I do not travel to student's houses to teach.

3 - When do you teach? I teach full-time Mondays to Thursdays mainly evenings (generally I like to finish teaching for the night around 9.30pm ish, 10 pm at the latest). I don't work weekends or bank holidays.

4 - How do you teach? I teach one student at a time so that the student gets undivided attention. On the whole I teach using cover songs rather than bare technique as most people find it far more FUN to learn this way. I'm big on fun! Music is about self-expression not rigidly grinding out an exact reproduction of someone else's style or sound! I have a whole catalogue of cover songs to work from and I am cool to learn new ones if the student has certain songs they burn to learn - though the student may have to wait until they have reached a certain level of ability before attempting some tunes! (Re. Guitar - Both I and the student will have guitar in hand throughout the lesson so that the student can see whatever is being demonstrated and immediately have a go themselves.)

5 - How do I book a lesson? Please call me on 0774 3897688

6 - How do you want to be paid? Do you take cheques? Cash please! In full, either on the day (generally at the start or end of the lesson) or in advance. I also accept Paypal, paid in full in advance.

7 - Do you teach the "Grades"? No. The "grades" system of music teaching really took all the joy out of music for me when I was young and it was only after I abandoned that route and really got into music on my own initiative that I rediscovered my love for it again. So I try to teach in such a way that my students enjoy it and get to really PLAY rather than try to stick them into a rigid planned syllabus.

8 - Do you teach absolute beginners in guitar or singing or keyboards? Yes. Absolutely! :) I have a lot of experience working with beginners and I am more than happy to get you started right from scratch!

9 - I can't read music! Will I need to learn so I can play guitar / keyboard?
For guitar - no, not really. I'll teach you to read chord charts and TAB which are much easier to read and most guitar tunes are available in TAB. Most guitarists get along brilliantly just with that. Certainly that's all I use for guitar tunes! That and my ears!
For keyboard - yes, but not right away - I can get you started playing without music, but after a few months you'll need to learn, I build this into the lessons and try to make it as easy and fun as possible!

10 - Do you teach electric guitar? Yes. I played electric for years in various bands. Everything I teach can be played on electric guitar and the core of my lessons focus on the blues and rock that made the electric guitar so hugely popular. I cover lots of key electric guitar techniques (string bends, hammer ons/hammer offs, left and right hand damping, the list goes on and on...) and I've coached quite advanced electric guitar soloists in music theory and technique. BUT when teaching I much prefer to work with acoustic guitars for both teacher and student because -
a) This cuts out "setting up time" required for plugging in amps and fiddling with knobs which eats into actual playing time.
b) Teaching reqires a fair amount of talking and learning requires a lot of listening! Both hard to do if you are turned up too loud!
Electric and acoustic guitars are essentially the same beasts! (with the exception of certain sustain characteristics, volume and being able to plug in effects boxes...) Everything you learn with me can be taken home and practised on your electric! Finally, if you really can't bear to play on anything but an electric you can bring yours to lessons along with a small (no more than 30Watt) practice amp - so long as you can cope with using a "clean" sound with the volume turned down to the same level as an acoustic during lessons.

11 - I want to come to a guitar lesson straight after work and I don't want to lug my guitar into work - do you have one I can borrow? Yes I have two full size steel string guitars - one of which I specifically bought for students to use. Please do text to arrange to borrow a guitar during your lesson, so I know to bring it with me.. You are of course equally welcome to bring your own if you want!

12 - What kind of music to you play/teach? Do you teach classical or flamenco guitar? I play and teach blues, rock, pop, punk, soul, reggae (and a bit of country at students' requests). No, I don't teach classical or flamenco guitar. I have a huge respect for both these guitar traditions and while one or two bits of classical sneak into my lessons -my advanced students get to play the theme from "Concierto de Aranjuez" (Adagio) by Rodrigo, for instance- I don't play or teach either of them to any significant extent.

13 - Do you teach lead or rythmn guitar? Both. I'll quote Keith Richards here "There's no such thing as a 'lead' or a 'rythmn' guitar - there's just guitars". If you want to play you'll need to learn both "faces" of the guitar and I can teach you them both! Sure you may find one or other easier or more natural or more enjoyable but you'll still want to be able to do both.

14 - Do I need to own a guitar or keyboard to start taking lessons? No. But it helps a LOT to be able to go home and practice. You may want to come to the first couple of lessons and get some advice from me on good and cheap starter guitars and keyboards before you go and buy one. You can get really excellent instruments now for just one or two hundred quid if you know what to look for!

15 - Do you teach adults? Yes. Most of my students are adults.

16 - Do you teach children? Yes, but only from 13 years old and upwards. Some of my regular students fall in the 13-16 age bracket. Where students are age 13-16 years I ask a parent to accompany them and sit in during the lessons (parents get a comfy seat and a cup of tea!). I don't teach children younger than 13, partly because their hands are generally too small to span the frets or keys and also because their attention spans tend to be very short!
When parents call about lessons for very young children - I've had parents call me about lessons for kids as young as six - I advise them to play the kids lots of music, live or records, because listening is VERY important! It's also a good idea to get kids inexpensive scaled down versions of instruments to play with on their own initiative. Then when the children are old enough to take lessons they'll be keen to do so, rather than feeling it's something that's been forced upon them.

17 - Can I buy lessons in advance as a gift for someone else for birthday/christmas/other special occasion? How does this work? Yes! I'm always happy to receive payment in advance! :) When you buy lessons in advance from me I will provide you with an invoice/receipt copy which is equivalent to a gift certificate. Lessons bought in advance are not booked at the same time necessarily, it's better for the student to sort out exactly when they want lessons once they know they have them paid for! All that's needed is to phone me and make a booking. Call me on 0774 3897688 for more details.

18 - How long have you been playing / singing / songwriting? I've been playing guitar (electric and acoustic) and writing and recording songs for about 28 years and I've been singing since I was a kid, although I only got serious with it again about 28 years ago. I've been playing guitar and singing to audiences both solo and in bands for about 27 years! I used to play piano as a kid and I took it up again about 16 years ago.

19 - How long have you been teaching music? I have been teaching music full time for about 17 years now, except for a two-year pause since early 2020, due to the SARS-CoV-2 pandemic. However, with vaccinations and having acquired an air purifier unit, I'm re-starting my teaching as of May 2022.

20 - Do you teach left handed players? Yes, absolutely! I have taught a couple of left handed players.. Please let me know if you are left handed when booking a lesson, because you will need to bring your own guitar with a left-hand set-up to lessons.

21 - Cash machines don't give out fivers anymore! Is it ok to pay you 40 quid on the first lesson, leaving a fiver 'in the pot', and then pay 30 on the following lesson, and so on? Yes, no problem! Most of my regular students alternate 40/30 payments this way, I just make a note when you have a fiver 'credit' to keep track.

22 - What if something comes up and I need to cancel a lesson I have already booked? Please call or text me on 0774 3897688. Either is fine, even a quick "Sorry, cannot do lesson this week" text will do. Please try to give at least 24hrs notice (i.e. the day before), in which case I'll only charge you the £10 room-hire fee. If it's less than 24hours notice, then you'll still have to pay the full lesson fee I'm afraid, (unless it's a genuine serious emergency).
No need to feel embarrassed about having to cancel and re-arrange once in a while, I totally understand that "life happens"!