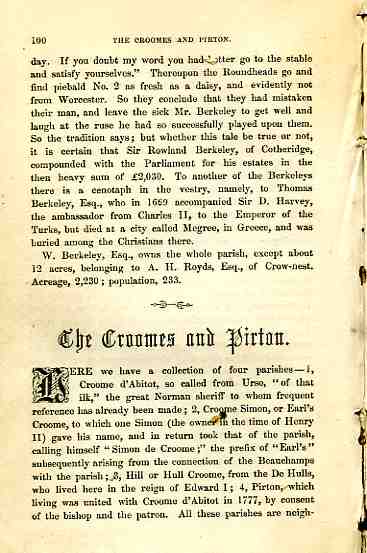 100 THE CROOMES AND PIRTON.
day. If you doubt my word you had better go to the stable and satisfy yourselves." Thereupon the Roundheads go and find piebald No. 2 as fresh as a daisy, and evidently not from Worcester. So they conclude that they had mistaken their man, and leave the sick Mr. Berkeley to get well and laugh at the ruse he had so successfully played upon them. So the tradition says; but whether this tale be true or not, it is certain that Sir Rowland Berkeley, of Cotheridge, compounded with the Parliament for his estates in the then heavy sum of £2,030. To another of the Berkeleys there is a cenotaph in the vestry, namely, to Thomas Berkeley, Esq., who in 1669 accompanied Sir D. Harvey, the ambassador from Charles II, to the Emperor of the Turks, but died at a city called Megree, in Greece, and was buried among the Christians there.
W. Berkeley, Esq., owns the whole parish, except about 12 acres, belonging to A. H. Royds, Esq., of Crow-nest. • Acreage, 2,230 ; population, 233.
The Croomes and Pirton.
HERE we have a collection of four parishes - 1, Croome d'Abitot, so called from Urso, "of that ilk," the great Norman sheriff to whom frequent reference has already been made; 2, Cromoe Simon, or Earl's Croome, to which one Simon (the owner in the time of Henry II) gave his name, and in return took that of the parish, .calling himself "Simon de Croome;" the prefix of "Earl's" subsequently arising from the connection of the Beanchamps with the parish; 3, Hill or Hull Croome, from the De Hulls, who lived here in the reign of Edward I; 4, Pirtbn, which living was united with Croome d'Abitot in 1777, by consent of the bishop and the patron. All these parishes are neigh-