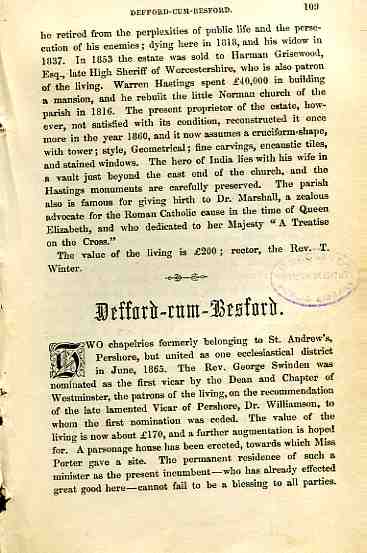 DEFFORD-CUM-BESFORD. 109
he retired from the perplexities of public life and the persecution of his enemies; dying here in 1818, and his widow in 1837. In 1853 the estate was sold to Harman Grisewood, Esq., late High Sheriff of Worcestershire, who is also patron of the living. Warren Hastings spent £40,000 in building a mansion, and he rebuilt the little Norman church of the parish in 1816. The present proprietor of the estate, however, not satisfied with its condition, reconstructed it once more in the year 1860, and it now assumes a cruciform-shape, with tower; style, Geometrical; fine carvings, encaustic tiles, and stained windows. The hero of India lies with his wife in a vault just beyond the east end of the church, and the Hastings monuments are carefully preserved. The parish also is famous for giving birth to Dr. Marshall, a zealous advocate for the Kbman Catholic cause in the time of Queen Elizabeth, and who dedicated to her Majesty a A Treatise on the Cross."
The value of the living is £200 ; rector, the Rev. T. Winter.
Daylesford.
TWO chapelries formerly belonging to St. Andrew's, Pershore, but united as one ecclesiastical district iijsw in June, 1865. The Rev. George Swinden was nominated as the first vicar by the Dean and Chapter of Westminster, the patrons of the living, on the recommendation of the late lamented Vicar of Pershore, Dr. Williamson, to whom the first nomination was ceded. The value of the living is now about £170, and a further augmentation ia hoped for. A parsonage house has been erected, towards which Miss Porter gave a site. The permanent residence of such a minister as the present incumbent - who has already effected great good here - cannot fail to be a blessing to all parties.