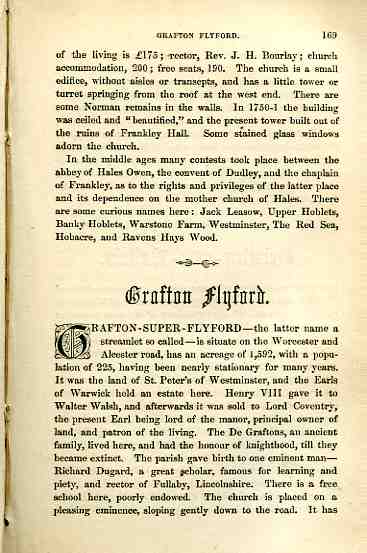 GRAFTON FLYFORD. 169
of the living is £175; rector, Rev. J. H. Bourlay; church accommodation, 200; free seats, 190. The church is a small edifice, without aisles or transepts, and has a little tower or turret springing from the roof at the west end. There are some Norman remains in the walls. In 1750-1 the building was ceiled and " beautified," and the present tower built out of the ruins of Frankley Hall. Some stained glass windows adorn the church.
In the middle ages many contests took place between the abbey of Hales Owen, the convent of Dudley, and the chaplain of Frankley, as to the rights and privileges of the latter place and its dependence on the mother church of Hales. There are some curious names here: Jack Leasow, Upper Hoblets, Banky Hoblets, Warstone Farm, Westminster, The Red Sea, Hobacre, and Ravens Hays Wood.
Grafton Flyford.
GRAFTON-SUPER-FLYFORD—the latter name a streamlet so called - is situate on the Worcester and Alcester road, has an acreage of 1,592, with a population of 225, having been nearly stationary for many years. It was the land of St. Peter's of Westminster, and the Earls of Warwick held an estate here. Henry VIII gave it to Walter Walsh, and afterwards it was sold to Lord Coventry, the present Earl being lord of the manor, principal owner of land, and patron of the living. The De Graftons, an ancient family, lived here, and had the honour of knighthood, till they became extinct. The parish gave birth to one eminent man - Richard Dugard, a great scholar, famous for learning and piety, and rector of Fullaby, Lincolnshire. There is a free school here, poorly endowed. The church is placed on a pleasing eminence, sloping gently down to the road. It has