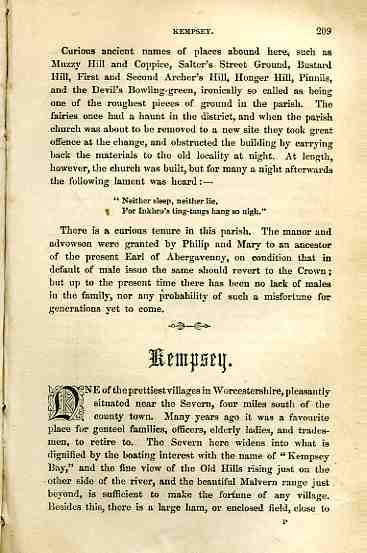 KEMPSEY. 209
Curious ancient names of places abound here, such as Muzzy Hill and Coppice, Salter's Street Ground, Bustard Hill, First and Second Archer's Hill, Honger Hill, Pinnils, and the Devil's Bowling-green, ironically so called as being one of the roughest pieces of ground in the parish. The fairies once had a haunt in the district, and when the parish church was about to be removed to a new site they took great offence at the change, and obstructed the building by carrying back the materials to the old locality at night. At length, however, the church was built, but for many a night afterwards the following lament was heard:-
"Neither sleep, neither lie,
For Inkbro's ting-tangs hang so nigh."
There is a curious tenure in this parish. The manor and advowson were granted by Philip and Mary to an ancestor of the present Earl of Abergavenny, on condition that in default of male issue the same should revert to the Crown; but up to the present time there has been no lack of males in the family, nor any probability of such a misfortune for generations yet to come.
Kempsey.
ONE of the prettiest villages in Worcestershire, pleasantly situated near the Severn, four miles south of the county town. Many years ago it was a favourite place for genteel families, officers, elderly ladies, and tradesmen, to retire to. The Severn here widens into what is dignified by the boating interest with the name of "Kempsey Bay," and the fine view of the Old Hills rising just on the other side of the river, and the beautiful Malvern range just beyond, is sufficient to make the fortune of any village. Besides this, there is a large ham, or enclosed field, close to