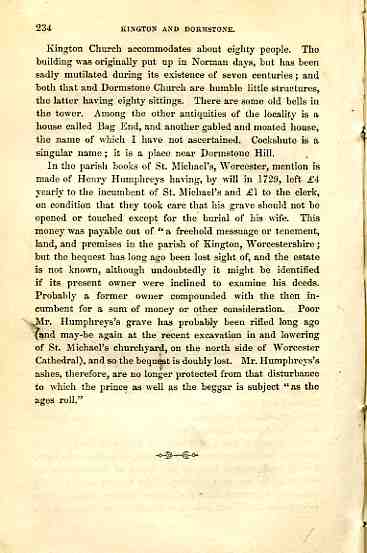 234 KINGTON AND DORMSTONE.
Kington Church accommodates about eighty people. The building was originally put up in Norman days, but has been sadly mutilated during its existence of seven centuries; and both that and Dormstone Church are humble little structures, the latter having eighty sittings. There are some old bells in the tower. Among the other antiquities of the locality is a house called Bag End, and another gabled and moated house, the name of which I have not ascertained. Cockshute is a singular name; it is a place near Dormstone Hill.
In the parish books of St. Michael's, Worcester, mention is made of Henry Humphreys having, by will in 1729, left £4 yearly to the incumbent of St. Michael's and £1 to the clerk, on condition that they took care that his grave should not be opened or touched except for the burial of his wife. This money was payable out of "a freehold messuage or tenement, land, and premises in the parish of Kington, Worcestershire"; but the bequest has long ago been lost sight of, and the estate is not known, although undoubtedly it might be identified if its present owner were inclined to examine his deeds. Probably a former owner compounded with the then incumbent for a sum of money or other consideration. Poor Mr. Humphreys's grave has probably been rifled long ago and may-be again at the recent excavation in and lowering of St. Michael's churchyard, on the north side of Worcester Cathedral), and so the bequest is doubly lost. Mr. Humphreys's ashes, therefore, are no longer protected from that disturbance to which the prince as well as the beggar is subject "as the ages roll."