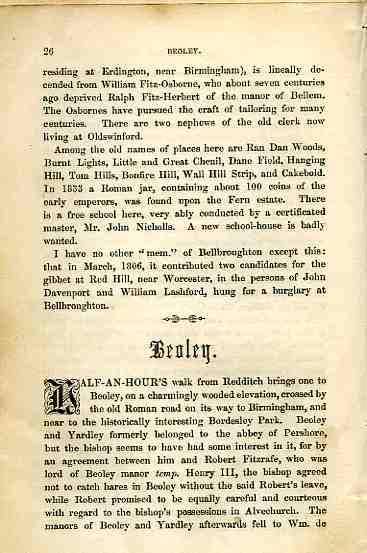 26 BEOLEY.
residing at Erdington, near Birmingham), is lineally descended from William Fitz-Osbome, who about seven centuries ago deprived Ralph Fitz-Herbert of the manor of Bellem. The Osbornes have pursued the craft of tailoring for many centuries. There are two nephews of the old clerk now living at Oldswinford.
Among the old names of places here are Ran Dan Woods, Burnt Lights, Little and Great Chenil, Dane Field, Hanging Hill, Tom Hills, Bonfire Hill, Wall Hill Strip, and Cakebold. In 1833 a Roman jar, containing about 100 coins of the early emperors, was found upon the Fern estate. There is a free school here, very ably conducted by a certificated master, Mr. John Nicholls. A new school-house is badly wanted.
I have no other "mem." of Bellbroughton except this: that in March, 1806, it contributed two candidates for the gibbet at Red Hill, near Worcester, in the persons of John Davenport and William Lashford, hung for a burglary at Bellbroughton.
Beoley.
HALF-AN-HOUR'S walk from Redditch brings one to Beoley, on a charmingly wooded elevation, crossed by the old Roman road on its way to Birmingham, and near to the historically interesting Bordesley Park. Beoley and Yardley formerly belonged to the abbey of Pershore, but the bishop seema to have had some interest in it, for by an agreement between him and Robert Fitzrafe, who was lord of Beoley manor temp. Henry III, the bishop agreed not to catch hares in Beoley without the said Robert's leave, while Robert promised to be equally careful and courteous with regard to the bishop's possessions in Alvechurch. The manors of Beoley and Yardley afterwards fell to Wm. de