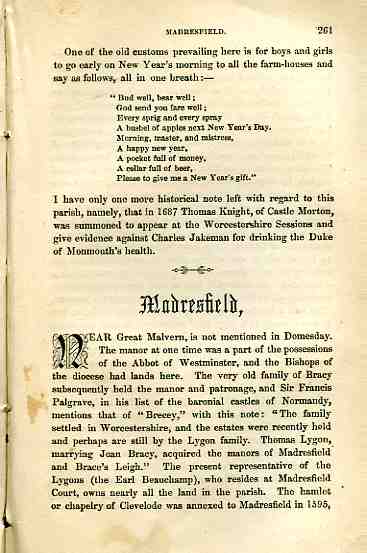 MADRESFIELD. 261
One of the old customs prevailing here is for boys and girls to go early on New Year's morning to all the farm-houses and say as follows, all in one breath:-
" Bud well, bear well;
God send you fare well;
Every sprig and every spray A bushel of apples next New Year's Day.
Morning, master, and mistress,
A happy new year,
A pocket full of money,
A cellar full of beer,
Please to give me a New Year's gift."
I have only one more historical note left with regard to this parish, namely, that in 1687 Thomas Knight, of Castle Morton, was summoned to appear at the Worcestershire Sessions and give evidence against Charles Jakeman for drinking the Duke of Monmouth's health.
Madresfield.
NEAR Great Malvern, is not mentioned in Domesday. The manor at one time was a part of the possessions of the Abbot of Westminster, and the Bishops of the diocese had lands here. The very old family of Bracy subsequently held the manor and patronage, and Sir Francis Palgrave, in his list of the baronial castles of Normandy, mentions that of "Brecey," with this note: "The family settled in Worcestershire, and the estates were recently held and perhaps are still by the Lygon family. Thomas Lygon, marrying Joan Bracy, acquired the manors of Madresfield and Brace's Leigh." The present representative of the Lygons (the Earl Beauchamp), who resides at Madresfield Court, owns nearly all the land in the parish. The hamlet or chapelry of Clevelode was annexed to Madresfield in 1595,