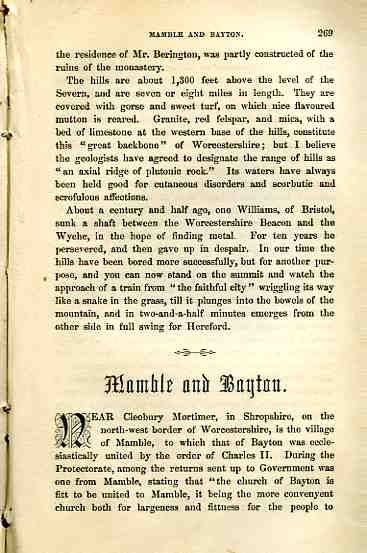 MAMBLE AND BAYTON. 269
the residence of Mr. Berington, was partly constructed of the ruins of the monastery.
The hills are about 1,300 feet above the level of the Severn, and are seven or eight miles in length. They are covered with gorse and sweet turf, on which nice flavoured mutton is reared. Granite, red felspar, and mica, with a bed of limestone at the western base of the hills, constitute this "great backbone" of Worcestershire; but I believe the geologists have agreed to designate the range of hills as "an axial ridge of plutonic rock." Its waters have always been held good for cutaneous disorders and scorbutic and scrofulous affections.
About a century and half ago, one Williams, of Bristol, sunk a shaft between the Worcestershire Beacon and the Wyche, in the hope of finding metal. For ten years he persevered, and then gave up in despair. In our time the hills have been bored more successfully, but for another purpose, and you can now stand on the summit and watch the approach of a train from "the faithful city" wriggling its way like a snake in the grass, till it plunges into the bowels of the mountain, and in two-and-a-half minutes emerges from the other side in full swing for Hereford.
Mamble and Bayton.
NEAR Cleobury Mortimer, in Shropshire, on the north-west border of Worcestershire, is the village of Mamble, to which that of Bayton was ecclesiastically united by the order of Charles II. During the Protectorate, among the returns sent up to Government was one from Mamble, stating that "the church of Bayton is fitt to be united to Mamble, it being the more convenyent church both for largeness and fittness for the people to