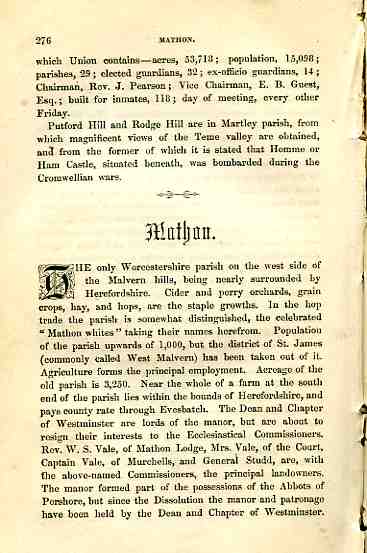 276 MATHON.
which Union contains - acres, 53,718; population, 15,098; parishes, 29 ; elected guardians, 32; ex-officio guardians, 14 ; Chairman, Rev. J. Pearson; Vice Chairman, E. B. Guest, Esq.; built for inmates, 118; day of meeting, every other Friday.
Putford Hill and Rodge Hill are in Martley parish, from which magnificent views of the Teme valley are obtained, and from the former of which it is stated that Homme or Ham Castle, situated beneath, was bombarded during the Cromwellian wars.
Mathon.
THE only Worcestershire parish on the west side of the Malvern hills, being nearly surrounded by Herefordshire. Cider and perry orchards, grain crops, hay, and hops, are the staple growths. In the hop trade the parish is somewhat distinguished, the celebrated "Mathon whites" taking their names herefrom. Population of the parish upwards of 1,000, but the district of St. James (commonly called West Malvern) has been taken out of it. Agriculture forms the principal employment. Acreage of the old parish is 3,250. Near the whole of a farm at the south end of the parish lies within the bounds of Herefordshire, and pays county rate through Evesbatch. The Dean and Chapter of Westminster are lords of the manor, but are about to resign their interests to the Ecclesiastical Commissioners. Rev. W. S. Vale, of Mathon Lodge, Mrs. Vale, of the Court, Captain Vale, of Murchells, and General Studd, are, with the above-named Commissioners, the principal landowners. The manor formed part of the possessions of the Abbots of Pershore, but since the Dissolution the manor and patronage have been held by the Dean and Chapter of Westminster.