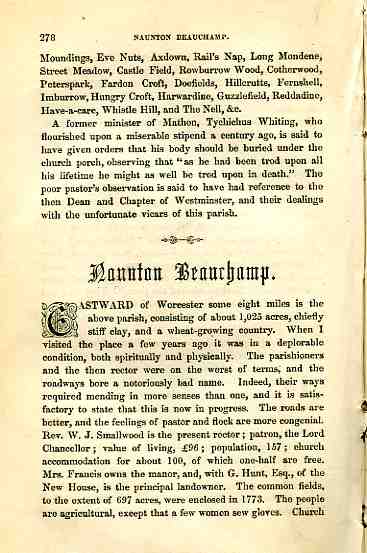 278 NAUNTON BEAUCHAMP.
Moundings, Eve Nuts, Axdown, Rail's Nap, Long Mondene, Street Meadow, Castle Field, Rowburrow Wood, Cotherwood, Peterspark, Fardon Croft, Doefields, Hillerutts, Fernshell, Imburrow, Hungry Croft, Harwardine, Guzzlefield, Reddadine, Have-a-care, Whistle Hill, and The Nell, &c.
A former minister of Mathon, Tychichus Whiting, who flourished upon a miserable stipend a century ago, is said to have given orders that his body should be buried under the church porch, observing that "as he had been trod upon all his lifetime he might as well be trod upon in death." The poor pastor's observation is said to have had reference to the then Dean and Chapter of Westminster, and their dealings with the unfortunate vicars of this parish.
Naunton Beauchamp.
EASTWARD of Worcester some eight miles is the above parish, consisting of about 1,025 acres, chiefly stiff clay, and a wheat-growing country. When I visited the place a few years ago it was in a deplorable condition, both spiritually and physically. The parishioners and the then rector Were on the worst of terms; and the roadways bore a notoriously bad name. Indeed, their ways required mending in more senses than one, and it is satisfactory to state that this is now in progress. The roads are better, and the feelings of pastor and flock are more congenial. Rev. W. J. Smallwood is the present rector; patron, the Lord Chancellor; value of living, £96; population, 157; church accommodation for about 100, of which one-half are free. Mrs. Francis owns the manor, and, with G. Hunt, Esq., of the New House, is the principal landowner. The common fields, to the extent of 697 acres, were enclosed in 1773. The people are agricultural, except that a few women sew gloves. Church