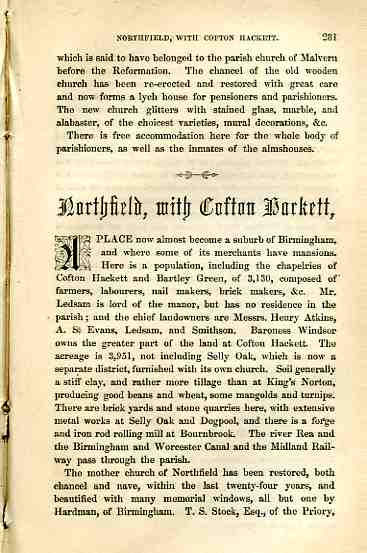 NORTHFIELD, WITH COFTON HACKETT. 281
which is said to have belonged to the parish church of Malvern before the Reformation. The chancel of the old wooden church has been re-erected and restored with great care and now forms a lych house for pensioners and parishioners. The new church glitters with stained glass, marble, and alabaster, of the choicest varieties, mural decorations, &c.
There is free accommodation here for the whole body of parishioners, as well as the inmates of the almshouses.
Northfield, with Cofton Hackett.
A PLACE now almost become a suburb of Birmingham, and where some of its merchants have mansions. Here is a population, including the chapelries of Cofton Hackett and Bartley Green, of 3,130, composed of farmers, labourers, nail makers, brick makers, &c. Mr. Ledsam is lord of the manor, but has no residence in the parish; and the chief landowners are Messrs. Henry Atkins, A. S. Evans, Ledsam, and Smithson. Baroness Windsor owns the greater part of the land at Cofton Hackett. The acreage is 3,951, not including Selly Oak, which is now a separate district, furnished with its own church. Soil generally a stiff clay, and rather more tillage than at King's Norton, producing good beans and wheat, some mangolds and turnips. There are brick yards and stone quarries here, with extensive metal works at Selly Oak and Dogpool, and there is a forge and iron rod rolling mill at Bournbrook. The river Rea and the Birmingham and Worcester Canal and the Midland Railway pass through the parish.
The mother church of Northfield has been restored, both chancel and nave, within the last twenty-four years, and beautified with many memorial windows, all but one by Hardman, of Birmingham. T. S. Stock, Esq., of the Priory,