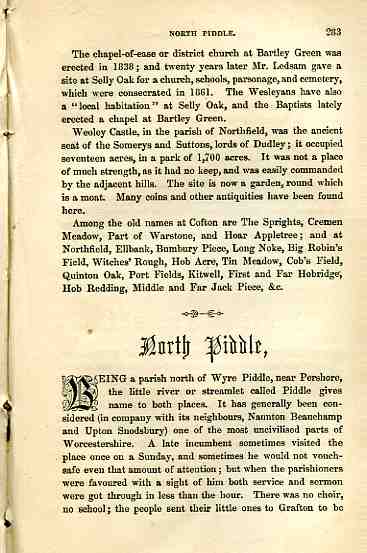 NORTH PIDDLE. 283
The chapel-of-ease or district church at Bartley Green was erected in 1838; and twenty years later Mr. Ledsam gave a site at Selly Oak for a church, schools, parsonage, and cemetery, which were consecrated in 1861. The Wesleyans have also a "local habitation" at Selly Oak, and the Baptists lately erected a chapel at Bartley Green.
Weoley Castle, in the parish of Northfield, was the ancient seat of the Somerys and Buttons, lords of Dudley; it occupied seventeen acres, in a park of 1,700 acres. It was not a place of much strength, as it had no keep, and was easily commanded by the adjacent hills. The site is now a garden, round which is a moat. Many coins and other antiquities have been found here.
Among the old names at Cofton are The Sprights, Cremen Meadow, Part of Warstone, and Hoar Appletree; and at Northfield, Ellbank, Bumbury Piece, Long Noke, Big Robin's Field, Witches' Rough, Hob Acre, Tin Meadow, Cob's Field, Quinton Oak, Port Fields, Kitwell, First and Far Hobridge, Hob Redding, Middle and Far Jack Piece, &c.
North Piddle.
BEING a parish north of Wyre Piddle, near Pershore, the little river or streamlet called Piddle gives name to both places. It has generally been considered (in company with its neighbours, Naunton Beanchamp and Upton Snodsbnry) one of the most uncivilised parts of Worcestershire. A late incumbent sometimes visited the place once on a Sunday, and sometimes he would not vouchsafe even that amount of attention; but when the parishioners were favoured with a sight of him both service and sermon were got through in less than the hour. There was no choir, no school; the people sent their little ones to Grafton to be