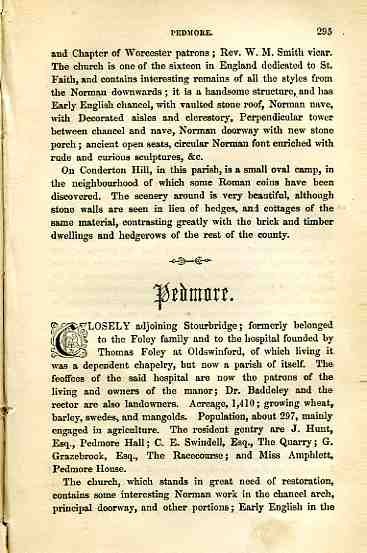 PEDMORE. 295
and Chapter of Worcester patrons; Rev. W. M. Smith vicar. The church is one of the sixteen in England dedicated to St. Faith, and contains interesting remains of all the styles from the Norman downwards; it is a handsome structure, and has Early English chancel, with vaulted stone roof, Norman nave, with Decorated aisles and clerestory, Perpendicular tower between chancel and nave, Norman doorway with new stone porch; ancient open seats, circular Norman font enriched with rude and curious sculptures, &c.
On Conderton Hill, in this parish, is a small oval camp, in the neighbourhood of which some Roman coins have been discovered. The scenery around is very beautiful, although stone walls are seen in lieu of hedges, and cottages of the same material, contrasting greatly with the brick and timber dwellings and hedgerows of the rest of the county.
Pedmore.
CLOSELY adjoining Stourbridge; formerly belonged to the Foley family and to the hospital founded by Thomas Foley at Oldswinford, of which living it was a dependent chapelry, but now a parish of itself. The feoffees of the said hospital are now the patrons of the living and owners of the manor; Dr. Baddeley and the rector are also landowners. Acreage, 1,410; growing wheat, barley, swedes, and mangolds. Population, about 297, mainly engaged in agriculture. The resident gentry are J. Hunt, Esq., Pedmore Hall; C. E. Swindell, Esq., The Quarry; G. Grazebrook, Esq., The Racecourse; and Miss Amphlett, Pedmore House.
The church, which stands in great need of restoration, contains some interesting Norman work in the chancel arch, principal doorway, and other portions; Early English in the