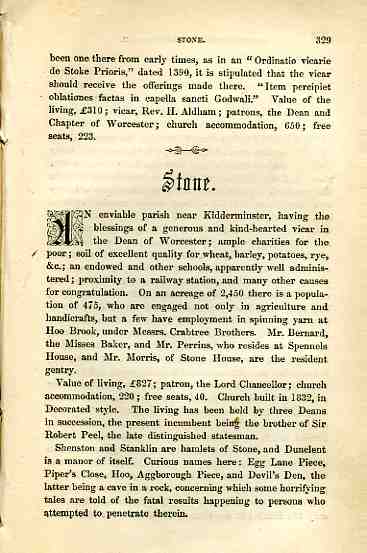 STONE. 329
been one there from early times, as in an "Ordinatio vicarie de Stoke Prioris," dated 1390, it is stipulated that the vicar should receive the offerings made there. "Item percipiet oblationes factas in capella sancti Godwali." Value of the living, £310; viear. Rev. H. Aldham; patrons, the Dean and Chapter of Worcester; church accommodation, 650; free seats, 223.
Stone.
AN enviable parish near Kidderminster, having the blessings of a generous and kind-hearted vicar in the Dean of Worcester; ample charities for the poor; soil of excellent quality for wheat, barley, potatoes, rye, &c.; an endowed and other schools, apparently well administered ; proximity to a railway station, and many other causes for congratulation. On an acreage of 2,450 there is a population of 475, who are engaged not only in agriculture and handicrafts, but a few have employment in spinning yarn at Hoo Brook, under Messrs. Crabtree Brothers. Mr. Bernard, the Misses Baker, and Mr. Perrins, who resides at Spennels House, and Mr. Morris, of Stone House, are the resident gentry.
Value of living, £827; patron, the Lord Chancellor; church accommodation, 220 ; free seats, 40. Church built in 1832, in Decorated style. The living has been held by three Deans in succession, the present incumbent being the brother of Sir Robert Peel, the late distinguished statesman.
Shenston and Stanklin are hamlets of Stone, and Dunclent is a manor of itself. Curious names here: Egg Lane Piece, Piper's Close, Hoo, Aggborough Piece, and Devil's Den, the latter being a cave in a rock, concerning which some horrifying tales are told of the fatal results happening to persons who attempted to penetrate therein.