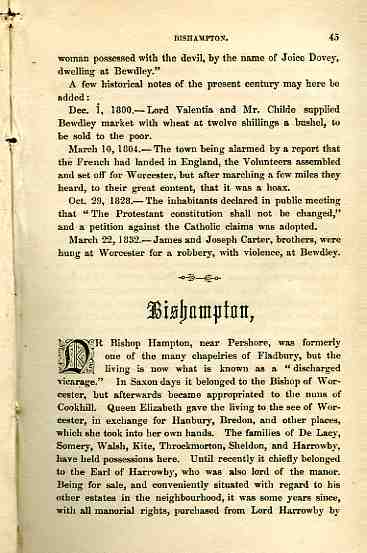 EISHAMPTON. 45
woman possessed with the devil, by the name of Joice Dovey, dwelling at Bewdley."
A few historical notes of the present century may here be added:
Dec. 1, 1800. - Lord Valentia and Mr. Childe supplied Bewdley market with wheat at twelve shillings a bushel, to be sold to the poor.
March 10,1804. - The town being alarmed by a report that the French had landed in England, the Volunteers assembled and set off for Worcester, but after marching a few miles they heard, to their great content, that it was a hoax.
Oct. 29, 1828. - The inhabitants declared in public meeting that " The Protestant constitution shall not be changed," and a petition against the Catholic claims was adopted.
March 22, 1832. -James and Joseph Carter, brothers, were hung at Worcester for a robbery, with violence, at Bewdley.
Bishampton.
Or Bishop Hampton, near Pershore, was formerly one of the many chapelries of Fladbury, but the living is now what is known as a "discharged vicarage." In Saxon days it belonged to the Bishop of Worcester, but afterwards became appropriated to the nuns of Cookhill. Queen Elizabeth gave the living to the see of Worcester, in exchange for Hanbury, Bredon, and other places, which she took into her own hands. The families of De Lacy, Somery, Walsh, Kite, Throckmorton, Sheldon, and Harrowby, have held possessions here. Until recently it chiefly belonged to the Earl of Harrowby, who was also lord of the manor. Being for sale, and conveniently situated with regard to his other estates in the neighbourhood, it was some years since, with all manorial rights, purchased from Lord Harrowby by