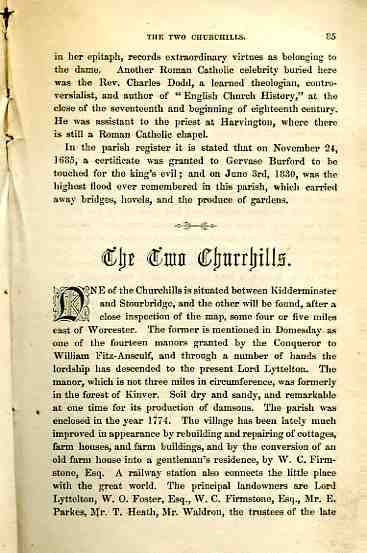 THE TWO CHURCHILLS. 85
in her epitaph, records extraordinary virtues as belonging to the dame. Another Roman Catholic celebrity buried here was the Rev. Charles Dodd, a learned theologian, controversialist, and author of "English Church History," at the close of the seventeenth and beginning of eighteenth century. He was assistant to the priest at Harvington, where there is still a Roman Catholic chapel.
In the parish register it is stated that on November 24, 1685, a certificate was granted to Gervase Burford to be touched for the king's evil; and on June 3rd, 1830, was the highest flood ever remembered in this parish, which carried away bridges, hovels, and the produce of gardens.
The Two Churchills.
ONE of the Churehills is situated between Kidderminster and Stourbridge, and the other will be found, after a close inspection of the map, some four or five miles east of Worcester. The former is mentioned in Domesday as one of the fourteen manors granted by the Conqueror to William Fitz-Anseulf, and through a number of hands the lordship has descended to the present Lord Lyttelton. The manor, which is not three miles in circumference, was formerly in the forest of Kinver. Soil dry and sandy, and remarkable at one time for its production of damsons. The parish was enclosed in the year 1774. The village has been lately much improved in appearance by rebuilding and repairing of cottages, farm houses, and farm buildings, and by the conversion of an old farm house into a gentleman's residence, by W. C. Firmstone, Esq. A railway station also connects the little place with the great world. The principal landowners are Lord Lyttelton, W. 0. Foster, Esq., W. C. Firmstone, Esq., Mr. E. Parkes, Mr. T. Heath, Mr. Waldron, the trustees of the late