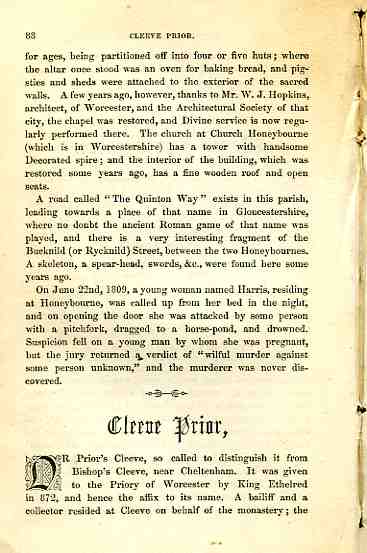 88 CLEEVE PRIOR.
for ages, being partitioned off into four or five huts; where the altar once stood was an oven for baking bread, and pigsties and sheds were attached to the exterior of the sacred walls. A few years ago, however, thanks to Mr. W. J. Hopkins, architect, of Worcester,, and the Architectural Society of that city, the chapel was restored, and Divine service is now regularly performed there. The church at Church Honeyhourne (which is in Worcestershire) has a tower with handsome Decorated spire; and the interior of the building, which was restored some years ago, has a fine wooden roof and open seats.
A road called " The Quinton Way " exists in this parish, leading towards a place of that name in Gloucestershire, where no doubt the ancient Roman game of that name was played, and there is a very interesting fragment of the Bucknild (or Rycknild) Street, between the two Honeybournes. A skeleton, a spear-head, swords, &c., were found here some years ago.
On June 22nd, 1809, a young woman named Harris, residing at Honeybourne, was called up from her bed in the night, and on opening the door she was attacked by some person with a pitchfork, dragged to a horse-pond, and drowned. Suspicion fell on a young man by whom she was pregnant, but the jury returned a, verdict of "wilful murder against some person unknown," and the murderer was never discovered.
Cleeve Prior.
Prior's Cleeve, so called to distinguish it from Bishop's Cleeve, near Cheltenham. It was given to the Priory of Worcester by King Ethelred in 872, and hence the affix to its name. A bailiff and a collector resided at Cleeve on behalf of the monastery; the