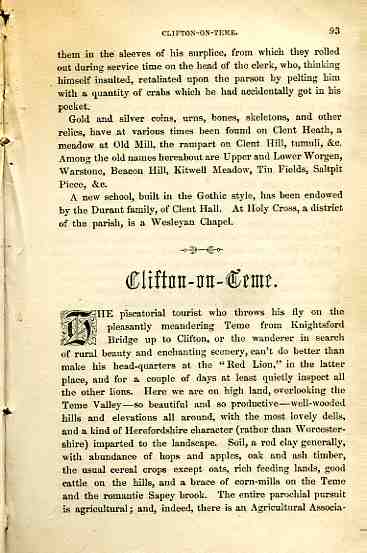 CLIFTON-ON-TEME. 93
them in the sleeves of his surplice, from which they rolled out during service time on the head of the clerk, who, thinking himself insulted, retaliated upon the parson by pelting him with a quantity of crabs which he had accidentally got in his pocket.
Gold and silver coins, urns, bones, skeletons, and other relics, have at various times been found on Clent Heath, a meadow at Old Mill, the rampart on Clent Hill, tumuli, &c. Among the old names hereabout are Upper and Lower Worgen, Warstone, Beacon Hill, Kitwell Meadow, Tin Fields, Saltpit Piece, &c.
A new school, built in the Gothic style, has been endowed by the Durant family, of Clent Hall, At Holy Cross, a district of the parish, is a Wesleyan Chapel.
Clifton-on-Teme.
THE piscatorial tourist who throws his fly on the pleasantly meandering Teme from Knightsford Bridge up to Clifton, or the wanderer in search of rural beauty and enchanting scenery, can't do better than make his head-quarters at the " Red Lion," in the latter place, and for a couple of days at least quietly inspect all the other lions. Here we are on high land, overlooking the Teme Valley - so beautiful and so productive - well-wooded hills and elevations all around, with the most lovely dells, and a kind of Herefordshire character (rather than Worcestershire) imparted to the landscape. Soil, a red clay generally, with abundance of hops and apples, oak and ash timber, the usual cereal crops except oats, rich feeding lands, good cattle on the hills, and a brace of corn-mills on the Teme and the romantic Sapey brook. The entire parochial pursuit is agricultural; and, indeed, there is an Agricultural Associa-