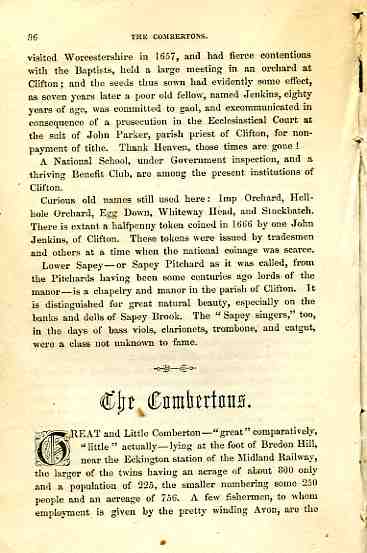 96 THE COMBERTONS.
visited Worcestershire in 1657, and had fierce contentions with the Baptists, held a large meeting in an orchard at Clifton; and the seeds thus sown had evidently some effect, as seven years later a poor old fellow, named Jenkins, eighty years of age, was committed to gaol, and excommunicated in consequence of a prosecution in the Ecclesiastical Court at the suit of John Parker, parish priest of Clifton, for nonpayment of tithe. Thank Heaven, those times are gone !
A National School, under Government inspection, and a thriving Benefit Club, are among the present institutions of Clifton.
Curious old names still used here: Imp Orchard, Hellhole Orchard, Egg Down, Whiteway Head, and Stuckbatch. There is extant a halfpenny token coined in 1666 by one John Jenkins, of Clifton. These tokens were issued by tradesmen and others at a time when the national coinage was scarce.
Lower Sapey - or Sapey Pitchard as it was called, from the Pitchards having been some centuries ago lords of the manor - is a chapelry and manor in the parish of Clifton. It is distinguished for great natural beauty, especially on the banks and dells of Sapey Brook. The " Sapey singers," too, in the days of bass viols, clarionets, trombone, and catgut, were a class not unknown to fame.
The Combertons.
GREAT and Little Comberton - "great" comparatively, "little " actually - lying at the foot of Bredon Hill, near the Eckington station of the Midland Railway, the larger of the twins haying an acrage of about 800 only and a population of 225, the smaller numbering some 250 people and an acreage of 756. A few fishermen, to whom employment is given by the pretty winding Avon, are the