The Mercat Cross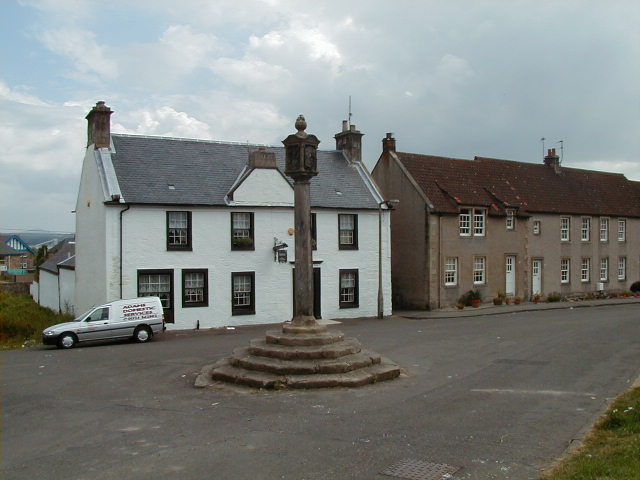 ---
Around the beginning of the 18th century, the old medieval burgh of Airth was abandoned as a new town of Airth began to develop at a site down on the fore'shore of the River Forth. The present village stands on the site of this new burgh. One of the oldest permanent structures in the village is The Mercat Cross. The Mercat Cross can be found at the top end of the High Street, in the middle of Airth and marks the site of the old market. The cross has recently undergone some restoration work but it still retains its aged look as the picture above shows.

The Mercat Cross was erected by Charles Elphinstone in 1697. The four faces of the cross contain his initials and coat of arms and those of his mother and father with their arms quartered. The other two sides are sun dials and one of them has the date 1697. Charles met his death in a dual with his relative, Captain William Bruce of Auchenbowie at nearby Torwood, a few miles south of Airth.

The Mercat Cross was also reputedly the site of public trials and executions, and up until the 1930s it was the custom to proclaim deaths and funerals from its steps. To this day all funeral processions have to pass these same steps on their way to the cemetery.

There is a plan by Falkirk Council to regenerate the Airth Conservation Area. This plan will result in a vast improvement in this area and includes the need to move The Mercat Cross by 2ft to allow the traffic to pass the monument safely and hopefully ensure its long term survival.



click here to go to The Dunmore Horseshoe Door page

click here to return to the front page

click here to go to Airth Castle page

click here to go to The Pineapple page