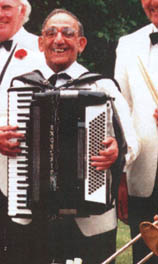 Steve is well known for his distinctive electronic accordion playing. He first played the accordion at the age of five years, and made his first radio broadcast whilst in the Royal Navy, in a programme called "Navy Mixture" with Jack Warner and a host of other stars including Alfred Marks and Paddy O'Neil.

From 1945 he was a regular broadcaster with the BBC Midlands Light Orchestra and the Harold Rich Quartet, and in 1948 won three Melody Maker Awards for his unique playing.

Steve likes playing all kinds of Jazz and joined Europa Jazz Band in 1990 where he gets a great thrill laying down the chords and solid bass line.