| | | |
| --- | --- | --- |
| Location: | | Western Region, 100km West of Pokhara. |
| Route: | | Baglung - Marpha - Dhaulagiri base camp - Darbang - Baglung |
| Map: | | 'Pokhara to round Dhaulagiri Himal', Mandala Trekking Maps. |
| Season: | | October - April |
| Days: | | 17 |
| Equipment: | | Lightweight tent, 4 season sleeping bag, sleeping mat, cold weather clothes, kerosene stove, 4-5 days' food and supplies. |
| Permits | | ACAP national park permit. |

This is an excellent trek for those wanting a more intimate experience with the mountains although it is certainly not for the inexperienced. Good physical fitness is a prerequisite and the ability to speak some Nepali is useful if trekking without guides or porters. Ascending from Marpha gains over 2800m to a maximum altitude of 5360m in a relatively short period of time and requires some prior altitude acclimatisation to avoid acute mountain sickness (AMS). Descending down the Chhanbaraan Glacier and Myagdi Khola gorge involves crossing some deep crevasses and walking some very narrow and dangerous trails. Mountaineering experience is not a pre-requisite but the ability to keep your nerve during sustained difficulties is essential. All the scare-mongering aside though, this is a truly awesome hike through some of the best scenery in western Nepal.
This description is based on personal experiences of trekking in October 1995 and is not intended to be an authoritative guide. Conditions on the trail are likely to have changed and I advise anyone wanting to make the trek to consult a professional trekking agency before setting off. The conventional route, listed in some trekking guide books, is in reverse of that described here since it allows for a more gradual ascent and acclimatisation. Some of the trekking days are very long and you may wish to reduce some of them depending on your fitness and schedule.
This trek can be combined with the Annapurna circuit as a more interesting and challenging finish or if you are struggling for time (and/or fitness), it is possible to make the round trip from Pokhara in as little as 10 days by flying to or from Jomosom.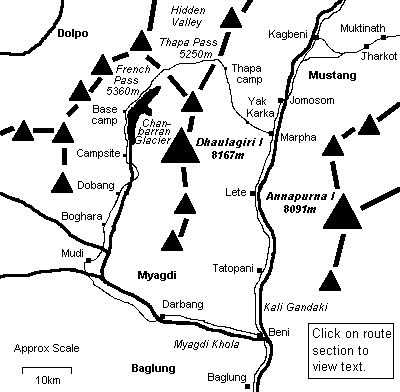 Days 1 - 4: Pokhara - Marpha

When I made this trek, the bus only went as far as Baglung (3-4 hours from Pokhara), after which there was a 2-3 hour walk to Beni up the Kali Gandaki. Two years later in 1997, two new unsurfaced road extensions had been constructed to Beni, the lower road on the left bank and a high road on the right (see the Dhorpatan trekking account for an explanation). At that time, unlicensed truck operators were charging NRs50 for a bone-shaking ride back to Baglung which knocked a couple of hours off the walking time (as well as nearly knocking out my fillings!). When I last visited in 2008, direct buses to Beni (via the lower road) were operating from Pokhara and Kathmandu although still neither road from Baglung was surfaced. From Beni you could then take a jeep or bus for 3 hours as far as Kabre from where you had to walk for 40 minutes around some landslides as far as Ghasa where the road started again. From Ghasa a jeep was available all the way to Jomosom (2.5 hours) and beyond. Of course you can skip the bus travel altogether by taking the plane from Pokhara to Jomosom.

If staying in Baglung, 'Hill View Hotel' is your best bet. Hotels in Beni are the 'Yeti' or 'Dolphin'. Day 2 to Tatopani is a hot 7 hour hike through typical middle hill scenery and a soak in the hot baths will be much needed by the end of it. Tatopani to Lete on day 3 is a 10 hour walk that takes you into the pine and fir forests of the higher hills. The day could have been shorter were it not for hoards pilgrims, mule trains and flocks of sacrificial goats clogging the trail. 'Lete Guest House' is a pleasant stay. You could reduce this day by staying instead in Ghasa. The fourth day to Marpha is a scenic walk through fir forests and on to semi-arid cypress and cedar. A direct walk could take as little as 6 hours but a visit to Tukche Distillery to sample the apricot and apple brandy is a well worthwhile diversion. The final 1-2 hours walk to Marpha should pass quickly and painlessly! Alternatively you could break this journey by staying in Larjung which is more realistic if you opted to stay in Ghasa on the previous night, and, if time permits, you could spend an extra day hiking up to the Dhaulagiri icefall .
Days 5 - 8: Marpha - Kagbeni - Muktinath - Thorong La

In order to experience the desert landscape of Mustang north of Jomosom, and for acclimatisation to higher altitude, a trip to Muktinath via Kagbeni is a good option. Marpha to Kagbeni is an easy day with the wind behind you in the afternoon and Kagbeni to Muktinath is another short day, although uphill. Hiring ponies to carry you to Muktinath is a possibility, ask at Kagbeni's 'Red House Lodge'. At Muktinath, the temple that Hindu pilgrims the country over flock to worship at is a modern reconstruction and is out-of-bounds to westerners, but the older Buddhist gompa with its eternal flame is an interesting attraction. Although a little masochistic, a 'rest' day to climb the 5416m Thorong La is very good practice for the Thapa (Dhampus) and French passes to come. A round trip should take between 8 and 10 hours although beware of AMS as this is a big ascent.

Instead of spending a night in crowded Muktinath, you can descend a further 20 minutes to Jharkot and stay at the 'Sonam' for some tourist relief. The return to Marpha starts on the same trail as for Kagbeni but bears left after 1 ½ hours or so. The fierce wind is in your face the entire afternoon so an early start is advisable. Only buy a few supplies such as plastic water bottles in Jomosom since food and kerosene are available in Marpha. The 'Cheznisa' in is a bit basic compared to others in Marpha but the proprietor may have current knowledge of the trail conditions to base camp from returning porters. We left the majority of our equipment here when first passing through.
Day 9: Marpha - Yak Kharka

Take the morning to buy supplies (see appendix for suggestions) and set off after a good breakfast or daal bhaat. Ascend from Marpha to a white chorten and then up through cypress forest on a steep, dusty path. Water is available 2 ½ hours up at a small breather tank on the Marpha water supply. A further ½ hour up and around the ridge are a number of yak herder's huts and good camping ground. For those without a conscience, firewood is plentiftul here.
Day 10: Yak Kharka - Thapa ridge camp

Traverse beneath the ridge for an hour or so and climb up on unobvious paths to higher huts and a water source. Fill up here for the day. Ascend on more grazing trails to the ridge and follow a more obvious path up this and then around the South face of Thapa peak. This is a strenuous climb made more difficult by the altitude. After maybe 5 hours from the huts a small, flat area is reached which is suitable for camping although the water source is a further ½ hour along the trail at a stream (approx. 1½ hours before Thapa pass). Altitude at this camp is slightly less than 5000m so you must be aware of symptoms of AMS and be prepared to descend at any time. Views across to the Nilgiris and Tukche are stunning from here. Expect sub-zero Celsius temperatures at night.
Day 11: Thapa ridge camp - Dhaulagiri base camp

Continue along the obvious trail for 2 hours to Thapa pass and climb for ½ hour to reach the saddle (5250m). A breath-taking view of the Hidden Valley flanked by snowy peaks stretches out below you. Descend into the valley and head west along a good trail to the French pass between Tukche and Sita Chuchura. Climb the pass, possibly over snowfields, to cairns (5360m). A magnificent view of Dhaulagiri I (8167m) is possible if clouds haven't closed in. The Hidden Valley is an alternative overnight location if good progress was made on the previous day. There is a good water source here and the altitude is slightly lower than camping below the Thapa pass.
Descend into the glaciated valley, keeping to the moraine on the right of the glacier. Base camp (4700m) is reached in little over an hour. The quality of your campsite here will depend on the number of climbing parties. Expect to have an uncomfortable night on top of badly leveled moraine. And don't expect much banter from the climbers, but befriend the Sherpa guides and the cooks if you want to be fed endless cups of tea and indulge in the usual chat. Sleep to the sound of alarmingly close avalanches.
Day 12: Base camp - below Chhanbaraan Glacier (Italian base camp)

Rise early and spend a few hours in the clear morning to absorb the awe of the surrounding mountains. By l0am the sun will reach base camp and the temperature will rise above freezing. Set off down the glacier, keeping to the western side all the way. The glacier is deeply crevassed and you should not be tempted to wander too far onto it if (when) the edge path becomes difficult. After 7km and 3 hours of tiring descent, ending in a slide down the icy terminal moraine, follow the path on the right of the Myagdi River for a further hour to pasture. Camp here and leave the possible difficulties ahead for day 13.
Day 13: Below Chhanbaraan Glacier - Dobang

Start on a slippery trail that climbs high above the river and onto a landslide. Unless repaired, be prepared for a narrow and difficult footstep path with a drop to certain death below. Descend into the valley to a large area of broken-off glacier and cross to the left where a gully in the lateral moraine leads to pasture on a higher plateau. Herder's camps here make potential camping sites if you made good progress on day 12.

Follow the buffalo-worn trail through mountain forests of birch and then fir. As you loose altitude the jungle undergrowth becomes more dense and the path more muddy and leech infested. Just when you've had about enough, a clearing opens in the forest with a single hut, called Dobang. This is a temporary 'hotel' and if you're lucky someone will be home to cook you bhaat and give you a piece of floor. Otherwise it's another night camping on damp turf.
Day 14: Dobang - Boghara

More jungle, more mud and more leeches! The forest becomes sub-tropical with monkeys and snakes being some of the fauna you can expect to see. Stop at the herder's hut to drink buffalo milk an hour down. Climb around a high cliff on a very poor trail, traverse and then descend a steep staircase to a small village. Ascend again for a further ¾ hour to Boghara where bhaat and floor space can be obtained at a Gurung house above the school. We bought a chicken here for 300 rupees.
Day 15: Boghara - Mudi

From Boghara, its more narrow cliff-side trails with steep, grassy drops to the river. Climb over the ridge before the confluence of the Myagdi Khola with the Dhola Khola and descend to a bridge. Cross the river and ascend steeply for 1 ½ hours through millet fields and over a landslide to a large, picturesque Magar village called Mudi. Accommodation and daal bhaat are available here at local houses. There is also a wee shop here where you can buy provisions such as biscuits and noodles.
Day 16: Mudi - Darbang

Traverse around the ridge from Mudi and, after partially climbing a switch-back trail, take a left and drop down to the Dhara Khola and cross. Climb to Sibang and follow the path to Takum for a late bhaat. Continue along the obvious trail which descends to, and crosses, Dang Khola and then crosses Myagdi Khola at Darbang. The massive landslide opposite Darbang destroyed the original village in 1990, killing over 100 people. Ask for 'Deepak' hotel if there are no sign boards.
Day 17: Darbang - Baglung
A long, hot day (11 hours if walking) along an easy path. Morning bhaat is available at Babichour or Tatopani, and Beni is an alternative destination for the trail-weary.
Our provisions for 3 persons
| | |
| --- | --- |
| porridge | 1Kg |
| tuna | 1 tin |
| museli | 500g |
| dried soup | 5 pkt |
| tsampa (barley meal) | 2 litres |
| peanuts | 18 pkt |
| sugar | ½ litre |
| daalmat (fried daal mix) | 6 pkt |
| tea | 100g |
| biscuits | 18 pkt |
| milk powder | 200g |
| chocolate | 18 bars |

| | |
| --- | --- |
| beaten rice | 3 ½ litres |
| hard boiled eggs | 6 |
| daal | ½ litre |
| curry powder | 50g |
| straight noodles | 2 pkt |
| garlic | 100g |
| pasta (85g) | 6 pkt |
| 'rara' noodles (85g) | 6 pkt |
| kerosene | 2 litres |
| 'wai wai' noodles (75g) | 18 pkt |
| plastic bottles(2 1/2l) | 5 |
| salt | |
Total cost approx. NRs3000 (1995).

Daal Bhaat
Daal bhaat is the national dish of rice (bhaat) and lentil soup (daal) usually served with vegetables (tarkari) and optionally meat (maasu). Nepalis eat it twice daily, at about 9am and 8pm. In a restaurant is fixed-price for as much as you can eat. It is filling, nutritious and usually tasty, and is available virtually everywhere, even beyond the rice growing lowlands. Western style food is available on the main trekking routes but is of variable quality, is more expensive and requires additional firewood to cook. Why eat anything else?