| | |
| --- | --- |
| | Crime of the Century |
Queensryche guitarist Chris DeGarmo takes time out from the band's 'Building Empires' world tour to return to the scene of the crime with Jerry Ewing.
It has to be said that one of the most pleasing aspects of modern metal has been the rise of Seattle five-piece QUEENSRYCHE. From the release of their debut offering, the 'Queen of the reich' EP to last year's classic 'Empire' release, it's been a success story that shames that of many bands. For whilst others may find themselves on successful rollercoaster ride, too many come a cropper when the dip hits an all-time low, scattering band members in different directions, all with one mighty mud-slinging tale of sorrow to tell, in the process doing neither themselves nor the tarnished memory of their band any good whatsoever. Not so Messrs Geoff Tate (vocals), Chris DeGarmo (guitar), Eddie Jackson (bass), Michael Wilton (guitar) and Scott Rockenfield (drums). Avoiding scandal for the most part, these chaps are more than happy to let their music do the talking, and of late, that music has talked them all the way to very the top of the charts, the world over.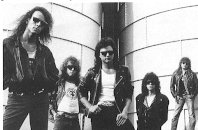 Now some may moan that such tactics are not what Rock 'n' Roll tales are made of, and look more to the bad boy antics of GUNS N' ROSES and SKID ROW to prove their point, which is fair enough. It is, after all, only rock 'n' roll. But take a look at the universal adulation heaped upon 1988' 'Operation:Mindcrime' LP, and last years multi-platinum 'Empire' (both of which found themselves atop the METAL FORCES writers' albums of the year in 1988 and 1990), plus the almost fanatical zeal with which the band are spoken about - something which has seen them eleveated above the hordes - and you can readily understand how they can be spoken about in the same kind of terms as Metal heavyweights like METALLICA. Now whilst I am an ardent admirer of the band these days, back in 1985, QUEENSRYCHE meant very little to me. At university, my then girl-friend , who'd managed to turn me on to BON JOVI, fared less well when trying to shove her copy of 'The Warning' (the Seattle band's first full-length offering) under my nose. I remained equally unimpressed when the young, short-haired Dave Shack (also a university pal) tried to tell me just how good 'Rage for order', the band's second offering, was. Why? I dunno. I guess I just wasn't prepared to listen!
However, whilst guffaws of mirth flowed around as news came through that the next QUEENSRYCHE release would be a dreaded concept affair, my ears pricked up. I don't know why, as past experience had led me to believe that most concept albums were tediously over-blown affairs. Some, however, broke the rules (most notably PINK FLOYD's 'The Wall' and MARILLION's 'Misplaced Childhood'). So did 'Operation:MIndcrime'! On its release a copy was snapped up pronto, and I was simply awestruck at the both the complex but enthralling storyline and the powerful Metal on offer. Hard hitting yet melodic at the same time, the album topped many individual writers top 20 of 1988, ranging from those of ultra-heavy persuasion to those whose tastes ran considerably lighter. Much like METALLICA's latest opus, 'Operation:Mindcrime' was a metal album to transcend barriers. Still, in the UK, QUEENSRYCHE were still something of an unknown quantity to the at times overly critical metal hordes but the resultant '...Mindcrime' tour still took them to a prestigious gig at London's Town and Country Club! But that was nothing compared to what was about to happen. Two years later, 'Empire' was revealed to a highly expectant world and it didn't disappoint. Gone was the conceptuality, but the music simply flowed ever onward in powerful tradition. Indeed the single 'Silent lucidity' even crept into the British top 40, proving that the bands popularity had grown beyond belief. QUEENSRYCHE are currently drawing their world tour (fittingly titled 'Building Empires') to a close after a year and a half on the road. Having toured America with SUICIDAL TENDANCIES as support, they've just hit Canada and have returned to America with WARRIOR SOUL as their new support act. In the current financial climate, this is definitely some achievement.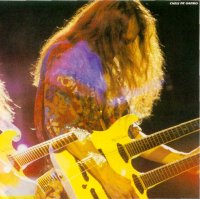 "Yeah, it really is," states a rightly proud, if perhaps just a little tired Chris DeGarmo. "We consider ourselves very fortunate that we are still out on the road whilst so many tours have gone down the pan. We've been affected, though," he adds. "Some nights have sold out but some have only had a few people in. Then again, some nights we've been doubling up in towns, playing two consecutive dates. It's been tough out there, but we're still going so we must be doing something right."
Having the right support group always helps though, right? "Oh yes," he agrees, "that's so true. We like to have a support act with a bit of a buzz about them, it kinda helps the show, y'know. Especially with the way things are at the moment (ha ha)."
Whatever, however good they are, the thought of SUICIDAL TENDANCIES supporting QUEENSRYCHE did seem a bit odd to me. "Well, they're a band with a lot of energy about them," begins DeGarmo. "They do have an audience which you maybe wouldn't expect to go to a QUEENSRYCHE show, and maybe you wouldn't expect a QUEENSRYCHE fan to show up at one of theirs. Whatever, I do think that we managed to get across to their fans, and they seemed to go down well with ours, so in the end I guess we both helped each other."
So how are WARRIOR SOUL faring? After their disappointing second album ("Drugs, God and the new religion" [sic - it's actually "Drugs, God and the new republic"]) I wouldn't have thought that the buzz around them would have been too great! "Well, they're very energetic too," states the guitarist, not really wanting to be drawn on this one. "I dunno, their first album was great, they seem to be doing well. We'll see how it goes..."
Whatever their current touring plans happen to be, the real reason for talking to Chris is, in fact, the forthcoming release of a new QUEENSRYCHE video. However, typifying the band's pioneering attitude, this is no normal video. "OPERATION: LIVEcrime" is indeed the whole of their epic "...Mind-crime" work live, but fans also have the added advantage of acquiring a live CD featuring the studio album in a live setting. As always with QUEENSRYCHE, it's just that little something extra that sets them apart. "Well, we're very happy with the way it's all come out," states De Garmo proudly. "We recorded two shows at Madison, Milwaukee and La Crosse, Wisconsin, just to make sure we had the very best we could offer up and as I say, it's all turned out really well. And with the live CD in there too, I think it makes the whole package something a little bit special for our fans."
Despite the fact that "Operation:Mindcrime" was such a pivotal point in the band's career, when Chris last spoke to METAL FORCES (over a year ago now) he said: "...Each time you start a new project you're faced with the realisation that you can either follow the same direction, or you can follow a new one - and we've always made the decision that we don't wanna tread the same path twice...".
Now although "OPERATION: LIVEcrime" is an excellent celebration of a fine work (believe you me), one must ponder the wisdom of returning to something that the band have obviously tried to move on from with the release of "Empire". "Well, I see what you're getting at," begins De Garmo. "I don't know really. We just thought that it would be a nice treat for our fans to put this out. I mean, we'll probably never play the whole of "...Mindcrime" live after this tour so it'll be gone for good. It kind of marks the end of the chapter.
"I don't really know anything about the marketing concept behind all of this, we aren't about that sort of thing. We really felt we needed to get the whole thing down on video, just as much for ourselves as for our fans. I guess it will act as some kind of stop-gap while we start working on the next album, but it took so long to get it all together we just want to get it out. We're not trying to replace a studio album with a live album, it's just something we want to put out and if people like that then that's great."
"OPERATION: LIVEcrime" is the whole of "Operation: Mindcrime" live. Yet the release of "Video: Mindcrime" was a selection of promo videos from the original album with a thin storyline that disappointed many. "That was just supposed to be a collection of videos we'd shot for the album," counters Chris. "We filmed some other stuff, but it was really a compilation thing. This new video isn't really the telling of the "...Mindcrime" story, but more of the performing of it. It's just a gig. I think the story was best summed up in the album, in the lyrics."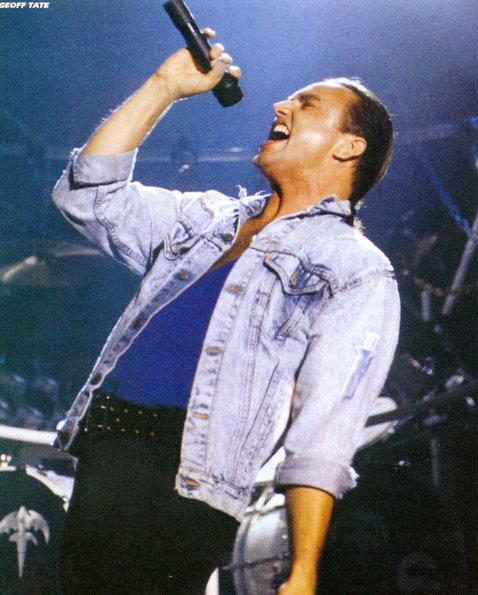 So there was never any intention to create something out of it similar to that which PINK FLOYD did with 'The Wall'? "Well we toyed around with the idea of a film," he admits. "It's easy to go into a studio and record an album because there aren't the financial constraints, but films are so expensive. The priority for us was to present QUEENSRYCHE as they should be in the live arena, and it hasn't been a good year for tours, as you know. That's not to say that it'll never happen though. If some-one comes along who's got the story right then who knows!"
Did he ever feel that the adulation heaped upon "Operation: Mindcrime" has led to it becoming some kind of mill-stone around the bands neck? "No, not really" he replies. "We don't sit down and plan things out, even though some people may think we do. For "...Mindcrime" it was simply an idea that we really liked and decided to take to its logical conclusion. We weren't really bothered about the concept thing. We're very proud of what we've achieved, and although we may feel that to concentrate on something like the whole of "...Mindcrime" is not what we really want to do, that doesn't mean we don't like it or feel that it's a mill-stone thing. As far as "Empire" was concerned, we didn't want to repeat "...Mindcrime", so we paid very special attention to what we were doing, and it flows. Although a lot of the tracks are very different it certainly has a flow to it, so I think we work kind of well that way. I don't know what we're going to do next, but I know we'll take time to write our next album and not put anything out before we feel we've reached a quality standard we're all happy with. Then we'll have something real killer."
Although they've already moved on from "...Mindcrime" in the studio, and future ideas may take the band down drastically different routes, were they to come up with an idea they were so happy with, and logically fitted in, then surely some kind of "Operation: Mindcrime" sequel was a possibility. "Well yeah, I guess so," laughs Chris. "We could never discount the possibility of that happening. You never know what we're going to come up with and if an idea was good enough then yes, an "Operation:Mindcrime 2" is a distinct possibility (ha ha)."
Both "Operation: Mindcrime" and "Empire" have led to the music press almost universally claiming QUEENSRYCHE to be premier exponents of the kind of music they play. Is this something that sits easily on the bands shoulders? It would appear not. 'You know we really appreciate the nice things that people write about us, but I try not to really absorb it like that," concedes Chris. "I know what we are as a group of musicians and friends and the way we do things, and we just want to continue to do that, to function the way we do best and just leave the deciding of things up to someone else. If I start saying we're this or we're that then I'd take on a different position within all of this; I'd rather stay were I am in this and not really get caught up in all of this. I think its all very nice and a great compliment that someone would say that, though. I am much more interested in being a shepherd than a sheep though," he adds. "I don't like following things. I know the band isn't interested in the latest trend or what we think the publics going to want from us. It's a dangerous game guessing what the public wants; that's a bad move as far as I'm concerned. I don't want us to get so damn calculating. I see that in so many bands and all around us. People at the record company, they're so happy to see things going so well obviously, but then they start coming up with formulae for this and that; I don't buy that formula rap. I just think it's the chemistry of the band and the fact that we've stuck at what we're doing that's made people get into us. It's the osmosis of one person telling another, not because we sat there and devised to get some kind of outside writer to come in and tell us what to do.
"GUNS N' ROSES sold eight million records with their first album and most bands may go, 'Oh, so that's what people want', but if you do that there's nothing there for you. I'd rather not think about where we'd like to go. It's easier to think of what not to do, you know."
Impressive Hammersmith shows on the last UK visit aside, the last chance us Brits got to see OUEENSRYCHE live was at Donington. Now despite being a major fan I have to admit that I remainfar from impressed by that show, even if others thought the band had pulled it off! "Well, we did enjoy that show and the whole Monsters Of Rock tour," starts Chris. "It's such a prestigious gig and we'd always wanted to do Donington, but I have to admit that it was a funny environment for us to play in. It was a drag having to trim back the set now we're headlining elsewhere. I wouldn't recommend going to see us at Castle Donington. It wasn't the ultimate QUEENSRYCHE performance. It was somebody else's gig, but it was fun. Historically, it's nice to say we've played there, and its great to play in the UK. We have some real solid fans there."
There were rumours that Britain was to be treated to some QUEENSRYCHE shows at the time of Donington, or even a little later on. These sadly never materialised. "We were trying to put together the Stateside production for a gig there but it never happened," he admits. "We I were trying desperately but the schedule was f**ked and we couldn't pull a show together. We wanted to do one at the Birmingham NEC but air freighting certain stuff over would have cost so much it reminded us of why we couldn't bring it over in the first place (ha ha). We really were badly trying to get the full show over to the UK, but it just couldn't be done, so unfortunately it looks like we won't be coming back on this tour. We're pretty much at the end of the rope here and I think we'll be wrapping things up on this tour in January. We want a break before we start thinking about the next album."
Still, it's been a good innings. "Oh yes," he agrees emphatically. "It's great that the albums done this well and that we're still out on the road. We've even got another song in the AOR Top Ten over here, "Another rainy night without you", That's a whole year after the album, it's such a hoot."
Any thought's on the next album? "No, not really," he replies. "We kind of put stuff together individually but we don't start focusing as a band until after we've had a break. I'll say this though, we're gonna take as much time as it takes, and not rush anything to try and capitalise on the momentum we've got at the moment. We'll only go with it when it's something really special and who knows when that will be. Believe me, we've heard the voices going, 'Now it's hot!', but I know we're not going to do that. I'm totally clueless as to what it'll be like. That's what I said at the end of "...Mindcrime" and that's best."
So having achieved so much over the last three years, what is it that drives QUEENSRYCHE on to make more music? "Well, I think just the fact that we've brought the band to this point now," he muses. "It's brought us all closer together and I think it's reached the point of really trying to squeeze the most we can out of our chemistry together. I really enjoy working with these guys and we have a blast making the albums, we really do. The touring aspect is a little more work, doing the same thing night in and night out. It makes it feel a little more like a job, but writing the albums, well there's no limitation as to where we go with them and that's really exciting. To keep trying different things and watching the song take shape, that's real fun."
With QUEENSRYCHE set to ease out of the limelight at the beginning of next year to re-charge batteries before commencing work on their next album, it may, you'd think, be easy for some other band to sneak in and steal their thunder. It's happened in the past, but there's something just that little bit special about QUEENSRYCHE, something that lets you know that not only will their next album undoubtedly be excellent, but we'll all be there awaiting their return with open arms. And on top of that there's a new video to keep everyone happy.
For some, building empires has never been so easy!