| | |
| --- | --- |
| | I cannot help but get angry at times |
Queensryche : New Orders Kerrang 138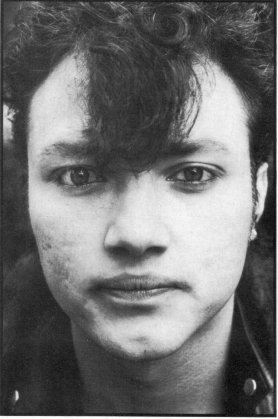 You have to go back a long way back to find a band as willfully determined as Queensryche... and here, I'm thinking in terms of Led Zeppelin and Deep Purple. No-one, it seems, outside of a hardcore handful is fully prepared to give their ambitions a fair hearing - let alone an objective judgement - with regular trashings being administered by some critics, while others get away with a quite staggering display of inane ramblings... like,me, for instance, though I claim vindication on the basis of being utterly mad!
So what do we find? Well, after one year and a dedicated recording schedule came the release of the 'Rage For Order' album. Less obviously commercial but displaying a quantum jump in the standard of songwriting and arranging so that the melodies were now immersed in torrential sheets of powerchords, the record was the first full realisation of Oueensryche's rhythmic and (subdued) melodic potential. With Neil Kernon handling production credits, it also featured a greater range of instrumentation, achieving a density not previously realised.
Thus, the stylishly chaotic 'Rage For Order' showed fast musical progress but, in general terms, slow sales... a problem the band will seriously have to ponder when deciding on material for their next LP. Clearly, the consummate effectiveness brought about by this hard-line Oueensryche style has not been matched in terms of image or mass acceptance. The band's recent shows in support of Bon Jovi at the Hammersmith Odeon (aided by keyboard man Randy Grant from Seattle) underlined the irony of their present position ... some feverish fans had obviously travelled many miles to catch sight of them whilst the majority of the audience remained unmoved by their faultlessly constructed Metal, packed with the excitement that only comes from taking big risks.
"We made a decision about the time of 'Rage For Order' not to bow to commerciality," insists lead vocalist Geoff Tate. "We want to extend our music to its full capabilities. We were given the moral support of our record company (EMI America) and in specific terms I think we realised all the possibilities to be had."
Tate is one of those rare individuals who inadvertently leads by example, an instinctive frontman who inspires greatness simply because he sings the songs as he sees them and not as others might like to see them; a man whose sole mission seems to be to make music that matters without making a big deal about it. In a way, Queensryche aren't out to slay anybody, just to show what can be done. They're probably the first band in years who don't use their guitars like water pistols - more like sledgehammers! Michael Wilton and Chris DeGarmo employ their instruments like outstretched flame-throwers wrapped around a balsa wood bonfire. But despite their ambitions, as important as they are, something will certainly have to change... or will it?
"Obviously, we'd have liked 'Rage For Order' to do better, but it didn't get a lot of radio support. However, it has already outsold our first album and that's given us the confidence boost we were looking for." Whether Queensryche intend to pursue the intensity of 'Rage .. .'is a moot point, although , already engaged in preliminary discussions with the band, assures me that yes, the next album will be more of the same. And if Kernon gets his wicked way, he'll be pushing them to the very edge of what technology can achieve. There's no time schedule to speak of as yet so far as recording goes, though some of the songs have already been written, but Spring of '87 would seem a likely starting point, after Kernon has completed work twiddling knobs for Dokken's new LP.
Regrettably, however, there has been one major shake-up of late, something that may or may not affect Oueensryche's surging Metal chaos. The original management team of Kim and Diana Harris from Seattle, who won them worldwide critical acclaim and a deal with EMI, have now been let go, a decision brought about by a whole string of events... "Recently, our system hasn't been working as efficiently as it ought to have been," says Chris over lunch at the Marble Arch Holiday Inn. "Really, Kim and Diana's capability to handle our expansion wasn't up to our satisfaction and, well, we had to let go at some point. It seemed the best thing we could do."
Presently, the boys are handling their business affairs personally, although they will shortly be placing this arduous task in somebody else's hands - just as soon as the right person comes along. They're checking out several management situations at the moment and an announcement on this front is expected shortly. Having recently cancelled a handful of headline shows in Europe (the UK Burton-On-Trent gig included} for reasons of economy (Tate: "It would have cost an arm and a leg"!), sticking to playing a full European tour in support of Bon Jovi, the band have now returned to the US where they will undertake selected gigs (they toured last year with AC/DC and Ozzy Osbourne before heading back to their home town of Seattle. Latest word is that they might set out on a series of US dates supporting Ratt, another few steps down a path that should lead them to the sort of success their talent certainly deserves. Ultimately, Queensryche I'm sure will pull through to become one of the most crucial Heavy Metal bands of the Eighties.
Derek Oliver