Behind the screams

Paul Suter traces the heady rise of 'Special Metal' band, Queensryche
DIANA AND Kim Harris are the management team who have nurtured Queensryche from their early days as a non-gigging basement band called the Mob up to the level that they have already reached, and doubtless they'll continue to guide them onwards and upwards (just ask the people who've tried to get in the way!). Once you get close to the organisation it begins to take on a very close family type of feel, a slightly unusual but potentially rewarding approach to the school of rock management. Kim and Diana have extensive backgrounds in the music business, having worked for some time in radio and promotion, but it was their record shop, Easy Street Records in Seattle, which first brought them into contact with the boys. And so it is that yours truly begins this story by talking to Diana and Kim about how they first got involved with Oueensryche. It's not customary to interview a band's management, but hopefully it will cast an interesting light on the tale we are to tell...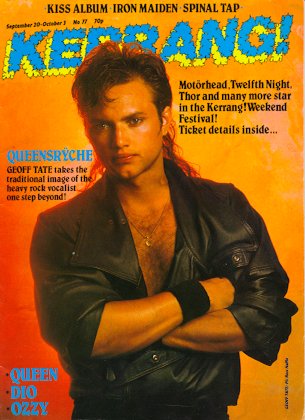 DIANA: "Actually, we first got the band's demo by default. Chris de Garmo (half of Queensryche's guitar team) had given a tape to a friend who worked at the WEA office in Seattle; we heard about it through Scott's (Rockenfield, drums) brother and he brought one into the shop for Kim to listen to. Subsequently, we arranged to meet Chris, but he was very specific that he wanted to pursue the Warners angle himself - after all, he didn't really know anything about us.
"The problem was that they cut back a lot on staff and the tape never went anywhere; he realised that it wasn't going to work and, as we had already spoken several times, building up a relationship, we went from there... but I guess we really got them by default."
KIM: "It took several months to build up a really close relationship with the group and their parents. One thing that's always been a strength for this band as a unit is the total support of their families; it's been marvellous and has helped our job, particularly at the beginning, enormously."
But when it came to landing that all-important record deal, how did they cope with the problem of being so far removed from the decision makers, all based in New York and Los Angeles? After all, one of the main reasons the LA Metal scene has developed so fast is because it's all happening under the noses of the record companies - and yet Queensryche were amongst the first of the new breed of the US Metal bands to land a major deal.
KIM: "We think it worked to our advantage not being in LA or New York, we were out there in no-man's land." DIANA: "Kim has 15 years experience in radio and retail, and I've done radio promotion. As a result, we made a lot of contacts; I was doing promo for record labels to radio and then working independently. Those contacts remained as people shifted and moved, and that's where Mavis (Brodey, the LA A&R manager at EMI America responsible for signing the act) came into the picture. She was music director at radio station KZOK and we became good friends, but I lost touch with her when she left town.
"When it came to looking for a deal for the boys it was a case of checking to see where all the old contacts were. We couldn't trace Mavis but it just so happened that when we narrowed it down to which labels we felt would be most fitting for the band, on a whim I called EMI America first... and found Mavis there!"
KIM: (laughing like a drain) "We were in the record store and Diana was working from the back office; I heard this scream and ran back to see what was going on, and there was Diana laughing and cracking up on the phone! Anyway, she talked to Mavis for a while and then made me put on the Queensryche EP in the store and play it over the phone! I'm holding this phone out in front of the speakers in the store, with everything going flat out, and Diana's screaming, 'can you hear that, just listen to that!'"
DIANA: "Mavis was just cracking up by this point - 'you haven't changed a bit', she said. Anyway, we sent her the record, the press cuttings and told her about the airplay we were already getting. I wrote a long letter and told her that I wasn't just hyping bands any more - that Queensryche aren't just a band, that there's something very special here. I told her that she just had to come up and see the band.
"We planned a visit, and then she cancelled. We started hearing from numerous labels, one of them even said, 'name your price', but I just had to get Mavis to see them. We organised another trip and she cancelled again; by this time they'd been booked to do a show, opening for Zebra, and there was so much interest that I got on the phone to her and told her to get on a plane and get up here fast - the minute that the band hit the stage it was going to be too late. And she came...
"Everybody says that they've got something amazing, A&R hear it all the time, but Mavis finally appeared. She came down to the rehearsal room, and when it was all over she just looked at me and said, 'you're right'."
MAVIS BRODEY: "Queensryche were brought to my attention by their management, people that I'd known in Seattle. They told me that I had to see the band, that they were something special. I don't want to appear cynical, but I hear that at least once a day. I'd heard their EP, however, and went up to see them. We finally met up in a rehearsal room with me sitting about three feet away from them.
"My art teacher used to say that if you know why you love a painting, you don't really love it - if you sense something really special then you can't verbalise it. And when I watched Oueensryche I knew they were something very special after 30 seconds - I was very excited by them. I sensed a certain quality, star quality, and I would have to say that Geoff (Tate, vocalist) stood out as a lead element. The musicianship was outstanding, but it's important to have someone to focus on. The band had a raw power and enthusiasm, and a sophistication beyond their years that surprised the hell out of me! There was definitely something special there. I've been to a million showcases, heard a million tapes, but I'd never heard or seen anything like Queensryche. They have their own sound, their own vocal personality, their own visuals. I liked what I heard and saw, and felt that it was genuine.
"I think authenticity is the most important criterion I have for any band I'm considering; ultimately, everything's derivative of course, but I could see the group establishing a real special place for themselves. That's only my opinion, I admit, but it's become the opinion of a lot more people now, and that makes me feel good for the band."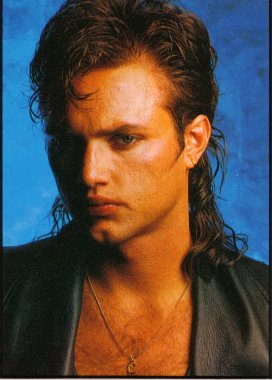 ONE OF the undeniable pleasures of writing for a rock paper is the opportunity you get to travel abroad at other people's (ie record companies') expense, and even on the tightest of schedules see a little bit more of the world than a more humdrum existence might allow. It's no holiday, despite what some of you might think, running around strange cities trying to keep up with your subjects through a daze of jetlag, but the scenery's undeniably different and interesting. I've never been to New York apart from passing through, and frankly I don't care; I hate LA but have too many friends there to resolve to keep away; my love of Toronto goes without saying (I've even paid my own fare!), but I've got to admit to a special affection for a couple of less likely cities. It's possibly just due to the fact that I had a good time in those places and the sun was shining, but there's a special spot in my heart for Denver (yes, I've actually been to Red Rocks!)... and Seattle, home of Queensryche.
American Metal has certainly fought back hard in the face of the British invasion, selling albums by the million in response to the likes of Maiden, Leppard and the admittedly non-British Scorpions. Van Halen are bigger than ever and a whole slew of more than worthy acts are emerging, mostly from LA. The latter is a self-appointed city of style and right now that style is Metal, resulting in what amounts to a virtually self-regenerating process perpetuating the Metal myth - for a while at least.
But Queensryche hail from the unlikely city of Seattle, a majorseaport but much more characterised, it seemed to yours truly, by natural highs rather than the depressing industrial nature of somewhere like Liverpool or the hardly charming Felixstowe. Frankly, a rather unlikely place to nurture a Metal band - two in fact, if you count Rail, as well you might - but then Queensryche are a rather unlikely Metal band. As I was moved to comment in that original 'Armed & Ready' (issue 36) piece (sorry if the quote's not exact but I'm writing this on flight PA100 and they've forgotten the bound volumes of Kerrang!): 'few Heavy Metal bands are capable of getting so classy, and few hard rock bands are capable of getting so vicious'.
Since the cassette that turned into their mini-album fell into my hands, the band have moved on several steps, now looking even more the masters of their art than before. Cut 'moved on' and read 'matured'; I refuse to set up Queensryche for the kill by babbling on about profound artistic talent - I'll leave you to check out their debut album, "The Warning', for yourself and make your own summary of the situation. Suffice it to say that Queensryche deserve all the attention they're going to get.
AND SO it was that yours truly found himself sitting in the scorching sun overlooking Puget Sound (I got sunburned in about 15 minutes!) wondering why the head count was one short... OK, I knew really, but haven't you ever heard of journalistic licence? Chris de Garmo was the absent body, being down in LA mixing the album with Kim Carnes' "Voyeur" man, Val Garay. He also had a slight scheduling problem on his hands. It was Thursday afternoon, he hadn't finished, and the entire band was due to leave Seattle for Japan on Saturday morning. A definite case of flying to America to do a telephone interview, but let's not belittle the presence of Messrs Rockenfield, Tate, Eddie Jackson (bass) and Michael Wilton (guitar). Chris is the main spokesman for the band, but the others had plenty to say too, hence the ensuing attempt to interweave the results of two interviews. And on top of that you'll find the outcome of two additional conversations I was able to have with Kim and Diana and Mavis - an astute lady who recently signed Canada's Corey Hart for America, where he's currently scaling the charts with former 720 and Michael Des Barres' guitarist Andy Bamett in his band. A far cry from the Marquee eh, Andy?
So Chris, what happened? Why is the album still unfinished after three months in London recording studios with producer James Guthrie? "OK, we're just a bit behind schedule! We came over to London to record with James because we thought he would be valuable to work with, and he wanted to use London studios. We'd allowed two months to complete the record, but things kept on developing with the result that we over-ran by a month, and that was working 12-14 hours at a stretch with very few days off. It was really exhausting, and when it came to mixing the results I think we were all so drained that we failed to really capture what we'd done. We needed to be fresh for the mix, and we weren't."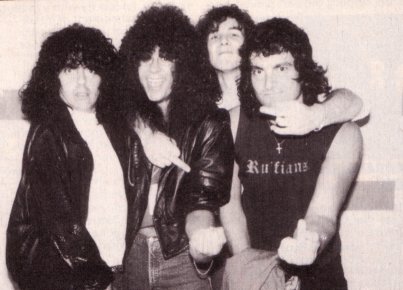 The result was that the mixes failed to live up to anybody's expectations - they were very good but could clearly have been much better. The outcome could have been a soul- destroying one, the enforced release of a debut album that nobody was satisfied with, but fortunately EMI America were prepared to justify their faith in the band by allowing a remix to go ahead. As Chris explained: "the label really cares, and wanted very much to get it right, so that's why I'm down here now in LA. It's really working out well and everyone's very pleased with what we've got. We're getting really excited about the album again!"
"It's great that the label is prepared to give a new band the time - and the opportunity - to get the record exactly right," Geoff added later. "They could easily have insisted on releasing just what we had, but the support we've had from them has been excellent. We're very fortunate that they trust us and believe in us." KIM HARRIS: "We did something very few people in this business appear to do; we told the label exactly what we wanted to do, and what we expected them to do. We were all after the same result, and they gave us the finances and the backing to achieve that result. Obviously, we discuss everything together, we're working towards the same goal after all, but we've never heard what so many people get from the corporate end; namely, that 'it's out of the question!'
"It's been a load off everyone's minds that the label has given the band the leeway to do what they want to do; they've never stepped in and vetoed anything. We've been with them for a year and a half now and we've never had anything but positive feedback."
MAVIS BRODEY:"We've put a lot of trust in the band and their music; our aim has been to let them make the kind of music that they want to make, make the statement that they want to make. After that, well, it's up to the public to decide. We're giving the band 110 per cent support at the label, but you finally have to let it go and see what happens. When you work with a band that you feel has musical integrity and good ideas you leave a great deal to them - we believe that Queensryche will find their own musical boundaries, and under those circumstances you have to give a band the freedom to express themselves. We do get involved, listen to songs and discuss ideas about visuals, possible tours, and so on, about how the band is to be represented and come across. But it's not a case of making Queensryche the next whoever; it isn't that premeditated. I'd like to see Queensryche be themselves, and when you look at successful bands today - whether in Metal or in pop - they have their own identity. You have to let creativity take its course."
The proof of the pudding is in the eating, of course, so it's interesting to note that the above words were spoken in London during April, long before it became apparent that Queensryche were going to have to crave the label's indulgence in finishing their record...I'M NOT going to prattle on about the quality of the finished product or the astonishing depth of talent that is so clearly evident - you'll find that in the album review (page 8). It's strikingly clear, though, that the band have very little in common with the stereotyped US Metal scene (not that it's bad at all, but it does reflect a certain similarity in approach from all but a few), displaying a character far beyond the excitement of that initial four-track EP and one hardly in line with the US Metal movement in general.
US Metal summaries tend to make the point that 'Queensryche show you don't have to come from LA to get a deal, but it helps', or words to that effect. But the band don't see themselves as part of any great Metal movement, anyway -they're simply Queensryche, and proud of it. Geoff tried to explain... "I think we're saying something a little different, and doing things differently too. We've moved away from the areas that already have their own characteristic approach; Seattle's a bit of a backwater with fewer things to influence you. In LA everyone's there and seeing each other all the time, and inevitably everyone influences everyone else to some degree. Here we can do our own thing."
"I think our sound and approach are more European than most US Metal bands," said Chris. "We're not working to a strict formula, what we're aiming for is a sound with no real boundaries, no limitations, hence what was perhaps an unexpected choice of producer. I look at people like Led Zeppelin and Pink Floyd, stuff like that, and they didn't stick to a set formula. I'm not saying that we're like those bands, but they had a broad approach which we're looking for, too."
This came from Chris over the phone, but coincided neatly with Michael's comment that, "we're broadening our approach all the time. You have to remember that the material on the EP is over two years old now, and I think we've come on a great deal since then in our writing." Chris summed up the advance evident on the album: "there's definitely a musical growth since that EP. We were very young as a band then, we'd been together only a few weeks, and those were the first songs we'd written together. The raw energy is still there, and I hope and believe that what we've done now will win us new fans without alienating anyone who's already a supporter of the band."
Queensryche have never been shallow; indeed the video for 'Queen Of The Reich' actually required a lengthy opening caption to explain what was going on. Listen to the lyrics and you'll realise that it's not Germanic Metal pomposity at all, and when you catch hold of the album, check out 'NM156' as an example of where Geoff Tate's lyrics are heading. "Yes," admitted Geoff, "I'm trying to say something with the lyrics; it's not just a case of putting words to songs. We don't want to force a message on people, but we are taking the opportunity to say something a little different, as that opportunity is there. We don't want to preach or anything like that, but why waste a chance to say something that people may notice and may appreciate?"
MAVIS BRODEY: "People are waiting to see what this band does, and I don't think they'll be disappointed. The band has been given the time and opportunity to work on this record and make it very special. There is a lot for the band to live up to, but they're concentrating on their music and at the end of the day that's the most important thing. It doesn't matter what clothes you wear, it doesn't matter what your album jacket looks like... if Queensryche fulfil their potential we're going to have something real special here. I don't believe in over-hyping the band but I don't aim to be conservative in my feelings about them either I think they're very special. I've thrown my crystal ball away so I can't predict anything, but I trust other people are going to feel what I feel about Queensryche, and it's nice to know that a lot already do."
IRONICALLY, the immediate success of Queensryche with their EP is potentially their biggest problem. They're a remarkably young band, y'see, with only vocalist Geoff Tate having any significant amount of pre-Queensryche experience to fall back on, and they're being pitched into battle at a position significantly higher than most debut album acts.
OK, they now have a reasonable amount of roadwork experience behind them in the States, having opened for the likes of Quiet Riot, Dio and Twisted Sister, but their debut album does emerge at a time when the band have already achieved stature above and beyond that; instead of launching themselves with their record, they're having to prove themselves with it. It's one thing to come out with a great record and reap the rewards, but it's quite another to be expected to come out with a great record. So how are they coping?
Scott reflected the relaxed attitude of the band when he explained, "yes, there is pressure on us, but we try not to worry about it and get on with our development instead - there's no point getting paranoid or we'll never get anything done!"
"You have to believe in yourself," Chris had remarked earlier, "and as a band we believe that we can deliver, therefore the pressure's acceptable. I think the fans that we already have will be happy with what we've done, and now we're reaching out for new supporters, too."
The group's lengthy period of inactivity on the live front during the preparation and recording of the album helped to keep them fired up and raring to go. When I spoke to them they were desperately keen to get out there and show what they're made of, and not in the least daunted by the prospect of headlining shows in Japan, followed by an 11-week trek across Europe with Dio. "We can hardly wait," Eddie enthused. "It's over eight months since we went out live, and we're just dying to get out there and play again!"
"Working with Dio is real good news too," added Geoff. "We've toured with him before, here in the States last year, and we all get along real well - he's a great guy and so are the rest of the band. We're looking forward to it; I think it's a good pairing that the audiences will appreciate, and we're aiming to enjoy ourselves."