RADSTOCK and MIDSOMER NORTON LIONS CLUB
in Lions District 105W of Multiple Lions District 105 - British Isles and Ireland
Radstock is in South West England
---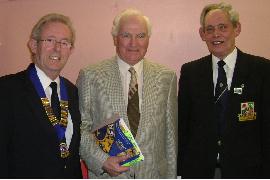 Leslie Fox Was inducted into the Lions by President Robert Briggs at the business meeting in April. This brings our membership total to 31. He was sponsored by Lion Alan Denham.
Leslie lives in Blagdon.
New members are always welcome. Should anyone, male or female, be interested in joining the world's leading service organisation, please contact us or phone Lion Phil Hathway (Membership Chairman) on 01761 432454. You will be most welcome.
---
by the . Web design by Deltronic.