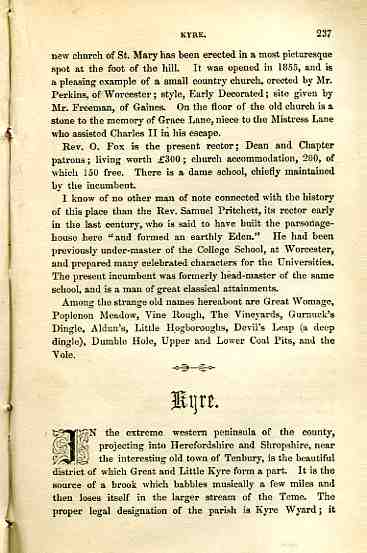 Kyre. 237
new church of St. Mary has been erected in a most picturesque spot at the foot of the hill. It was opened in 1855, and is a pleasing example of a small country church, erected by Mr. Perkins, of Worcester; style, Early Decorated; site given by Mr. Freeman, of Gaines. On the floor of the old church is a stone to the memory of Grace Lane, niece to the Mistress Lane who assisted Charles II in his escape.
Rev. 0. Fox is the present rector; Dean and Chapter patrons; living worth £300; church accommodation, 200, of which 150 free. There is a dame school, chiefly maintained by the incumbent.
I know of no other man of note connected with the history of this place than the Rev. Samuel Pritchett, its rector early in the last century, who is said to have built the parsonage-house here "and formed an earthly Eden." He had been previously under-master of the College School, at Worcester, and prepared many celebrated characters for the Universities. The present incumbent was formerly head-master of the same school, and is a man of great classical attainments.
Among the strange old names hereabout are Great Womage, Poplenon Meadow, Vine Rough, The Vineyards, Gurnuck's Dingle, Aldun's, Little Hogboroughs, Devil's Leap (a deep dingle), Durable Hole, Upper and Lower Coal Pits, and the Vole.
Kyre.
IN the extreme western peninsula of the county, projecting into Herefordshire and Shropshire, near the interesting old town of Tenbury, is the beautiful district of which Great and Little Kyre form a part. It is the source of a brook which babbles musically a few miles and then loses itself in the larger stream of the Teme. The proper legal designation of the parish is Kyre Wyard; it