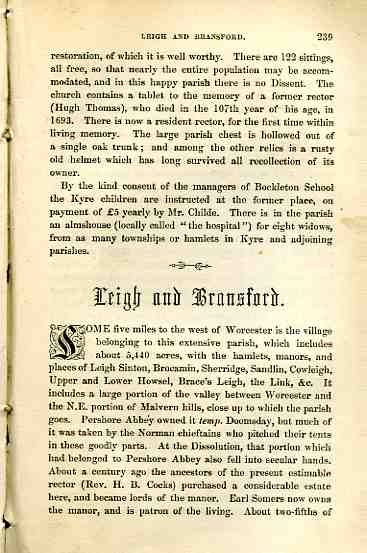 LEIGH AND BRANSFORD. 239
restoration, of which it is well worthy. There are 122 sittings, all free, so that nearly the entire population may be accommodated, and in this happy parish there is no Dissent. The church contains a tablet to the memory of a former rector (Hugh Thomas), who died in the 107th year of his age, in 1693. There is now a resident rector, for the first time within living memory. The large parish chest is hollowed out of a single oak trunk; and among the other relics is a rusty old helmet which has long survived all recollection of its owner.
By the kind consent of the managers of Bockleton School the Kyre children are instructed at the former place, on payment of £5 yearly by Mr. Childe. There is in the parish an almshouse (locally called "the hospital") for eight widows, from as many townships or hamlets in Kyre and adjoining parishes.
Leigh and Bransford.
SOME five miles to the west of Worcester is the village belonging to this extensive parish, which includes about 5,440 acres, with the hamlets, manors, and places of Leigh Sinton, Brocamin, Sherridge, Sandlin, Cowleigh, Upper and Lower Howsel, Brace's Leigh, the Link, &c. It includes a large portion of the valley between Worcester and the N.E. portion of Malvern hills, close up to which the parish goes. Pershore Abbey owned it temp. Doomsday, but much of it was taken by the Norman chieftains who pitched their tents in these goodly parts. At the Dissolution, that portion which had belonged to Pershore Abbey also fell into secular hands. About a century ago the ancestors of the present estimable rector (Rev. H. B. Cooks) purchased a considerable estate here, and became lords of the manor. Earl Somers now owns the manor, and is patron of the living. About two-fifths of