| | | | |
| --- | --- | --- | --- |
| Location: | | | Western Region, 100km West of Pokhara. |
| Route: | | | Baglung - Gurja Gaun - Budzunga Bara - Dhorpatan - Baglung |
| Map: | | | "Pokhara to round Dhaulagiri Himal", Mandala Trekking Maps. |
| Season: | | | October - April |
| Days: | | | 11 |
| Equipment: | | | As for Dhaulagiri Base Camp. |
| Permits | | | Dhorpatan National Park permit. |
| Images | | | Photo gallery |

This account describes an attempt by myself and Jim Colchester to reach the Churren Himal base camp in the western Dhaulagiri range in October 1997. Despite having to abort our attempt to reach the base camp (owing to bad weather caused by the El Nino effect) the trek was both scenic and challenging. Like the Dhaulagiri base camp trek, this route takes you into remote and uninhabited country and has the added benefit that it is much less frequently travelled by tourists. There are few tourist guest houses and English is scarcely spoken anywhere on the route. There are some lodges up to Dhorpatan but en route to Gurja Gaun you have to stay with villagers or camp. Thus unless you are a Nepali speaker or are confident with hand signs, it might be advisable to take a guide. Remember to add at least one further day to our trek to reach the base camp.

The paths on this trek were good and altitude sickness is less likely to be a problem (compared with Dhaulagiri) as there is no real need to camp at high altitude. Our return route from Dhorpatan to Baglung is a day longer than going back via Darbang and less scenic in terms of mountain views. It does however make for a circuitous trek and it is possible to continue south from Kharbang to Tamghas (1½ days), from where a bus to Tansen is available, rather than returning to Baglung . Other alternative approach and exit points for this trek include Jomosom via Dhaulagiri Base Camp (approx 9 days) or Dunai (in Dolpo District) via Dhorpatan (3-4 days).
Please be aware that this account is based on personal experiences of trekking in October 1997 and is not intended to be an authoritative guide. Conditions on the trail may have changed and I advise anyone wanting to make the trek to consult a professional trekking agency before setting off. During the Maoist insurgency which took place between 1996 and 2006, many western districts, including Baglung, were not considered safe for westerners to visit (see box below). Now that the insurgency is over and the Maoist cadres integrated into the Nepalese Army, there should be absolutely no risk of any problems.

The Maoist insurgency which started in 1996 as an internal uprising had by 2001 descended into full blown civil war intent on ridding Nepal of its constitutional monarchy by undemocratic means of force and intimidation. During the 10 years of conflict, it is estimated that over 15,000 were killed, mostly rebels, army and police. The districts of Rolpa and Rukum which adjoin Baglung's western border were particular black spots and the trouble spread into Baglung and Myagdi. The countryside area beyond the district headquarters was predominantly under Maoist control and even the headquarters were not safe as the bloody attack on Beni in 2004 proved. The Maoists were not violent towards western tourists, but donations to the cause were often extorted from trekkers, sometimes even at gun point!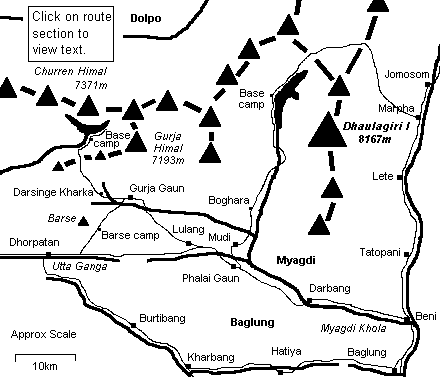 Day 1: Baglung - Darbang

This is a long first day, even if you decide, as we did, to take the truck up the new road to Beni. We used Baglung as our starting point simply because it has nostalgic importance to me. In all truth there's not much to interest the foreign tourist here and it can be avoided unless you arrive late and need somewhere to spend the night before an early start. If staying, "Hill View", "Jyoti" or "Peace Palace" hotels are the best options. Buses from Kathamndu or Pokhara to Beni, bypass Baglung altogether continuing up the kali Gandaki from Maaldhunga, a few kilometres short of Baglung, where the bridge crosses the Kali Gandaki. Before these regular services you either had to walk to Beni (2½-3 hours) or take a jeep (1 hour).

Neither of the 2 road extensions to Beni had been surfaced by 2011 (see info box below) so vehicular access is dependent upon the weather and landslides although the lower road seems to have few issues. From Beni it's still a 7-8 hour walk up the Myagdi Khola to Darbang so staying overnight here is an attractive option. Good hotels in Beni were the "Yeti" or "Dolphin". En route to Darbang, you can get daal bhaat and noodles at Tatopani and Babichor. In Darbang itself, "Deepak Hotel" is a good lodge on the main bazaar path but you may to ask for it if the sign board is still missing. Over the big suspension bridge on the river bank, there's a warmish spring where an outdoor wash can be had.
2011 update: A dirt track now goes to Dharbang, and probably beyond by now, so you can, if you wish, shorten this day by taking a jeep instead of hiking. I've no idea what a jeep costs or how long it takes but one thing will be for sure, it wont be comfortable, safe or reliable.

Road Construction
There were 2 competing road extensions being constructed to Beni at the time of trekking, one which passes through Baglung bazaar and the other which leaves the Baglung highway at Maaldhunga and follows the left bank of the Kali Gandaki. At the time, there was much political disagreement over which road should be developed as the main highway. Baglung earned a lot of revenue as a market town and major distribution centre for much of the upper western region and had therefore opposed the Maldunga road extension that by-passed it. But more difficult terrain meant that the the upper road was longer, slower and more prone to landslides so was restricted to jeeps or small buses only. Thus the lower road won out and in 2005 a bridge across the Kali Gandaki was built at Beni to allow traffic to reach the bazaar and join it to the Jomosom road. Previously it terminated on the opposite bank and goods had to be carried across the foot bridge. Dirt roads have been extended to connect Beni to Jomosom and Dharbang as well as joining Baglung to Hatiya and Burtibang, and are pushing further all the time. Before long it will be a struggle to find anywhere left unspoiled by a road. Be quick! Updated after October 2011.
Day 2: Darbang - Lulang

Darbang bazaar is the last place where supplies are availabale so you'll have to stock up here. We didn't buy kereosene here on the advice that it would be available in Gurja Gaun - it wasn't. The path continues from the previous day across the Myagdi Khola on the suspension bridge and then on the right bank until a steep climb through a pine forest takes you onto a higher cultivated plateau. Follow the easy path through Dharapani and Takum, both of which are good places for daal bhaat, until you reach Phalai Gaun. After getting your trekking permit stamped at the Police check post (probably gone now), descend the path down to the river and cross. Follow the river on the Dhorpatan path for a couple of kilometres until a right split in the path takes you up to Lulang. There are no lodges here but owing to my good fortune at being conversant in Nepali, we were able to blag a stay with the village chairman or aadakshya. If camping, there is some flat ground at the school although it is still courteous to introduce yourself to the aadakshya. His will be the largest and smartest house in the village. Expect to be a source of intense fascination to the villagers, so be patient with them when they come to stare at you.
Day 3: Lulang - Darsinge Kharka (via Gurja Gaun)

Its a long climb from Lulang to the pass at Deorali (3280m) and it's a steep descent the other side to Kanabara on the Dhola Khola. If you're lucky (we weren't) you'll get the first decent panorama of the Dhaulagiri Himal. There are no tea houses on this route so eat plenty before you set off. Cross the river and ascend to a plateau. The compact village of Gurja Gaun is about 2km further from the school. Once again we introduced ourselves to the adakshya who had been a British Gurkha and was able to speak some English. He gave us tea and found us the last ½litre of kerosene in the village. We decided to continue another 5km to Darsinge Kharka, a herder camp at the base of the long ridge to Budzunga Bara, in order to get an early start on the climb. To get there from Gurja Gaun, you continue on the main path through the village and onto potato fields. Cross one river then enter a forest and cross a second. To find the kharka you have to keep near to the river after crossing the second bridge as there are trails in all directions. The kharka is a boggy clearing with stock pens which make perfect camping sites if empty.
Day 4: Darsinge Kharka - Budzunga Bara camp

When you rise to cold morning air and the magnificent view up the valley to Gurja Himal, you get the first feeling of being within close proximity to the mountains. At the back of the clearing there is a water source and a path that climbs the side of ridge. Fill up here or from the river as there are no other sources on the ridge itself. The path takes you up through forest to the main path on the ridge which you join at a small clearing. There were a lot of trails on the ridge so we left a strip of cloth on a tree to identify the junction on our return. The path then follows the ridge up above the tree line and onto rough grass from where the towering peaks of Gurja and Hiunchhuli become visible on either side. The climb is long and steep but the path is generally good except for a few narrow, tricky parts.
Because of the unseasonal weather conditions, we encountered fresh snow and dense cloud at about 4000m. Fortunately though, the start of the traverse to the pass, called Budzunga Bara, was well marked with a large cairn. At this point you have to head west following more cairns below rocky outcrops to the pass at about 4600m. By now the snow underfoot had become knee deep and the trekking laborious and uncomfortable. Not expecting snow at this altitude or time of year, neither of us had brought gaiters and our feet became cold and wet. Owing to the discomfort and onsetting dusk, we decided not to proceed to base camp, a further 2-3km down the valley, but to set up camp just below the pass at a small, partly frozen lake.
Day 5: Budzunga Bara - Gurja Gaun
It was a cold night beside the lake, especially when I had to get up to empty my bladder at 2am! Still, the stars and mountains were stunning in the crystal-clear darkness. When dawn broke, we rose to find animal tracks in the snow all around us as close as 5m to our tent. We were thrilled when we realised they were made by a large cat, probably a snow leopard. What a privilege to have one the world's rarest and most elusive big cats sniffing around our tent. I'm glad it wasn't hungry though!

After the excitement of our discovery had subsided, we realised that to press on to base camp and beyond with no gaiters and dwindling supplies of kerosene and food was probably unwise and so we reluctantly turned back to Gurja Gaun. This was a pity because the weather seemed to be finally improving. After the aadakshya fed and housed us for the night and plied us with raksi (a distilled millet liquor) our decision didn't seem so bad after all.

Independent versus Organised Trekking
While we were away, a Swiss and French trekking party of 8 had arrived in Gurja with about 50 porters, guides and cooks and had taken over the school playing field. I learned from the Nepali guide that they were each paying about $200 a day to the trekking agency. Virtually none of this money reaches the local communities on the trekking routes as everything is carried in from Kathmandu. Even on the 'tea house' treks such as the Annapurna circuit where trekkers' accommodation and food is plentiful, I have witnessed large trekking parties camping in playgrounds eating brought in food. Many of these treks are sold to punters under the guise of 'eco-trekking' and indeed they may well help to reduce pressure on local resources and environment. However, organised treks are expensive and they contribute very little to village economies along the trekking routes. It is actually very easy to trek independently in Nepal or alternatively you can privately hire a guide relatively cheaply in Kathmandu or Pokhara. Lodging on trekking routes is cheap and a great way to meet local people and other trekkers.
Day 6: Gurja Gaun - Barse Kharka

This gem of a route passes through the uninhabited south-eastern edge of Dhorpatan Hunting Reserve. You have to leave Gurja on the path to Darsinge Kharka and then take a left shortly after the village. This takes you down to the river, over a suspension bridge and up through a beautiful forest of dead spruce and regenerating maple. The forest must have be burnt some years ago but the massive spruce trees, although dead, have remained standing. It's quite a long climb to the pass at 3500m and we were glad to meet a group of travelling Gurja folk on the pass who offered us breads and tea.

By the time we reached the pass the cloud had once again enclosed the mountains, denying us of a spectacular panorama. In complete contrast to the north, the south side of the pass is a gently sloping, virtually tree-less valley used for grazing mules during the monsoon. Scattered around the valley were many stone huts used by the herders and their livestock for shelter during the grazing season, but now abandoned for the winter. Not wanting to miss the view, we decided to spend the night in a hut just below the pass near the water source and rise at the crack to watch the dawn illumination of the snowy peaks.
Day 7: Barse Kharka - Dhorpatan

It was an act of masochism to get myself out of my 4 season bag and slog back up to the pass in the frosty darkness. It was worth it though - the view that greeted us was awesome. A luminescent mountain panorama stretched from Dogari Himal in the west to Dhaulagiri I in the east. As sunlight struck the peaks they were set ablaze in brilliant whiteness. The whole experience was truly magical.

After returning to the hut for a porridge breakfast, we set off down the valley towards Dhorpatan. After a short distance the pasture changes to forest and the path switches banks over an icy tree-trunk bridge. A little futher down and it reverts back again over another icy log which lost me my balance and sent me face first into the river! After 3 hours or so from the huts you reach the Utta Ganga valley; a 3000m high broad flood plain that meanders its way down to Dhorpatan. We stopped at the first house to chance our luck for some bhaat and got a feast of meat, rice and potatoes. From here, Dhorpatan was a long but easy walk through pine and spruce forest. On arrival in Dhorpatan, we were spotted by the park ranger who, in spite of it being a Saturday, opened up the office so we could sign the register and pay our permit fee as we hadn't bought one in Kathmandu as we were supposed to. He directed us to a cracking little guest house down by the airstrip run by a Tibetan family.

Dhorpatan at a glance
Dhorpatan is a village of 2 communities: the indigenous Nepalese and the Tibetan refugees who fled here after the Chinese invasion. The Tibetan areas are clearly recognisable from the Buddhist prayer flags that flutter above every house, sending their mantras up to heaven. The area is important for potato and apple growing, mule breeding and is a distribution centre for salt and other goods that brought in from Dolpo and Tibet. The surrounding reserve is a national park covering 1325 sq km which was managed for conservation and the hunting of blue sheep (bharal) and other game by the royal family and paying foreign parties. Now, of course, with the king deposed, official hunting has ceased and blue sheep, along with the musk deer, wolf, red panda and leopard are strictly protected.
Days 8-11: Dhorpatan - Baglung (via Burtibang, Kharbang and Hatiya)

Day 8: Going to Burtibang from Dhorpatan necessitates crossing the Utta Ganga river. Unfortunately, the nearest bridge is way upstream and if you're as lazy as we were, wading bare-legged through the cold water close to the hotel will be the chosen crossing point. You need to head due south from Dhorpatan to the river and find a shallow place to cross. The river here was braided into 2 channels which meant twice the agony. Make sure, unlike me, that you bring everything with you before making the crossing, otherwise 2 further trips through the river will be necessary! There's a short climb to a pass and then a long descent (6 hours) down the Bhuli Khola to Burtibang. A lodge half way at Bobang cooked us bhaat on request. Burtibang is Baglung district's second largest town and there's a choice of Hotels here. We stayed at the 'Sherchan' at the far end of the bazaar which was quite comfortable except for the toilet which is probably the smelliest I have ever had the misfortune to squat over.
Day 9: The path (probably now a jeep track) to Kharbang (6 hours) continues down the river although there is some ascending to be done. The hotel is located close to the junction with the Baglung path, as was a satellite phone service.
Day 10: The Baglung trail heads east from the bazaar and climbs up above the river. Hatiya takes about 6 hours from Kharbang and the only village where bhaat is available is conveniently situated half way along. Hatiya is the district's 3rd largest town and there's a few Hotels to choose from here too. The first one on the right-hand side as you reach the town (I forget the name) was an old favorite of mine during my volunteering days. Alternatively, if going to Tamghas and Tansen, cross the big suspension bridge at Kharbang and continue south down the Bari Khola. Tamghas is about 1½ days from Kharbang from where buses to Tansen run.
Day 11: The final day to Baglung is a bit of a long one which continues on the trail throught the bazaar and eastward and upward to a pass at Roini (2000m) where you can get snacks and daal bhaat. From here it's a long, hot descent on a mule worn trail to Baglung bazaar. The abundance of tea houses and restaurants however, will offer some respite to the trail weary.