| | | |
| --- | --- | --- |
| Location: | | Eastern Region, 150km east of Kathmandu |
| Route: | | Lukla - Gorak Shep - Cho La - Gokyo - Lukla (see itinerary) |
| Guide book: | | Trekking in the Everest Region by Jamie McGuinness |
| Map: | | Everest Base Camp (1:50000) by Nepa Maps |
| Season: | | October |
| Days: | | 16 |
| Grade | | Strenuous |
| Equipment: | | 4 season sleeping bag, cold weather clothes (see kit list) |
| Permit: | | Sagarmatha National Park permit (Rs1000 in 2005) |
See the Trek Info page for more details.

The Khumbu or Everest trek is the number one trek for seeing big mountains and getting up to high altitude. It is however, very commercialised with little cultural interest above Pangboche. If you have an overriding desire to see the world's highest mountain, you wont be disappointed. If you want more variety from your trek, go to Annapurna instead. That said, this route does deliver more than just Everest. There are a myriad other peaks including the stunning Ama Dablam, as well as the Cho La pass and Gokyo with its pristine turquoise lakes.
Flying into Lukla from Kathmandu instantly gains 1400m and then there's a further 2800m to climb to reach Kala Pattar. If not taken at a slow rate to allow for altitude acclimatisation, there is a serious risk of contracting acute mountain sickness (AMS), which in extreme circumstances, can be fatal. Diamox (acetazolamide) is an effective prophylaxis and treatment for AMS and is an essential drug for this trek. It can be bought in pharmacies in Kathmandu for a fraction of the price in the west.

The trails are well maintained and, apart from the Cho La pass, should pose no difficulties or danger in good conditions. Even the Cho La shouldn't pose any problems if the weather & ground conditions are good. However, if there has been a lot of snow or if the slopes are suspected to be icy, it might be better to go round it unless you're carrying crampons & ice axes. Weather-wise, the best time of year to go is post-monsoon from October to December. Having said that, we started trekking on October 3rd and got caught in a resurgence of the rain which didn't finish until the 10th. The onset and retreat of the monsoon rain is only predictable to within a couple of weeks and going too close to the start or end of it is a gamble. The pre-monsoon season from April to May is the next best time to go but the views tend to be more hazy. The spring season does have the advantage of Everest expeditions which will make the base camp visit more interesting - there weren't any expeditions at all in October 2005!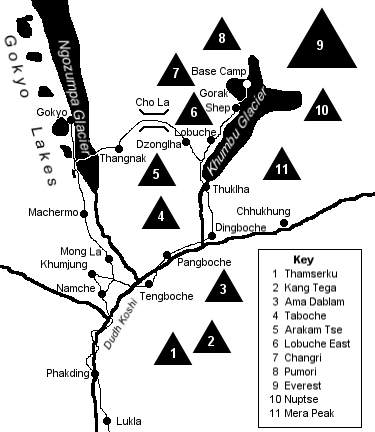 This description is based on my personal experiences of independently trekking this route during October 2005 with 8 friends from the UK. It is not intended to be an authoritative guide and our rate of ascent is not one that is recommended. It is actually very easy to make the trek without a guide or porters but if you have any doubts about route finding, fitness or personal safety I would advise you to consult a professional trekking agency in Kathmandu or in your own country. The route described here takes an anti-clockwise direction over the Cho La since this is the shortest climb from accommodation. It also means ascending the more gradual Imja Khola valley to Gorak Shep and descending the steeper and less inhabited Dudh Koshi valley from Gokyo. This is not only less strenuous, but is a safer option since there's less temptation to ascend too quickly.
This trek can be extended by walking in from the road head at Jiri. Its a 12 hour bus ride from Kathmandu followed by a 5-8 day walk to reach Namche. In 2005, you would have almost certainly met the Maoists on this route who were demanding a staggering Rs.5000 ($70) as a "donation". Fortunately, now that the civil war has ended, this practice has ceased.
Day 1: Kathmandu - Lukla - Namche


| | |
| --- | --- |
| Walking time | 7 hours |
| Altitude gained | 2050m |
| Sleeping altitude | 3450m |

Our flight to Lukla was on a 20 seat twin turboprop "Twin Otter DHC6" operated by Yeti Airlines. Normally at this time of year you would expect spectacular mountain scenery, but for us the monsoon clouds had not yet departed, denying us of the views we had hoped for. Landing on the Lukla runway was anything but disappointing though - it was terrifying. The plane made a steep nosedive to the end of the runway to what looked from the inside, like an imminent collision, before pulling up for the landing. Despite the runway being angled uphill at an alarmingly steep 15º, the touchdown was remarkably smooth. Even without the views, the flight was one the highlights of the trip. At the time of travel, the published price for a single journey (before discount) was $91 + $4 insurance and fuel surcharge. Try to get a seat on the left-hand side of the plane if you want to see the Himalaya on the way out.

The Namche trail passes through the bazaar and then drops down over 300 vertical metres to the Dudh Koshi river before ascending a vertical kilometre up to Namche. Our original plan was to walk as far as Monjo on the first day and leave the steep climb to Namche for the second. However, a general consensus emerged within the group to press on to Namche if possible, so we took off at a brisk pace and were in Ghat within 90 minutes. After a daal bhaat lunch we hit the trail again and reached the Sagarmatha National Park entrance at Jorsale in just over 2 hours. We paid the Rs.1000 fee and had a cup of tea at a nearby lodge. By now it was 3pm and we had been quoted 3 hours to reach Namche which would mean arriving at dusk or even after dark. Fired up with macho enthusiasm, we decided to give it a go.

It was a full 3 hours to Namche as quoted which was unusually accurate by Nepali standards of estimation. The route crosses the Dudh Koshi over a high bridge at Larja and climbs steeply on a switch-back trail for over 500 vertical metres through the forest. I started to get AMS symptoms towards the top which was hardly surprising considering our altitude gain. The first of us arrived in Namche bazaar at dusk but the tail end of the group arrived half an hour later in the dark. As well as the fading light, the town was now shrouded in thick mist which made it difficult to orientate oneself. I spotted the Thamserku View Lodge and booked 5 double rooms for Rs.100 each. We were too exhausted to shower & it was too cold to contemplate using the external shower room anyhow, so we went straight to the kitchen-dinning room which was warmed by a central wood-burning stove (so much for the firewood ban inside the park). Despite the AMS-induced nausea, I managed to eat a daal bhaat but quickly retired to bed with half a Diamox.
Day 2: Namche (rest day)

After the previous day's exertion, this was a much needed rest, as well as strategically important for altitude acclimatisation. As it turned out, I wasn't the only one suffering from AMS the night before, but luckily all of us had recovered by morning. The plan on the original itinerary was to hike to Thame today, but no one was up for that so we hung out in the bazaar all day instead. Just about everything is available in Namche so if you've forgotten anything, there's a good chance you'll find it here. There's a bank, a money changer, several phone/internet shops (using satellite links), a pharmacy, book shops, at least 3 bakeries, a bar, and a myriad hiking equipment shops & souvenir stalls.
Day 3: Namche - Khumjung

| | |
| --- | --- |
| Walking time | 2 hours |
| Altitude gained | 340m |
| Sleeping altitude | 3790m |

The weather today was grim with mist enveloping Namche from early morning. Without views, the hike to Khumjung was dull but short at least. The trail leaves Namche at the gompa and continues 300m uphill for an hour to Syngboche. After a pass marked by a stupa, the trail descends slightly into Khumjung. We stayed in the Himalayan Guest House which had indoor western toilets and carpeted plywood rooms for Rs.100 a night. In retrospect we should have stayed another night at Namche rather than move on so soon as we had another AMS sufferer here.

Khumjung is a picturesque village with many large smart-looking houses. Apparently many of the lodges en route to Gokyo are owned by people from here. There's a number of lodges here and a bakery which serves pretty average food compared to the Namche ones. Its a worthwhile hike up to Khunde where there's a quaint gompa on the hill above the hospital. If you go inside, remember to leave a donation in the box.
Day 4: Khumjung - Tengboche

| | |
| --- | --- |
| Walking time | 3.5 hours |
| Altitude gained | 70m |
| Sleeping altitude | 3860m |

At last we woke to clearer skies and views of Ama Dablam (6856m), Thamserku (6608m) and Kang Tega (6685m). Encouraged by the improved weather, we set off for Tengboche which started on a trail at the bottom of the village, near the bakery. Once out of the village, the path drops steeply through forest to Phunki Tenga where it crosses the Dudh Koshi. From here it climbs steeply to Tengboche, 600 vertical metres up at the top of a ridge. To put my fitness to the test, I picked up the pace and did the ascent in just under an hour. A more typical time for the climb is 1½ hours while the guide book has it taking up to 2½ hours.

Tengboche is small village comprised mostly of lodges with a large gompa at its centre. We selected the Himalayan View which had some of the better rooms with the potential for good views, although we were never to see them as the cloud had once again closed in. After lunch and a much needed shower, we made the obligatory visit to the gompa. The main prayer hall was interesting with lots of painted Mandalas on the walls and a large golden Buddha at the far end of the room. There weren't any religious ceremonies to watch though - the monks were down the village playing volleyball instead. Despite having only been established in 1916 the gompa had been rebuilt twice, the first time following an earthquake in 1934 and more recently, after a fire in 1989.
Day 5: Tengboche - Pangboche

| | |
| --- | --- |
| Walking time | 1.5 hours |
| Altitude gained | 140m |
| Sleeping altitude | 4000m |

The night in Tengboche put us back on track with our acclimatisation plan (if you forget about the night skipped between Lukla and Namche that is) and those of us who had already suffered with AMS had now fully recovered. The walk to Pangboche was another short one and deliberately so as it broke up the 500m altitude gain from Tengboche to Dingboche and gave us an acclimatisation catch up opportunity.

We left Tengboche in dense mist and descended through rhododendron and birch forest to Deboche (30 mins) where we crossed the river on a high cage-like metal bridge. From here it was a gradual ascent for about an hour to reach Pangboche. Pangboche is really 2 separate villages about 10 minutes apart and although it is possible to reach the upper village without passing through Lower Pangboche, we missed the path and had to detour via the lower village to get back up the hill. We had decided to stay in Upper Pangboche to benefit from the slightly higher altitude and because of its attractive setting around the old gompa. We stayed at the Trekker's Holiday Inn which was owned by a climbing sherpa with several Everest summits to his name. The rooms were typical plywood twins costing Rs.150 a night. In the afternoon, the rain started and continued on into the night so to alleviate the depression setting in, we drank chang (rice beer) and played a homemade pub quiz until the sherpani hinted for us to go to bed at 8:30.

Acclimatisation Itineraries
The typical itinerary from Lukla to Gorak Shep, used by most trekking companies, is 1 night in Phakding, 2 nights in Namche, 1 night in Tengboche, 2 nights in Dingboche and 1 night each in Lobuche and Gorak Shep. Research has shown that this results in mild AMS in 50% of trekkers at Lobuche, according to the guide book, and we certainly met quite a few sufferers both here and at Gorak Shep. The recommendation is 3 nights in Namche and an extra night at Pangboche to break up the 490m ascent from Tengboche to Dingboche. And now that there is a good lodge at Thuklha, it is also recommended to break up the 590m gain from Dingboche to Lobuche by stopping here for a night. A comparison of the possible itineraries is given in the table below. Despite the crazy start to our trek, our itinerary was 1 day longer than the typical commercial itinerary, which reduced the rate of ascent by an average of 32m per day. The result was that all but 1 person from the group of 9 felt sufficiently acclimatised to spend the night Gorak Shep, an 89% success rate.
Day

Typical Itinerary

Gain (m)

Recommended Itinerary

Gain (m)

Our Itinerary

Gain (m)

1

Phakding

-210

Phakding

-210

Namche

600

2

Namche

810

Namche

810

Namche

0

3

Namche

0

Namche

0

Khumjung

340

4

Tengboche

410

Namche

0

Tengboche

70

5

Dingboche

490

Tengboche

410

Pangboche

140

6

Dingboche

0

Pangboche

140

Dingboche

350

7

Lobuche

590

Dingboche

350

Thuklha

250

8

Gorak Shep

230

Thuklha

250

Lobuche

340

9

Lobuche

340

Gorak Shep

230

10

Gorak Shep

230

Total gain from Lukla

2320

2320

2320

Avg. gain from Lukla

290

232

258
Day 6: Pangboche - Dingboche

| | |
| --- | --- |
| Walking time | 2.5 hours |
| Altitude gained | 350m |
| Sleeping altitude | 4350m |

It was cloudy when we left Pangboche at about 9:30 but we did at least get partial views of Thamserku and Ama Dablam. We took the trail heading for Lower Pangboche but then forked left just after entering the juniper forest to traverse above it. The trail then joined the main Tengboche-Dingboche path several hundred metres after the lower village ended. After a gradual climb for an hour on a trail that went high above the Imja Khola, we passed through Shomare from where we first glimpsed Lhotse and, if there'd been less cloud, perhaps Everest too. After a further hour, the trail forked right down to the river and crosses onto a trail that bore north-east around the right side of a small hill. Its easy to miss this path and continue on the left side of the ridge which would take you to Pheriche instead. From the bridge, its just over half and hour to Dingboche. We picked one of the new lodges which was a mistake as the quality and quantity of the food was below average and the drinking water was contaminated with kerosene. I recommend sticking to the traditional family-run lodges where the owners and staff are more likely to care about your experience in addition to your money.

In the afternoon, the guys trekked over to Pheriche to listen to the daily 3pm altitude lecture given by doctors at the Himalayan Rescue Association (HRA) hospital. I fired on up to Thuklha to book our rooms for the following night in the one and only lodge there. After cup of tea with the lodge owner, I motored back down the hill to Pheriche to catch up with the guys at the hospital. Without my rucksack weighing me down, it only took me an hour to get to Thuklha and ¾ hour to get back to Pheriche. I got back in time to have my blood oxygen levels measured using a small device that fitted over the finger. The reading was 86% which was high for that altitude and indicative of good acclimatisation (blood oxygen is normally 99% at sea level). This service cost a Rs.100 donation. The hike back to Dingboche was a short 40 minute walk over the ridge that would normally offer great views of Ama Dablam, Nuptse and Lhotse, but for us, was once again shrouded in cloud.

Advance Booking
Lodges are in short supply in parts of the Khumbu and rooms can be booked out in high season, often well in advance by trekking companies using their porters as runners. The worst areas for this are Thuklha and Dzonglha where there are only 1 and 2 lodges respectively. Also at risk of shortages are Thangnak and Gorak Shep which have only 3 lodges each, and Lobuche can also get crowded late in the day. If you are travelling alone or in a small group, you may not need to worry as there's usually somewhere to squeeze in, even if its in a dormitory or with the porters. However, large groups should consider booking in advance at these places if at all possible. If you don't have porters to send ahead, as we didn't, try requesting the help of lodge owners to send messages for you or if you have enough time after arriving at your current destination, make a quick return trip to the next night's destination yourself. This will also help you to acclimatise by taking you above your sleeping altitude.
Day 7: Dingboche - Thuklha
| | |
| --- | --- |
| Walking time | 2 hours |
| Altitude gained | 250m |
| Sleeping altitude | 4600m |

It was another misty dawn but did start to clear by 7:30 giving partial views of Ama Dablam, Thamserku and Kang Tega. We left the lodge without breakfast and hiked a few metres up the hill to the Alpine Resort where we ordered pancakes, muesli, toast and eggs, and wondered why we hadn't stayed here instead. We hit the trail at 11am by which time Ama Dablam was in full view, towering above us to the east. The trail climbed above the Alpine Resort to a stupa on the ridge where it joined the Chukhung-Lobuche path. From here it was a slowly ascending path on broad lateral moraine, about 100m above the Lobuche Khola river. Pheriche was clearly visible on the valley floor below. After about 1½ hours the path descended to a bridge over the river and then it was a further 5 minutes climb to the Yak Lodge at Thuklha. The rooms had been reserved but on this occasion we needn't have worried as there were still plenty left. After lunch, we hiked up the steep moraine, a strenuous climb that took ½ hour without the packs on, to view memorials dedicated to some of the Everest dead. There was a depressingly large number of chortens and memorials, which I guess is hardly surprising considering the number of fatalities there has been on the mountain. The most notable was for Babu Chiri Sherpa who summited 10 times before dying on his 11th attempt. For brief period we were rewarded with views of Arakam Tse (6423m), Cholatse (6335m) and Taboche (6367m) before the cloud once again descended. We returned to Thuklha on the Dzonglha path in the hope of seeing the turquoise Chola Tsho lake, but the mist was so thick it was impossible to see more than 50m in front of us. The junction where the Dzonglha path meets the trail back to Thuklha is easy to miss, especially in such poor visibility. We were lucky to meet some porters who pointed it out to us.
Day 8: Thuklha - Lobuche
| | |
| --- | --- |
| Walking time | 2 hours |
| Altitude gained | 340m |
| Sleeping altitude | 4940m |
The monsoon had finally retreated today and for the first time on the trek, we woke up to clear blue skies and a spectacular mountain panorama. To the west, the towering peaks of Arakam Tse, Cholatse and Taboche glistened in the early morning light. To the north, Nuptse was visible and to the south, Ama Dablam, Thamserku and Kang Tega. At last we realised we were in the Himalaya. The change in weather lifted the mood of the entire group and everyone was up early and on the trail by 9am, the earliest start so far. The steep climb up the moraine didn't seem so difficult today, even with the pack on; a good sign that we were acclimatising well. From the top of the climb, the path continued for 1½ hours below the Khumbu Glacier's western lateral moraine to Lobuche, a small, uninspiring cluster of 6 lodges We randomly chose the Sherpa Lodge where we lunched, washed, shaved and did laundry in the warn sunshine.

In the afternoon, some of us hiked up to Gorak Shep to advance book our lodge for the next night. The walk was a lot longer and tougher than we expected and a couple of the guys turned back early. The path climbed up to the Lobuche Pass at 5110m then crossed the Changri Nup and Changri Shar glaciers to Gorak Shep. The terrain was rough but the exertion was more than rewarded by unbroken views of Nuptse, Pumori and eventually the summit cone of Everest. We selected the first lodge of the 3, the Himalayan, where we reserved rooms for the following night. The lodge was large, modern and well maintained - impressive for such a remote and inhospitable place. Prices were high here though: Rs.300 for a room, Rs.250 for daal bhaat, Rs.150 for a chocolate bar and Rs.300 for a shower (although you'd have to be a masochist to have one of these up here). The return trip took an hour, and by the time we got back the sun had dropped behind the western mountains, casting a cold shadow over the valley. The time for thermals had arrived.

Tent or Teahouse?
When we got back to Lobuche, a guided trekking group had arrived and pitched tents at the bottom of the village. Nothing unusual in that you might think, and indeed not, it was a common site at all the places we stopped at. What bewilders me though, is why anyone not part of a climbing expedition would want to camp up here at all when there's very nice lodges right next door. Below are my arguments for why you really don't want to camp:
| | | |
| --- | --- | --- |
| | | Most obviously, its very cold at night in a tent. There's no communal stove to socialise around in the draughty mess tent so you're in your bed straight after dinner. |
| | | Since your food is portered around with you, your menu will be more limited than a lodge's and you are potentially more likely to contract an illness such as food poisoning. |
| | | You are more likely to have a detrimental impact on the environment. The pollution of water courses is a risk if your toilets are poorly sited and if your rubbish is not properly disposed of. |
| | | You will pay a lot more for camping than for a teahouse trek because of all the porters that need to be employed to carry your tents, tables, chairs, food, stoves, fuel, cooking utensils etc. |
| | | And worse of all, camping treks contribute virtually nothing to the local economy because everything is brought in from outside. Teahouses create employment and income for local people and for this reason more than any other, you should use them. |
Having said that, if nobody camped, there'd be even more pressure on lodge accommodation during the high season (see "Advance Booking" box above), and consequently, more disappointed trekkers. In time though, demand will create more lodges and camping treks will become a thing of the past.
Day 9: Lobuche - Kala Pattar - Gorak Shep
| | |
| --- | --- |
| Walking time | 4 hours |
| Altitude gained | 230m |
| Sleeping altitude | 5170m |

Today was the big one, the reason we'd come to the Khumbu - the ascent of Kala Pattar to see Everest. We emptied out all the unessential items from our packs and left them in the lodge store room to collect on the way back down. We stocked up on biscuits and chocolate and hit the trail at 7am. It was a beautiful clear day again with Pumori, Nuptse, Lobuche, and Changri looking spectacular in the morning sunlight. The hike was a little easier today and took me only 1½ hours to reach the lodge at Gorak Shep. After ditching the packs and a quick cup of tea, we set off to climb Kala Pattar.
Kala Pattar is not really a peak, but the lower part of the south Pumori ridge. The highest accessible point before the ridge becomes too narrow and dangerous (not visible from Gorak Shep) is at an altitude of about 5600m. There are 2 ways up to this "summit", the least strenuous of which is on the right-hand path that skirts around the lower summit, or there's the steeper path up and over the lower summit. Naturally, we took the least strenuous option. It was an exhausting slog in such thin air (50% of sea level air pressure at this altitude) but I made the top in 65 minutes. A more typical ascent is 90 minutes.

The panorama of mountains and glaciers was awe inspiring and emotionally overwhelming. I sat by the summit cairn for over half an hour just taking it all in. Everest was visible as far down as the South Col, and the formidable Khumbu Icefall could be seen flowing into the rock-covered Khumbu Glacier. Even at this height I felt dwarfed by the colossal peaks around me. Pumori towered above me to the north while in the east, Nuptse dominated the skyline. To the south was Ama Dablam and west Lobuche and Changri. Beyond these were more mountains stretching as far as the eye could see. It was truly, and quite literally, breath taking.

After having spent about 45 minutes on the top I felt cold and decided to return directly to Gorak Shep by the route I'd come. A couple of the guys took the alternative path down over the lower summit which made an interest variation to the descent. Back at the lodge I called my wife on the satellite phone. The reception was amazing and it was completely surreal to be talking to her from such a high and remote place. At a reasonable Rs.250 ($3.5) per minute, it was the best money I'd ever spent. After lunch, a ham and cheese toastie made from ex-expedition spam and processed cheese, a couple of the guys decided to descend to Lobuche. One was suffering with mild AMS and didn't want to risk spending the night here. We planned to meet up with them the following day.

At sunset, the valley was plunged into shadow and the only sunlight visible was on the summit cone of Everest which was lit up in brilliant orange like it was on fire. The temperature dropped quickly so we retreated into the dining room heated by the yak dung fired stove. On the menu were a range of snacks, meals and sweets left over from previous Everest expeditions. As a change from the usual daal bhaat and fried noodles, we ordered a chicken dopiaza with rice. Boil-in-the-bag curry had never tasted good.
Day 10: Gorak Shep - Everest Base Camp - Lobuche
| | |
| --- | --- |
| Walking time | 5 hours |
| Altitude lost | 230m |
| Sleeping altitude | 4940m |

Today was an even tougher day than Kala Pattar and we were glad for the day in hand that allowed us to stop at Lobuche rather than go on to Dzonglha as we had originally planned. We started off from Gorak Shep at 8:30 and didn't reach base camp until 11:00, 2½ tiring hours later. We did take a slight detour to view the memorials to some of the Everest dead, including members of the ill-fated 1996 expeditions with Adventure Consultants and Mountain Madness. The path followed the crest of the western lateral moraine for the first 75 minutes before dropping down onto the glacier where it continued for a further 75 minutes. On the glacier, the path was rough and meandered around the crevasses but wasn't at all dangerous.

There were no climbing expeditions on the Nepalese side of the mountain this season so base camp was deserted. The only signs of previous life here were the discarded rubbish and the 2 crashed helicopters. The older and more mangled wreckage was from a crash in 2003 in which 2 people were killed. The other helicopter (pictured) was from a non-fatal crash in April 2005. Neither were essential nor emergency flights. Its a miracle helicopters can land here at all looking at the terrain. The following article, reporting the 2005 crash, highlights the unnecessary risks with making such non-emergency flights.

Everest base camp is described by some as an anti-climax and not worth the effort. I would have to strongly disagree. While Everest itself isn't visible from here, the scenery is stunning and to see the fearsome Khumbu Icefall so close up is reason enough to make the trip. Base camp is located at the head of the Khumbu Glacier valley and standing here is like being in an amphitheatre surrounded by a colossal wall of snowy mountains and ridges. Going clockwise from the Lho La (NW Col), the West Ridge climbs from the col around the Western Cwm and out of sight to the summit of Everest. Emerging from the cwm is the Khumbu Icefall, a brilliant white icy mass of seracs and crevasses that has claimed so many of the lives lost on Everest. Next round from the cwm is the majestic Nuptse, then across the Khumbu Glacier is Pumori, Lingtren and lastly, Khumbutse. Despite being so high up here at base camp, only slightly under 5400m in fact, I felt small and humbled standing beneath these mountains. Nuptse towers above for another 2km and Everest for another 3km. Anyone who recommends missing this out either never came here or came up with their eyes shut.

After half an hour at base camp we made a hasty retreat back to Gorak Shep, stopping only briefly on the way to watch an avalanche crash down the lower west face of Nuptse. The return trek took 1¼ hours and we arrived back at the Himalayan at 12:45 in time for lunch and a snooze in the sun room. It was another 1¼ hours back to Lobuche but by now the sun was setting and the light and warmth were fading fast. There was no way we'd have made it to Dzonglha as originally planned. On arrival in Lobuche we returned to the Sherpa Lodge to be given a note from the other 2 saying that they had headed back to Namche. We were naturally disappointed but resolved to continue over the Cho La to Gokyo as planned.
Day 11: Lobuche - Dzonglha
| | |
| --- | --- |
| Walking time | 3 hours |
| Altitude lost | 90m |
| Sleeping altitude | 4850m |

I came down with dysentery in the night. It had to happen eventually. The symptoms at first suggested food poisoning although I was a bit suspicious why none of the others had come down with it. I was to find out a couple of days later as the illness matured, that it was in fact Giardia. This initial wrong diagnosis caused me to prolong the disease by taking the wrong treatment (Ciprofloxacin instead of Tinadazole). Despite the nausea, I managed to force down a couple of boiled eggs for breakfast and we were on the trail by 8:30. However, I struggled from the start and was going to turn back when the guys took my rucksack from me and took it in turns to carry it between them. My pace was slow and I stopped frequently to vomit or collapse, but after 4 long agonising hours I was virtually dragged into Dzonghla.

Our booking at the Himalayan Lodge had been made for us, but for the following night, and all but 1 of the rooms had already been taken. The only other lodge in Dzonglha was also full. The guys kindly gave me the free single and reluctantly took dormitory beds. I went straight to bed and apart from frequent trips to the toilet, stayed there until next morning. The guys, by all accounts, had a boring afternoon hanging out at the lodge and then a sleepless night in the dorm. There were just 2 long bunks, each sleeping about a dozen people in very close proximity to each other. Eric was so claustrophobic he chose to sleep on the floor of my tiny single room instead. It was a bad night for everyone.
Day 12: Dzonglha - Cho La - Thangnak
| | |
| --- | --- |
| Walking time | 5.5 hours |
| Altitude lost | 150m |
| Sleeping altitude | 4700m |

I woke up feeling a whole lot better and even managed to eat a bowl of porridge and a boiled egg for breakfast. My partial recovery was well timed as today was to be hardest day of the trek - the crossing of the Cho La. We purchased ex-expedition packed lunches consisting of tinned salmon mousse and crackers which had allegedly been recovered from camp 3 on Everest. Then at 8:20 we set off for the Cho La. Outside the lodge was a large flock of Himalayan Snowcocks scurrying noisily across the hillside. These plump pheasant-like game birds looked like they would have been a tasty supplement to our meat-less mountain diet and I half wished they were on the menus.

We reached the base of the steep climb in under an hour and were on top of the pass in under 3. The route follows a moraine ridge onto boulder scree from where it takes a steep line up below the left-hand wall. On the top of the pass is a small glacier (by Himalayan standards) that was easily crossed without crampons. The highest point of the pass is at the Thangnak side so we stopped here to eat our packed lunch and admire the view into the Ngozumpa Glacier valley and beyond.

After half an hour on the top, we started the descent, which was much steeper and looser on this side. At the base of the steep climb the path forks and you have to bear right to Thangnak (left will take you lower down the glacier to Na). From here the path climbed over a landslide-scarred ridge and dropped into a sharp V-shaped valley. After a long descent, Thangnak (aka Dragnag) was a welcome sight with 3 equal looking lodges to choose from. We chose the Tashi Friendship Lodge which turned out to be a poor choice, but without having stayed at the others, it might well have been the best. Most of us postponed the shower for another day as the shower room was just a dirt-floored barn. We were all so exhausted from the trek that we crashed for the rest of the afternoon. In the evening we sat round the stove to play the customary cards and eat another bland carbohydrate-rich dinner before hitting the sack once again for an early night. We hardly slept though, this time due to rats leaping around on the plastic sheets that served as the ceiling to our ply-partitioned barn rooms.
Day 13: Thangnak - Gokyo
| | |
| --- | --- |
| Walking time | 2 hours |
| Altitude gained | 50m |
| Sleeping altitude | 4750m |

The weather and my dysentery both relapsed today. Mercifully though, the trek to Gokyo was short, although it was tougher than expected across the Ngozumpa glacier. It didn't help that we were all still tired from the previous day's exertion and 2 nights of broken sleep. From Thangnak, the path ascends the lateral moraine and drops onto the glacier where it picks a winding route around the crevasses and lakes to the lateral moraine on the other side. After climbing over this, it drops down to meet the main Dole path between the first and second lakes. From here its 30 minutes further to the third lake and Gokyo.

Situated beside a serene turquoise lake and surrounded by mountains, including Cho Oyo (the world's 6th highest peak), Gokyo really is an outstandingly beautiful place. The village is large but attractive and has many good quality lodges to chose from. We chose the Gokyo Namaste Lodge which had the warmest dinning room of the whole trek. We had planned to climb Gokyo Ri (a 5340m hill north of Gokyo) in the afternoon but were still too tired from the Cho La to bother, so we read and played cards instead. For dinner I forced down a couple of mouthfuls of noodles before crawling into bed. My symptoms worsened overnight but at least by now it was clear from the rotten egg smelling diarrhoea that I had Giardia. Although I felt bad, I at least knew from past experience that recovery would come in a couple of days now that I had started the correct medication. That was little comfort during the night when I was up 4 times to the toilet though.
Day 14: Gokyo - Mong La
| | |
| --- | --- |
| Walking time | 7 hours |
| Altitude lost | 777m |
| Sleeping altitude | 4973m |
I woke up feeling a little better but not well enough to trek up to the 5th lake as planned. We therefore decided to split into 2 groups, my group would start the descent back to Namche while the rest would trek to the 5th lake and either stay another night in Gokyo or somewhere further down. We'd then meet up in Namche in 2 days time. This way I would have 4 days, rather than 3, to make it back to Lukla if I was still struggling. The lodge owner had arranged for a porter to carry my rucksack, at the bargain cost of Rs.500 per day, so I was feeling more confident about getting home than I was the day before. The porter appeared at 9:30 once he had eaten his daal bhaat. He was in his teens and tiny - less than 5ft (1.5m) tall. Just as well my pack was only about 12 kilos in weight. We said our farewells to each other and set off in our opposite directions.

The trek started off painfully but we kept up a good pace and were in Machermo within 2 hours. After the 1st lake, the glacier ends and the Dudh Koshi which emerges from it, cuts a steep V-shaped valley through the jagged mountains on either side. It's a much more scenic route than the Imja Khola valley up to Gorak Shep. At Machermo, there's a health post with a western doctor but the cost of treatment was expensive at $50 a consultation so I didn't bother getting one. The doc wasn't in anyhow. A half hour further on we arrived in Luza where we stopped for lunch. I managed to eat a full bowl of soup which was a promising sign. Another hour on we passed through Dole, a picturesque village with a number of smart looking lodges, situated above the forest on a broadened ridge. From here the path descended through the forest to the river at Phortse Tenga. On the way we passed the national park office and army check post, both of which were abandoned and vandalised, remnants of a Maoist attack perhaps. The lodges at Phortse Tenga were basic so we decided to continue on to Mong La, a 300m climb back up the ridge. It was a tough end to the day but we made the top in only 45 minutes.

Mong La is a 4 lodge hamlet straddling a pass at 3973m. It is one of the places on this trek that, if you get the chance, you really should try to visit. The views of Ama Dablam, Thamserku and Kang Tega were particularly spectacular from here. We checked into the Mountain View Lodge which did not fail to deliver on it's promises. We were given rooms with amazing mountain views and a precarious outlook over the Dudh Koshi that was almost enough to bring on vertigo. At dusk, we watched Ama Dablam change from white to gold in the setting sun, followed by the full moon rising above Kang Tega. Then at night, the mountains were illuminated in a ghostly white and the Milky Way was so clear and bright it looked like the Dudh Koshi was reflected in the sky.
Day 15: Mong La - Namche
| | |
| --- | --- |
| Walking time | 2 hours |
| Altitude lost | 523m |
| Sleeping altitude | 3450m |

I woke this morning to a stunning view of Thamserku without even having to leave the comfort of my sleeping bag. A little later I got my first ever glimpse of Nepal's national bird, the beautiful Impeyan pheasant, locally known as danphe. I had enjoyed my stay here at Mong La which was was especially memorable for me because it marked a turning point on my road to recovery from Giardia. Both the somersaulting intestines and unscheduled toilet trips had stopped and my appetite had returned to the extent that I was now able to eat a meal for the first time in 4 days. I half wished I hadn't been so hasty to descend and had instead gone to the 5th lake with the others. But then I would have missed out on the night here which, for me, was the best of the two options.

The path from Mong La continued south and descended around the side of the ridge to a fork where we saw a herd of Himalayan goats or tahr. From here, the quickest way to Namche is to take the left-hand trail via Sanasa. The right-hand trail goes uphill to Khumjung. After Sanasa, the path joins the main Tengboche trail and traverses around the hillside for what seems like ages before Namche comes into view. Along here, the views back up the valley to Ama Dablam, Lhotse and Everest are impressive and made us realise what we had missed on the way up. At Namche, we booked into the Khumbu Lodge on a recommendation and were not disappointed. It was a traditional lodge on the main street which had been extended over the years. The dinning room was massive and beautifully decked out in varnished pine. Our 5 bed room was en suite, but without hot water, although this wasn't going to be likely at Rs.100 each a night. As it turned out, it didn't matter because the hotel had a gas-heated shower which cost Rs.200 for as long as you could spend in it. I had my first wash in 8 days! The 5th lake group turned up at about 5pm having walked from Machermo the harder way via Khumjung.
Day 16: Namche - Lukla
| | |
| --- | --- |
| Walking time | 6 hours |
| Altitude lost | 600m |
| Sleeping altitude | 2850m |

We split into 2 groups again today as the 5th lake crew decided to chill out in Namche while us Mong La lads wanted to push on to Lukla and reach Kathmandu a day early. After breakfast, myself and the Lukla-bound group headed to the bakery for coffee and cakes. I reckoned I had lost about 3Kg over the previous 2 weeks, most of it while having Giardia, and I was on a mission to regain it now that my appetite was back. It was nearly 11am by the time we left Namche and, fully aware of the distance ahead of us, we set off at a cracking pace. It took only 45 minutes to descend the big hill that had taken us 3 hours to ascend on the way up. Despite the pace, we wasted a lot of time (1¼ hours) waiting for our lunch to be cooked and then further time was lost while taking a detour around the Kusum Khola bridge at Tado Koshi. The bridge was being repaired and we were angrily chucked off it by the foreman and sent on a massive diversion around the top. Fortunately, we didn't have to lose the height gained and followed a higher path to Chaplung from where we rejoined the path to Lukla. It was dusk by the time we rolled into Lukla and we headed straight for the North Face Resort which was run by the elder sister of the Khumbu Lodge sherpani. So similar were the two sisters, we couldn't believe they weren't the same woman at first. The Khumbu Lodge sherpani had phoned her sister that morning to book us in and request her to rearrange our flights with the airline. This she had done which was just as well since the office was already closed. All that was left for us to do was shower and feast on bottled beer and sizzling yak steaks.
Day 17: Lukla - Kathmandu

Our new flight was at 7:15 on the "second flight" of the morning. The flight numbering is confusing since most airlines operate the sector with 2 aircraft so each flight is actually 2 planes together. We watched in horror from the hotel as the second Yeti plane came into land 2 hours too early and we thought we'd missed our flight until we realised this. It was fascinating yet unnerving watching the air traffic operation at Lukla. Every couple of hours from about 5am to 11am, over a dozen planes come into land on this tiny airstrip within 20 minutes, and the terminal has only enough room for 4 planes on the ground at once. This means some slick air traffic control and some very fast turnaround times by the flight crew and ground staff. Amazingly for Nepal, they succeed, and without any accidents, which is hard to believe when you see planes taking off into the path of others on their landing approach before banking sharply left to avoid them.
Check-in was the usual chaos you'd expect at a Nepali airport but at least nobody questioned us about our tickets showing a different date. The security check was also a farce. Instead of the x-ray scanner, there was a line of disinterested policemen looking at, and occasionally peering into, rucksacks. On the flight were the same 3 Americans who'd been on our outward flight and on the trail with us most of the way round the Khumbu. We arranged to meet them later for beers.
That afternoon the fine weather broke and it rained heavily well into the night. We were worried the next day's Lukla flights would be grounded and that the rest of the group would be stranded and maybe even miss their flight home. By good fortune though, it cleared for a brief period the next morning which was just long enough for the flights to operate and for the guys to get out. From thereafter it rained continuously for the next 2 days and didn't clear until the day we left Nepal.