WWW.MARSHFAMILY.ORG.UK
- The Marsh Family of Sutton in Ashfield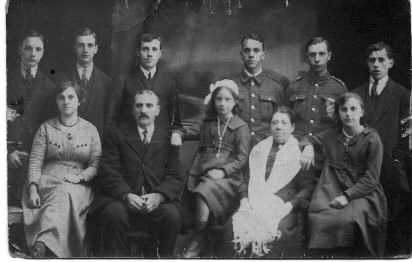 Thomas and Mary Ann Marsh's family, 18th September 1918, Sutton in Ashfield, Nottinghamshire.
L-R (accuracy not guaranteed!) Frank, John William, Edgar, Horace, Brit (Albert) and 'Tec (Hector)
Edith, Thomas, Lily, Mary Ann, Doris,
In total Thomas and Mary Ann had 12 children, I have discovered that their son Charles Henry did not die until 1919 when he was 20 (previously I thought he died about 1916) so this photo shows all who were still alive at this time - bar one! The question is which one? I have left the labelling as we decided before but am not entirely sure about it - the two brothers on the left are those I am not confident about, despite one being my Grandad!
There are at least 3 copies of this photo so we think all the children had a copy.

John William is my maternal Grandfather and, with help from my third cousin once removed (!) Lynne Weston, the Marsh family tree now starts with Matthew Marsh of Sutton in Ashfield who married Alice Hardwick in 1734 at Kirkby in Ashfield. There are now 17 generations on the tree.
John William Marsh married Martha Goodwin and I have just begun to trace her family.
My paternal Grandfather was Thomas Henry Gerrard who married Mary Elizabeth Naylor. On their marriage certificate his father is stated as "Not Known" and I have so far failed to find his birth certificate. I have traced Mary Elizabeth's parents so my Dad's tree currently starts with his in-laws, the Naylors.

---
---
---
---
If you have any further information or comments, please contact me - Isobel Turner